Balayage Sans Bleach: Is It Possible?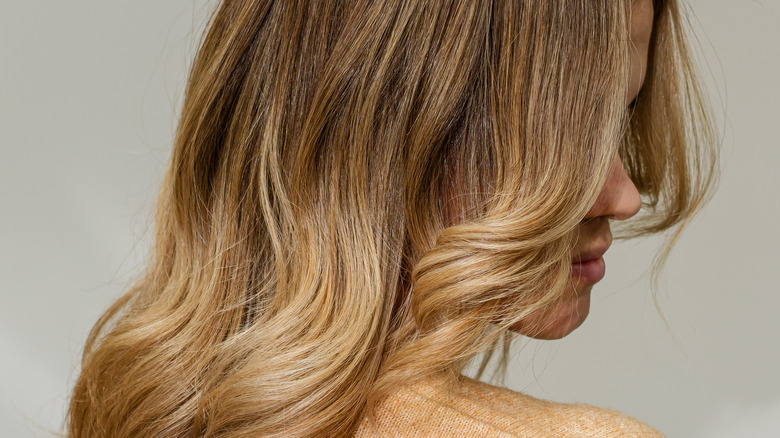 Serhii Tychynskyi/Getty Images
Balayage is a highlighting technique that's been steadily gaining popularity over the past decade, thanks to celebrities like Rihanna, Lucy Hale, and Jennifer Lawrence, who have all adorned their hair with a glorious balayage finish. Caroline Mitgang, hairstylist and colorist at New York City's Paul Labreque salon, explained the concept to InStyle: "Balayage translates into freehand painting of spaced out highlights that start very fine as they reach your scalp, and become broader as they travel away and reach your ends." 
The word balayage comes from the French word "balayer" which means "to sweep." Jack Howard, a professional international colorist at Paul Edmonds hair salon, aptly described the balayage look to Elle, noting, "It allows for a sun-kissed natural-looking hair color, similar to what nature gives us as children." Despite the ever-changing trends, balayage has managed to stay cool because of its convenience just as much as its unique look. Royal and celebrity hairdresser Richard Ward spoke about this benefit with Marie Claire.
He argued, "Typically balayage requires far less maintenance than traditional color. It grows out beautifully and there are no strong regrowth lines." Balayage highlights can also look far more natural than other methods. Bleaching is considered a prerequisite for balayage because hair needs to be lightened to create a gradient against the darker shades, per L'Oreal Paris. If you're on the fence about it because of the damage bleach causes your hair, we've got some good news for you: Balayage without bleach is possible. 
A high-lift color is the bleach-less way to go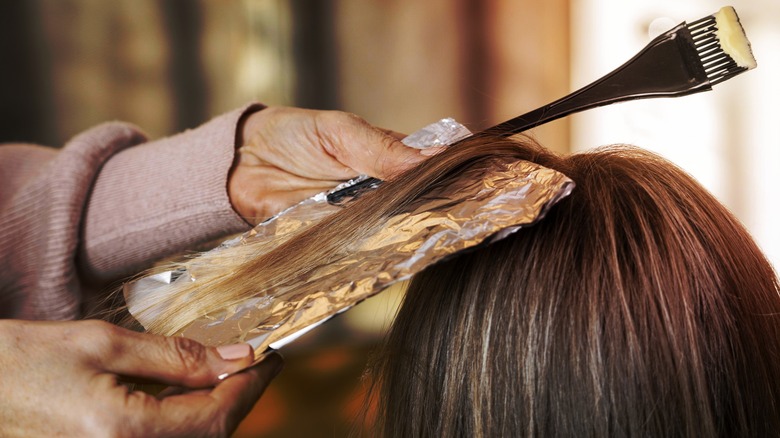 albertoudor/Shutterstock
The process of a bleach-less balayage is pretty simple. If you have lighter-colored hair, it may be easier to skip the bleach altogether because your tresses may already have the lightness that the stylist requires to perform a balayage with a compatible color (via Hair Style Camp). Dark-haired people shouldn't fret though, since you can also achieve the look without bleach. 
All you have to do is ask your hair stylist for a high-lift color instead of bleach. A high-lift color essentially uses permanent hair dye to "lift" your hair to a lighter shade and tones it simultaneously, per Behind the Chair, so you can accomplish the primary purpose of bleaching with significantly less damage. Speaking to PopSugar, Sierra Kener, a stylist at Nine Zero One, discussed the color-lift technique for balayage. 
According to Kener, "It's a gentler technique that shifts your natural hair color a level or two." She further added, "I love it for brunettes; it lifts to a very rich caramel color that doesn't fade to yellow." Different levels of lifts take your hair to lighter colors, so it's crucial to work with your stylist to pick the right level that makes your highlights really pop. 
Bleach-less balayage does come with a few snags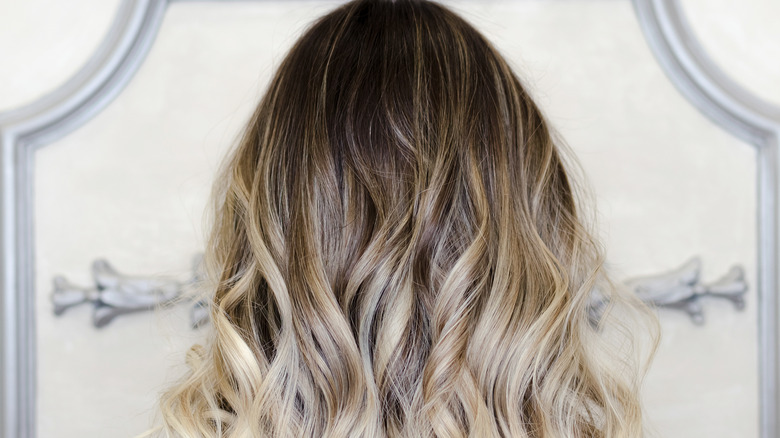 Robertodavid/Getty Images
One of the biggest problems people face with bleach-less balayage is that it simply doesn't look as vibrant. It's generally a more subtle look overall, which may suit you better, but it really depends on what your goal is. Behind The Chair warns that it's important to note that high-lift coloring is only suitable for virgin hair too. Likewise, high-lift colors are generally meant to transform medium to dark hair colors to lighter shades, so they may not be the best choice for naturally lighter locks, according to HSI Professional.
While high-lift coloring causes less damage than bleach, it isn't 100% damage-free. You'll still be subjecting your hair to chemical-based colors that cause damage by weakening your tresses, reducing hair proteins, and making them more susceptible to breakage (via Medical News Today). One notorious hair color ingredient to avoid is ammonia, which is included in high-lift colors. 
Repeated use of ammonia can strip your hair of its essential moisture, making it feel dry, frizzy, and brittle, per Skin Kraft. Always opt for ammonia-free hair color products wherever possible. As celebrity colorist Meri Kate O'Connor told Cosmopolitan "You can do everything with ammonia-free dye that you usually can with ammonia-containing dye — it's just so much better for the hair in general because it's less damaging."