The Smoothing Cream Salma Hayek Swears By Instead Of Botox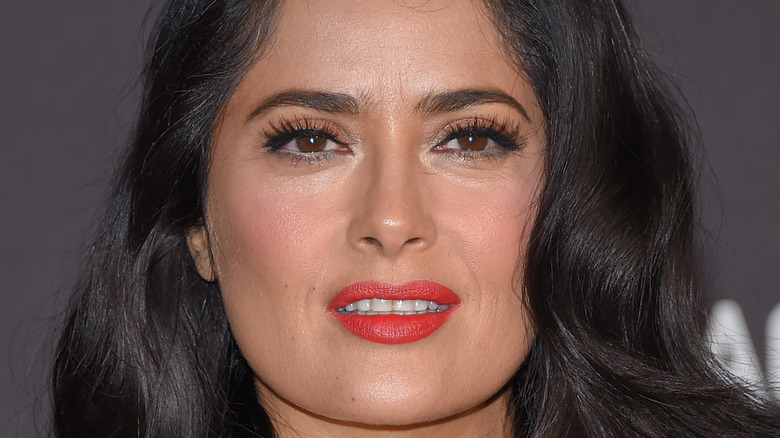 DFree/Shutterstock
We may receive a commission on purchases made from links.
Salma Hayek underwent a stunning transformation over the years, and somehow she managed to maintain her youthful appearance. The 56-year-old actress has a flawless complexion, but what's even more surprising is that she doesn't believe in Botox, according to People magazine. Moreover, she's not afraid of aging, saying it might actually breathe new life into her acting career.
The "Frida" star uses rose water and other natural products as part of her beauty routine. "At night I take off my makeup with coconut oil. Then I use rose water to take off the residuals. You can use a hot towel with the rose water — you put a wet towel in the microwave — to do a little steam. I'll use the chamomile cleanser from Nuance. Then I splash with cold water," she told The New York Times. Apart from that, Hayek says she only applies sunscreen as needed and tries not to over-exfoliate her skin.
Back in 2020, someone left a comment on one of her Instagram photos, saying that she uses too much Botox. Her reply? "I don't have Botox. But thank you for the advice because I was thinking maybe it's time." The actress attributes her youthful appearance to a herbal ingredient used to treat burn victims. This plant grows in Latin America, and the dried root bark is applied directly to the skin or added to moisturizing creams.
The herbal ingredient Salma Hayek swears by for an ageless appearance
Salma Hayek doesn't splurge on cosmetics, fillers, or plastic surgery, despite being married to one of the richest men in the world. On the contrary, she uses common kitchen ingredients and homemade products to keep her skin young. For example, she usually starts her day with fresh orange juice mixed with turmeric, sea buckthorn, and black pepper. "It doesn't have collagen, but it helps your body produce more collagen," she said in an Instagram video.
Her beauty routine also includes tepezcohuite, or Mimosa tenuiflora, a plant that supports skin repair. "I use an ingredient called tepezcohuite that's used in Mexico for burn victims because it completely regenerates the skin, and there's no one in the States who is using this ingredient except for us," she told Elle. "This is why I have no Botox, no peels, no fillings," she added.
In the U.S., this herbal ingredient is found in soaps, creams, lotions, and ointments. A good example is this moisturizing night cream from Del Indigo Papago, which can be found on Amazon. The manufacturer claims that tepezcohuite, one of its key ingredients, cleanses and rejuvenates the skin. One customer says it also reduces dark spots and hyperpigmentation, whereas others find it very hydrating — and the benefits don't stop here. 
Could Tepezcohuite be the key to younger-looking skin?
Tepezcohuite is a bark tree that grows in South America. Also known as jurema, it's widely used in folk medicine as a natural remedy for bronchitis, wounds, burns, vaginal infections, and stomach ulcers. The dried bark and root can be applied topically or ingested, depending on the condition being treated.
An earlier study published in Revista de Investigación Clínica found that tepezcohuite may promote burn wound healing, but there's a risk of liver toxicity. However, researchers used a sterile powder made from the tree's bark, which may have a different effect than tepezcohuite creams or lotions. In another study, this herbal extract reduced venous leg ulcers by 92%, reports the Journal of Ethnopharmacology.
As of today, there's not enough evidence to confirm the use of tepezcohuite as an anti-aging ingredient. However, this plant is rich in antioxidants and anti-inflammatory compounds, so it may benefit the skin, notes Healthline. Additionally, it may soothe irritated skin and strengthen its barrier function, says dermatologist Patricia Farris. But even so, she told Byrdie that little is known about its safety and potential interactions.
Salma Hayek's favorite anti-aging ingredient may or may not work for you. Cosmetic chemist Vanessa Thomas, one of the experts interviewed by Byrdie, doesn't recommend using tepezcohuite creams or similar products, as they might be risky. If you still want to try them out, consult a dermatologist beforehand and do a patch test to rule out allergic reactions.