Why Boar Bristle Brushes Are Better For Your Hair Than Nylon Brushes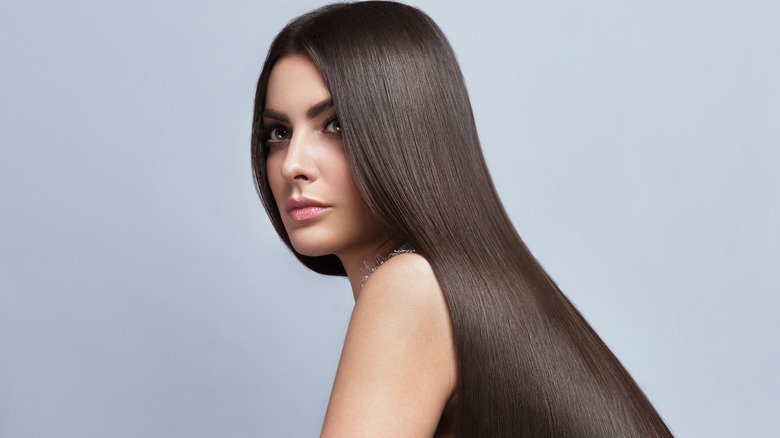 KOBRIN PHOTO/Shutterstock
When on the hunt for hair growth, strength, and length retention, it's easy to become a product junkie. Trying to find the perfect oil that will grow your hair several inches or the serum that will add volume to thin, fine hair can be an expensive process.
In the last year alone, rosemary oil became increasingly popular, everybody on TikTok swore by Olaplex for hair growth, and non-South Asian people discovered the wonders Ayurvedic hair can do for them. Although some people have found new favorites to include in their hair routine, the internet moves from trend to trend, compelling its users to buy into every hot "new" product or method.
While it takes some trial and error in order to find all the right products for your strands, growing strong, healthy hair seems to focus more on products rather than the tools used on the hair. Healthline reports that hair brushing is an important component of having healthy hair.
Investing in well made hair products is rendered meaningless with the use of a low quality hair brush. Brushopolis believes that brushing alone will not benefit your hair — it's the condition of the brush that will really yield the results that you want. Plastic nylon brushes can be the culprit for tension and hair breakage.
Why you should use boar bristle brushes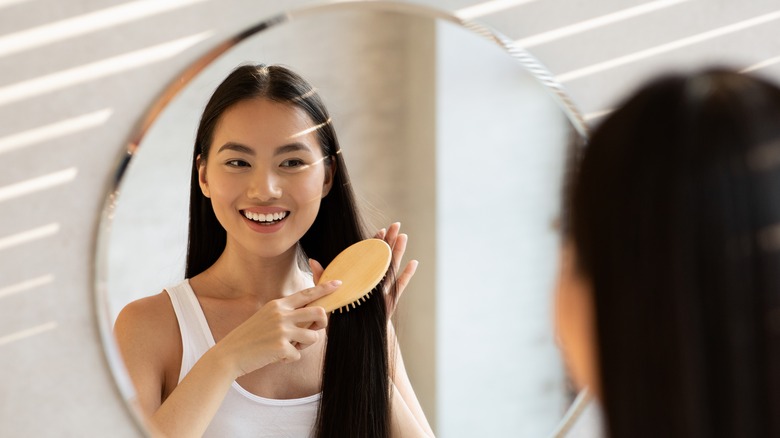 Prostock-studio/Shutterstock
Made from hairs collected ethically from domesticated boars, boar bristle brushes have numerous benefits. The hairs from the boar are highly similar to human hair, explains Spornette. They both contain keratin, a protein that makes up the outer layer of hair.
While they function as a brush, working through tangles and knots, boar bristle brushes also treat the hair. They disperse oil from the scalp to the ends of the hair, conditioning the hair while also closing cuticles, adding shine to the strands.
The brushes are ideal to use pre-shampooing; they remove dirt, lint, and dust built-up in your hair, making cleansing a lot easier (via All Things Hair). Without pulling and breaking hair like nylon brushes, boar bristle brushes give great scalp massages, stimulating hair growth with increased blood flow.
The increased blood flow is helpful for a dry scalp; with extra stimulation, the brush pushes the oil glands to create more oil. If excess oil on the scalp is your issue, boar bristle brushes work for that, too. By taking oil from the roots, the brush takes the oil throughout the hair and to the ends that are in need of a bit more conditioning (via Morrocco Method).
The best boar bristle brushes for your hair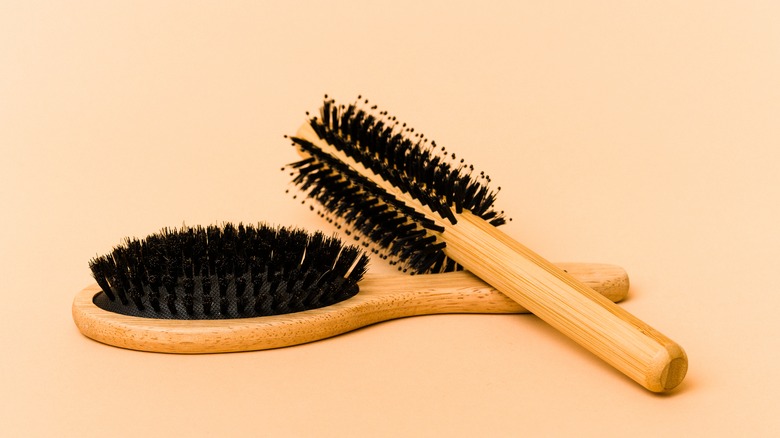 Asier Romero/Shutterstock
The Fromm Intuition Glosser Boar Bristle Brush delivers smooth, shiny hair with premium boar and porcupine hairs. With a cushion base and longer bristles, the brush massages the scalp with ease and comfort. The Fromm Intuition brush works through tangles in fine strands while softening and conditioning them.
The Hair Edit Finish & Shine Boar Bristle Brush helps to smooth and detangle hair while subduing flyaway hairs. Made with a lightweight handle, brushing from root to tip no longer feels like a workout. Intended to be used on dry hair, the Finish & Shine brush is a great styling tool in conjunction with a blow dryer.
If you want the benefits of a boar bristle brush without actually having to use boar bristles, the Briogeo Vegan Boar Bristle Hair Brush uses engineered nylon bristles to mimic the appearance and feel of authentic boar bristles. Perfect for all hair types, the brush has multi-layered bristles that catch knots and tangles throughout the hair, working through them to give you soft, smooth tresses.