The Truth About Using Olaplex For Hair Growth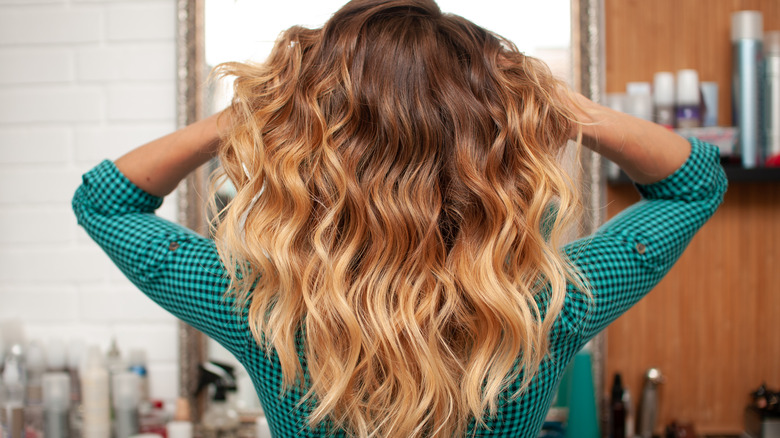 Shutterstock
Once reserved only for professionals in hair salons, Olaplex has garnered a huge fan base since it hit the shelves and became available to John Q. Public. Now something of a "cult" product, from beauty editors to haircare aficionados, its ubiquitous name is regarded as one of the best hair care products in the business (via Allure).
For the uninitiated, Olaplex is a brand that has a series of products -– a system with eight steps in total -– designed to "restore broken bonds in the hair, which in turn makes hair smoother, stronger, silkier, and more resilient," per Bustle. Olaplex No. 1 Bond Multiplier and No. 2 Bond Perfector Treatment are still only administered in salons, for professional use only (via Bustle), whereas the others –- No. 0 Intensive Bond Building Hair Treatment, No. 3 Hair Perfector, No.4 Bond Maintenance Shampoo, No. 5 Bond Maintenance Conditioner, No. 6 Bond Smoother, No.7 Bonding Oil, No. 8 Bond Intense Moisture Mask -– are available to buy for at-home use. 
By now, anyone who has heard of Olaplex also will have heard of its miracle-making properties in creating silky smooth hair, but can Olaplex help with actually growing your hair? Here's everything we know about using Olaplex for hair growth.
How does Olaplex work?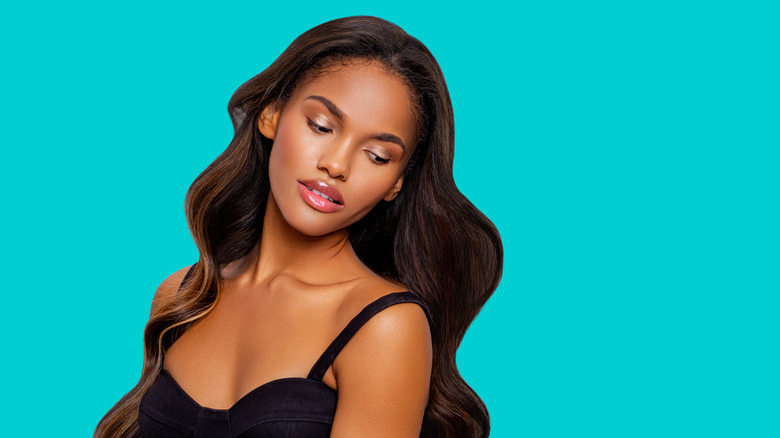 Shutterstock
According to  dermatologist Dr. Dendy Engelman, Olaplex's No. 3 Hair Perfector Repairing Treatment is one of the best products for hair growth, per Bustle. Over 1,000 users have left five-star reviews on Amazon. "It strengthens weakened hair, repairs split ends, and prevents future damage, all while increasing softness and shine" (via Bustle). Dr. Engelman notes that when looking for a hair growth product, it's the active ingredient you should pay the most attention to. "For example, minoxidil is most effective when applied topically, yet keratin is more effective in a supplement."
A Glamour review noted that "Olaplex works on the molecular level to repair the bonds that make up our hair ... By restoring these bonds, it makes hair stronger, healthier, and softer." Editors seemed to agree that the products are worth the money, as they listed seven of the nine-product line that they tested. Health deems Olaplex a "'secret weapon' for healthier hair," noting that the line has thousands of perfect ratings from satisfied users.
Can you use Olaplex for hair growth?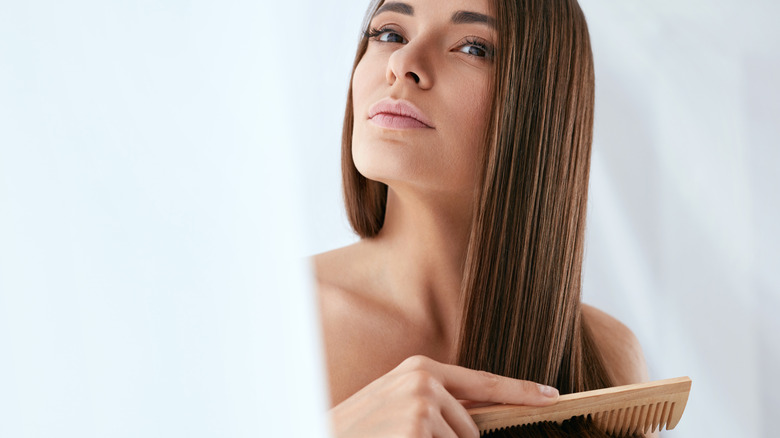 Shutterstock
Although the Olaplex treatments are "not formulated to treat thinning hair, hair loss, or promote new growth" in particular (via Olaplex), many people credit Olaplex with helping their hair to grow (via Natural Hair Insights). So what gives? And how can Olaplex help hair growth, even if that's technically not what it's intended to do?
Well, since Olaplex restores hair from inside the hair shaft, the treatments will help to keep the hair you do have healthy, strong, and breakage-free (via Olaplex). And "healthy hair is growing hair," per Natural Hair Insights.
When your hair has been damaged from treatments like bleaching or relaxing, your hair strands can be brittle and prone to breakage, preventing them from growing as well as they should (via Natural Hair Insights), which means it's less likely that you'll achieve those long, luscious locks you're after. The Olaplex system repairs the breakage and can prevent further damage. Once all the bonds are intact and strong, your hair is much more likely to be strong and healthy, perfect for reaching maximum growth potential.