Why Facial Bars Could Save Both Your Skin And The Environment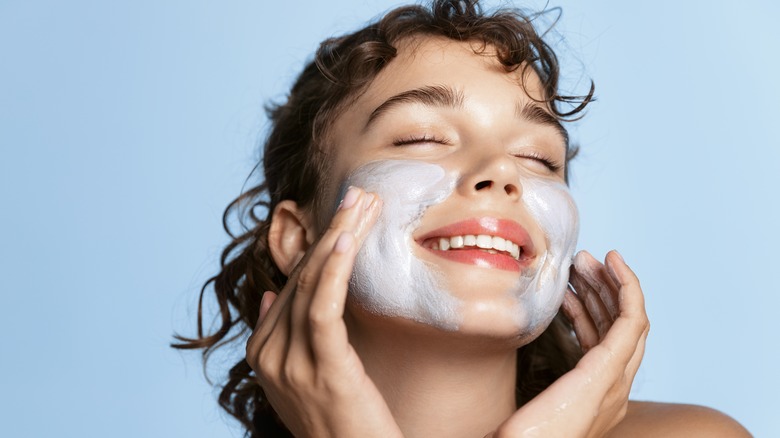 Lyubov Levitskaya/Shutterstock
Having a good skincare routine is non-negotiable. The skin is the largest organ of the body, and taking care of it is crucial. "Investing early in the health of your skin, with regular skin care, will not only better protect it from the harsh effects of winter, but also keep you looking and feeling your best throughout the year," dermatologist Steven Nwe shared (via Northwestern Medicine). "The key to skin resiliency is knowing your skin and treating it well."
By now, you know the perfect order for your skincare routine. Making sure you are using a cleanser, a toner, and a moisturizer is important. However, there is a downside to our lengthy skincare rituals that we may not notice on a daily basis. The beauty industry uses a ton of plastic, and the waste it generates is troubling (via National Geographic).
More brands are working to make their products plastic-free, and facial bars could be perfect for both your skin and the environment.
Reducing waste helps the environment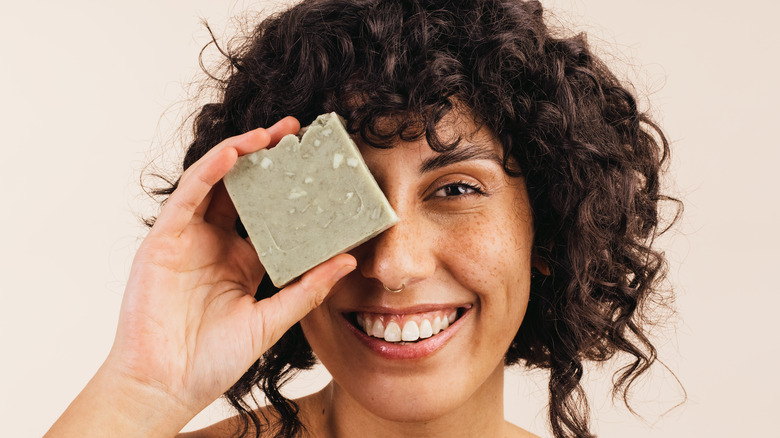 Jlco - Julia Amaral/Getty Images
The most appealing aspect of facial bars is the plastic waste you avoid by making the switch (via The Guardian). Many brands are creating solid skin care, which ditches plastic and instead takes the form of classic bar soap. Changing your current skincare routine for a more environmentally friendly one may seem overwhelming, but there are perks to it.
According to National Geographic, a shocking amount of plastic isn't recyclable. 91% of plastic waste ends up polluting our environment. "We all knew there was a rapid and extreme increase in plastic production from 1950 until now, but actually quantifying the cumulative number for all plastic ever made was quite shocking," environmental engineer Jenna Jambeck shared. "This kind of increase would 'break' any system that was not prepared for it, and this is why we have seen leakage from global waste systems into the oceans."
That's why many brands are changing their packaging to be more sustainable. "The trend of sustainability and mindful packaging will continue to bring cleansing bars to the forefront as the modern version of the traditional bar serves some great ingredients without the waste," Joanna Vargas, Celebrity Facialist, told Camille Styles.
You'll not only be practicing sustainability when you make the switch, but you may find that the quality of your skin will improve. Here's why.
Facial bars can be better for your skin, too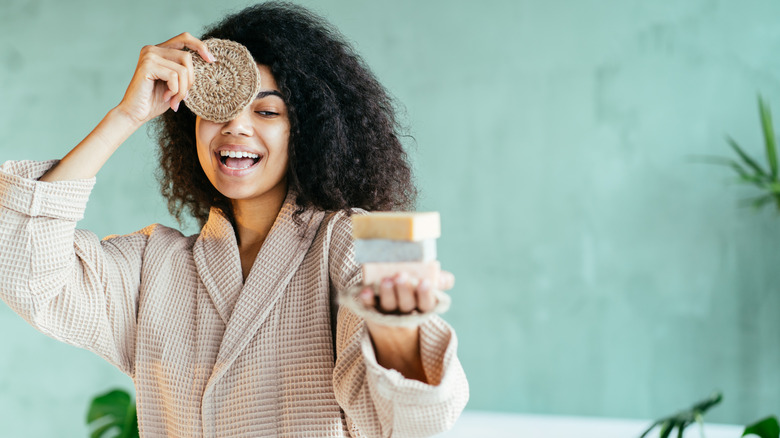 Iryna Inshyna/Shutterstock
Bars of soap are nothing new. While many users switched from soap bars to plastic bottles filled with body wash or facial cleansers, the product is regaining popularity as concerns over the environment grow (via Cosmetify). Bar soap is not only better for the environment, but it is also packed with more nourishing products than liquid soap, where water is typically the first ingredient. Plus, the number of preservatives in certain brands can be concerning.
Those who ditched bars of soap, or never used them to begin with, probably have a different image of what the modern version of the product entails (via Forbes). Gone are the days of overly perfumed lathers, now, many companies are selling less intense bars.
Using a facial bar can provide your skin with more essential ingredients, which will help improve your skin over time, as there are typically fewer fillers in each batch. Solid skincare is the next big thing to make both your face and the planet happy.