How To Tell The Difference Between Hair Breakage And Flyaways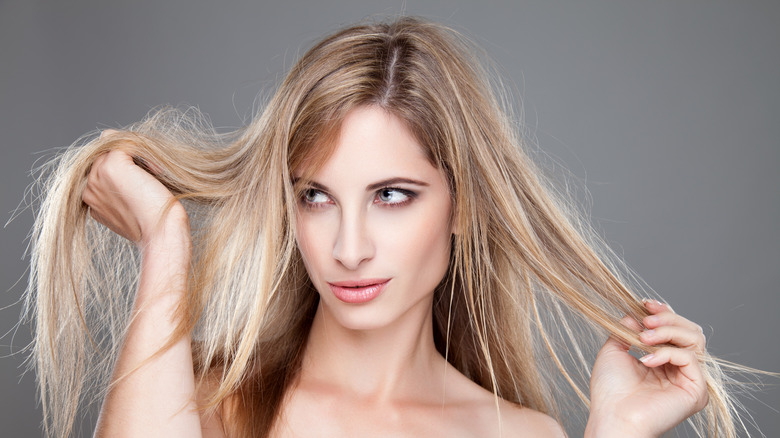 Jenny Solomon/Shutterstock
Sleek, slicked-back hair is never going out of style. The clean look adorns Bella Hadid, Zendaya, and almost every Hollywood "it girl." However, flyaways are the death of many sleek hairstyles. One minute you're rivaling Chloë Grace Moretz's look for Louis Vuitton's show during Paris fashion week, and the next, you're the after photo for a static science experiment. But, we can't give up on sleek hairdos.
Celebrity hairstylist Jen Atkin, who has styled the locks of the Kardashians, is a fan of the smooth and glossy style. She tells Elle, "It portrays sophistication and confidence, as the hair is off the face. You have to be bold to be able to wear something like this." Although, sometimes flyaways can be bolder and steal the spotlight. However, not every strand that's sticking up is stubborn. Often it's a sign of damage. Luckily, we're here to comb through the difference so you can have chic hair without any worries.
Flyaways, unruly strands that won't cooperate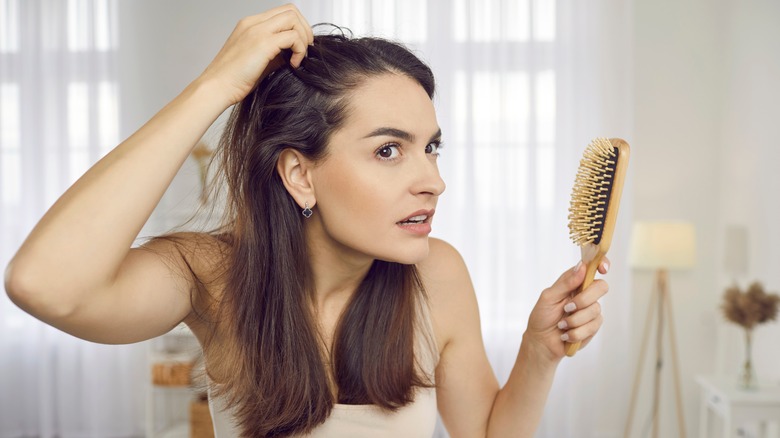 Studio Romantic/Shutterstock
Even when there's no wind to blow your hair out of place, some strands just don't lay flat. Those strands take extra hairspray and gel, yet halfway through the day, they give a standing ovation. Stylist Aaron Grenia tells Vogue flyaways are "hairs that are shorter than the rest of the hair and don't lay uniformly." These short pieces can be the result of damage or new hair growth (preferably the latter). If your flyaways show no sign of splitting or dryness, they're most likely baby hairs. There are ways to help this new growth lay flat. Grenia, the cofounder of IGK Hair Care, recommends shampoos and conditioners with smoothing power, like anti-frizz products that Kim Kardashian swears by. These products will help eliminate flyaways before you start styling.
Speaking of styling, you may want to leave the brush alone. According to celebrity hairstylist Kylee Heath, improper brushing might be the root of your problem (via Byrdie). Frizz and flyaways are born as soon as drying hair meets a brush. The beauty guru recommends switching to a wide tooth comb. Combing your hair wet or dry won't cause any loose strands and can help prevent breakage.
Breakage, dry, and damaged strands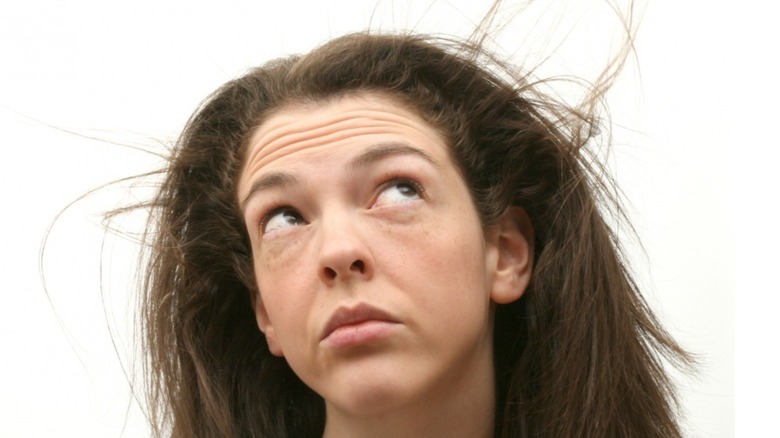 And-One/Shutterstock
If your flyaways aren't new growth, chances are they're a sign of breakage. Layering on products might get the strands to lay down flat, but it won't combat the root issue causing all the flyways. Healthline reports that breakage is a sign of dry, over-washed, heat-damaged, or over-processed hair. Even using the wrong towel or being too harsh when removing scrunchies can rip hair strands. Be gentle with your hair.
We can often take our precious locks for granted. A few changes can make flyaways from breakage a thing of the past, like swapping regular towels for microfiber ones or cotton T-shirts. The American Academy of Dermatology recommends focusing on your scalp when shampooing to prevent creating flyways. Knowing when to wash your hair is key. Oily scalps call for frequent cleansing, while dry and chemically treated hair requires less. Knowing your hair type and needs is the foundation for building a healthy hair regimen.