Plunging Productivity? Try The Method Successful People Use To Start Their Day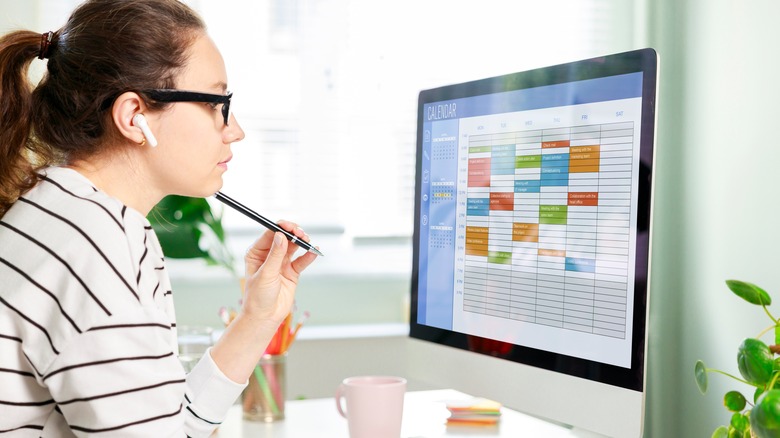 Ahmet Misirligul/Shutterstock
Optimizing productivity: a common goal for many of us. With the rise of remote jobs, staying productive while working from home has become more difficult. Productivity advice abounds on the Internet, but you should avoid tips at all cost that do not consider your natural hormonal cycles. If you keep your body's needs and cycles in mind, certain practices will make you more productive. For some, making schedules through time blocking can increase productivity. The longstanding advice for waking up early is another great productivity tool, with morning routines consistently helping many be more productive.
According to habits expert James Clear, author of the hit self-help book "Atomic Habits," a "pre-game" to your morning routine will set you on the right foot at the beginning of the day. And no, we're not talking about a morning cocktail. Clear recommends a cold glass of water to signal your body that the day has begun. Leaders and successful people share this tip for those looking to increase the work they put into a day (and how much they get out of it).
Get the hardest tasks of the day first for a head start on your to-do list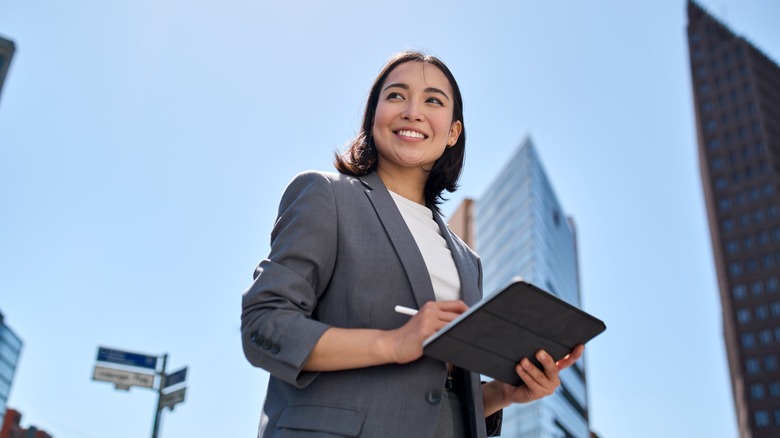 insta_photos/Shutterstock
The most successful people have a common strategy for being extra productive. Often, we procrastinate on the most difficult things we have to do during the day. Experts recommend doing the exact opposite by diving head-first into your agenda for the day. That's how some of the biggest names in tech and the web-industry schedule their days, per Fast Company.
Other successful businesspeople take this approach for organizing their to-do lists. In a LinkedIn Newsletter, government official Mary Jane Nirdlinger recommends getting the worst over with at the start of your day. Nirdlinger cites a Mark Twain quote for inspiration: "Eat a live frog first thing in the morning and nothing worse will happen to you the rest of the day." 
Think of the frog as whatever "shoulder-sagging" thing that you have to do. While it is a drag in the moment, the relief that you feel after will leave you ready to tackle the rest of your day without a sense of dread.
Avoid starting your day with your email or phone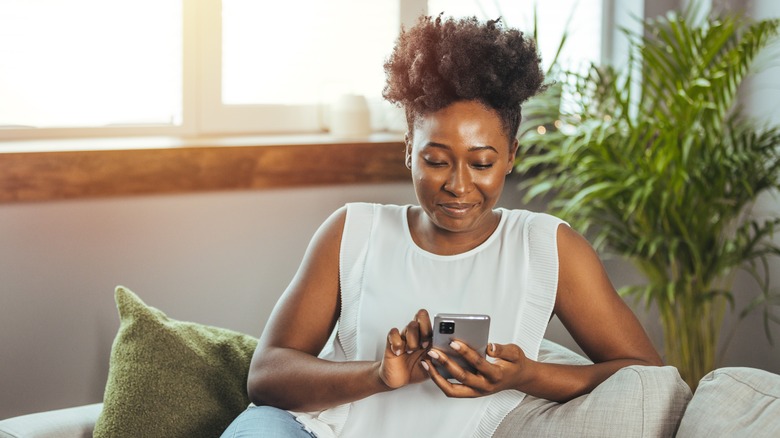 Dragana Gordic/Shutterstock
One of the ways that we tend to procrastinate is by scrolling through our phones. Looking through emails may make you feel like you're working, but you could be losing valuable hours in the day. Tumblr founder David Karp avoids his emails in the morning to manage his time better. "Reading e-mails at home never feels good or productive," Karp said (via Inc.). "If something urgently needs my attention, someone will call or text me."
James Clear has similar morning advice for being more productive. Avoiding that more difficult task is easier when your phone is right next to you, which is why he recommends keeping your phone in another room during the morning. Whether you turn off your phone, leave it in another room, or in your co-worker's office, you'll find that your attention is more focused and work more effective. Getting the worst of your tasks over and keeping productivity-sucking devices at bay will have ahead of the game right as it starts.