Do You Really Need A Large Collection Of Makeup Brushes?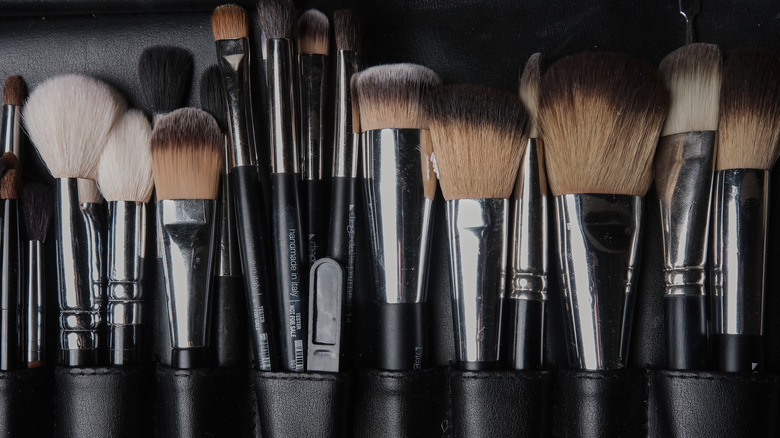 Ferda Demir/Getty Images
We've all found ourselves on beauty TikTok and watched incessantly while marveling at the precision and perfection that influencers put out on a daily basis. Whether you're into the current new trends in eye makeup or facial toning, there are countless videos, not to mention those found on YouTube reels or Instagram shorts. TikTok has not only managed to influence its viewers but also its competition, as per Brandwatch.
Let's face it, there are videos for every demographic looking to enhance their looks with make-up. From natural make-up and the latest cat eye look to anti-aging secrets and ways to make your face seem more contoured, we are consistently bombarded with product placement in the form of influencer marketing (via Influencer Marketing Hub).
Consider how many times you've eagerly watched an influencer and became thoroughly excited at their makeup skills, only to realize the video was either an ad or they were being paid by the company to push the new product. While you can certainly learn tips and tricks online, you absolutely don't need to purchase everything you see. 
Keep makeup brushes to a minimum when starting out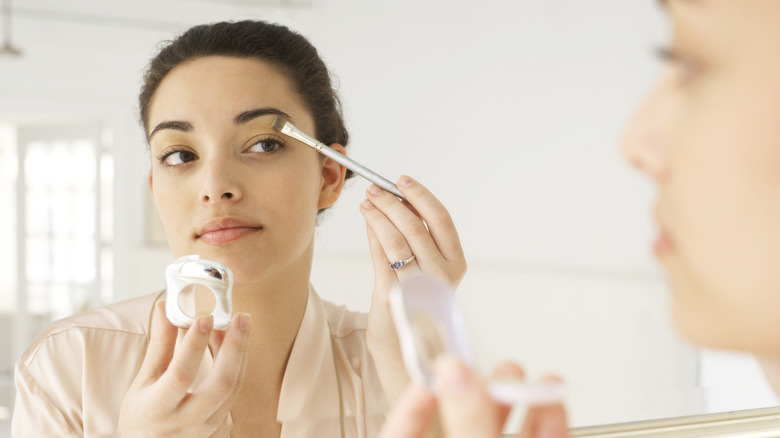 Christopher Robbins/Getty Images
When it comes to make-up brushes, you may be asking yourself how many you really need to achieve the looks you like. Celebrity makeup artist Dani Kimiko Vincent tells Cosmopolitan that having a variety of brushes in your collection can help diversify your looks. "Having the right makeup brushes in your collection offers much more versatility and the ability to create endless looks, as well as more precise placement of color."
The first thing to consider is how much make-up you'd like to use every day and what level of make-up artist you consider yourself to be. According to The Beauty Blotter, beginners only require 3-4 makeup brushes in their repertoire, one brush each for eyeshadow, eyeliner, and blush or powder, and a fourth one for creasing and blending to help contour the eye.
If you only use a simple eyeliner, eye shadow, and blush, you can get away with 3-4 brushes. Then the more you experiment with color and trends, the more you can add additional brushes to your routine. If you want a whole full face coverage you'll need to add additional brushes for foundation, powder, and blending.
Get quality make-up brushes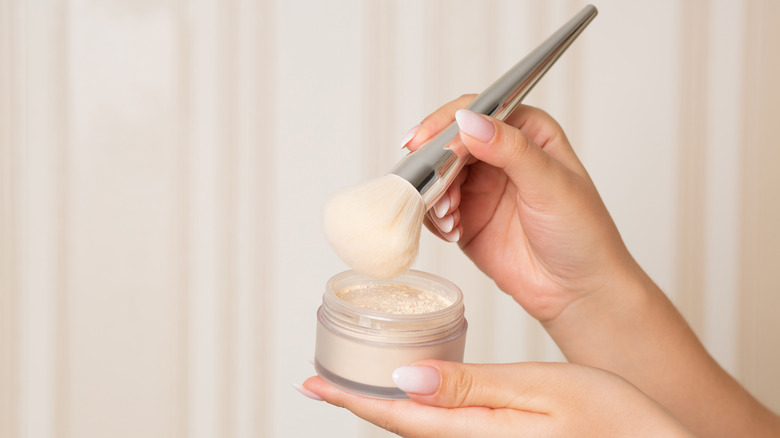 Viktoriya Pavliuk/Shutterstock
Even when you have a plentiful supply of brushes, if they don't work correctly or are of poor quality, you won't get the look you want. Yet the only way to know if they work for you is to try them out. Of course, you can look them up online and watch other people try them out, too.
"When choosing your makeup brushes, always go with what feels good, followed by the application test," explains celebrity makeup artist Janice Daoud (via Real Simple). "The application test will allow you to see how the color is picked up, deposited, and blended. If the bristles of the brushes do the job, then it's the right brush for you."
There is also no need to buy brushes that are made from real animal hair. Synthetic brushes work just as well and are cruelty-free. "Synthetic brush fibers can be shaped more like virgin hair [which] results in a soft feel and smooth application," make-up artist Gucci Westman tells Vogue. "The quality can so closely mimic natural ones that it can be hard to tell any difference upon the skin."