How The Boyfriend Bob Can Simplify Your Hair Care Routine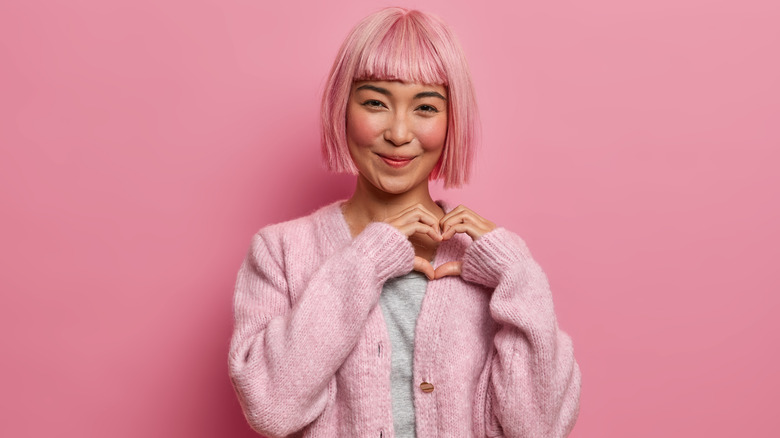 Cast Of Thousands/Shutterstock
The modern bob haircut can trace its roots to the mid-1910s and 1920s when the bob signaled women's independence and liberation, and it has since become synonymous with the flapper era, according to Smithsonian Magazine. The bob swung out of fashion until the 1960s when it had a resurgence, and since then, you can find examples of famous bob haircuts in some form in just about every decade since, per E! News. Think Jackie Kennedy in the 1960s and 1970s, "The Rachel" that typified Jennifer Aniston's hairstyle on "Friends" in the mid-1990s, and Taylor Swift's 2016 Grammys look. And who would Anna Wintour, editor-in-chief of Vogue, be without her iconic bob? She's apparently sported a bob haircut since she was 15 years old, as noted by Business Insider.
While the bob is typically a blunt cut at the jawline and no longer than the shoulders, there are some variations when it comes to bangs and layers. For instance, here are the bob hairstyles to try in 2023. One popular variation of the bob is the boyfriend bob — #boyfriendbob has over 230K views on TikTok. The cut is not only super stylish right now, but it's great if you're looking for an easy hair care routine.
The boyfriend bob doesn't need a lot of styling to look good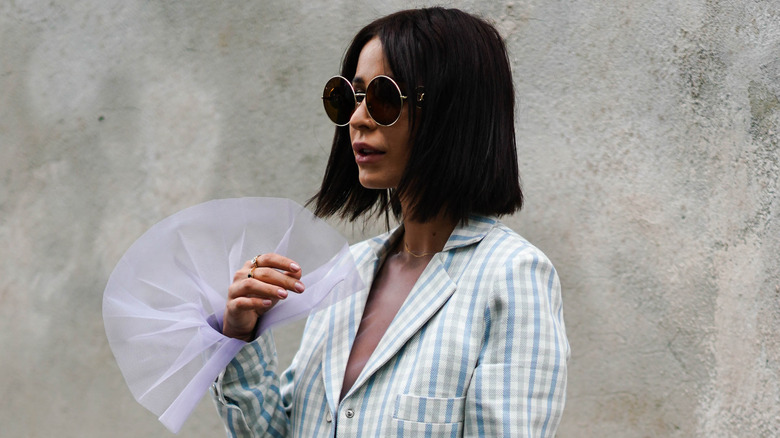 Edward Berthelot/Getty Images
First, what is the boyfriend bob? Your hairstylist may know it better as the box bob; it's got blunt, straight edges all the way around without layers, and it sits at or a bit below the jaw, per Refinery 29. The haircut got the name boyfriend bob thanks to it being a longer version of the seemingly effortless, slightly floppy but still stylish hairstyles worn by male celebs like Leonardo DiCaprio, Johnny Depp, and Brad Pitt in the 1990s. Fast-forward to now, and the boyfriend bob with its effortless look has been rocked by celebrities including Elizabeth Olson, Beyonce, and Kim Kardashian.
It's a haircut that works well for a variety of hair types and textures, according to Harper's Bazaar. Though those with thin hair may want to give it a pass since, as Woman & Home reports, due to its boxy shape, the boyfriend bob looks best with more volume. It looks good on both straight and wavy hair; you don't have to break out the flatiron if you don't want to, via Women's Health. In fact, as Barron's London Salon notes, the cut is designed to be a "wash and wear" style. It's meant to look good with a lived-in, relaxed feel. What could be easier? And with your new shorter-do, you'll use less hair product and it will take less time to dry.
The boyfriend bob has versatility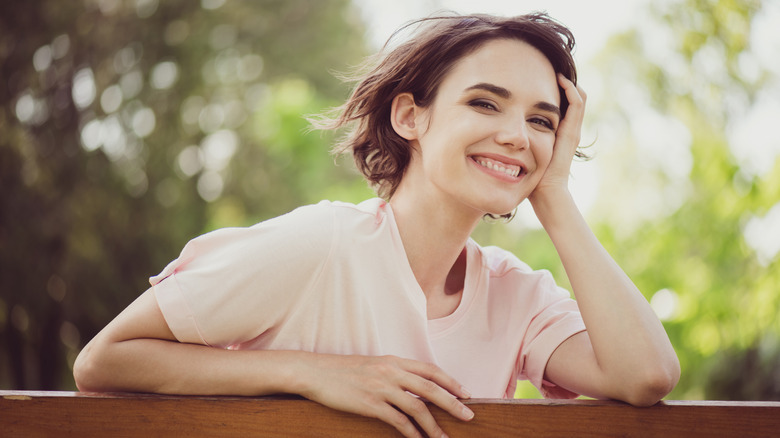 Roman Samborskyi/Shutterstock
The boyfriend bob's versatility extends into the styling options. It can be worn with a side part or with a straight one so the hair frames your face like a curtain, which is why it's also known as a curtain bob, via Harper's Bazaar. All that versatility aside, the boyfriend bob may look better on some face shapes than others. Considering its inherent square shape, if you have a round or heart-shaped face, definitely give it a try, according to Woman and Home. Add in some bangs to bring "softness to the look" if you have a square-shaped face, senior stylist and colorist Domenico Casella told Woman and Home. And if you've got a long neck, this trendy haircut will look good on you. But if you want to go for it no matter your face shape and hair texture, talk to your stylist to see if/how the boyfriend bob can be flattering to you. 
One maintenance factor to consider with the boyfriend bob are visits to your stylist. You may have to visit the hairdresser every six weeks or so to keep that boxy shape intact and those blunt edges sharp, per POPSUGAR. On the flip side, when you're ready to grow out a boyfriend bob, it will be easy since the hair is all one length, per Canadian Living