The Rachel Haircut Has Been Updated For 2022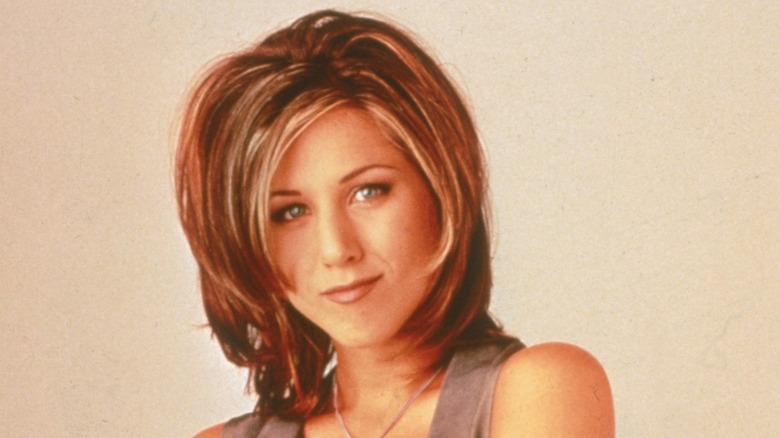 Getty Images/Getty Images
Any avid "Friends" fans will know exactly what you mean when you mention "The Rachel." Jennifer Aniston's choppy, layered, shoulder-length bob was the holy grail of haircuts — and among the most requested styles during the show's '90s heyday, per Seventeen. And indeed, it's remained consistently popular ever since. Stylists everywhere can do Aniston's voluminous, bouncy cut in their sleep and it truly swept the nation if not the world. 
We've seen many trends come and go since the Rachel, but long, loose waves have held steady for years (via Byrdie). The seemingly effortless mermaid look, which actually takes plenty of work to achieve, has that coveted goddess energy we all love. But, considering a remixed '90s classic is the go-to hairstyle this season, while platforms, spaghetti straps, grunge, and bucket hats dominate fashion trends, it's unsurprising that the Rachel is back. 
In fact, requests for the fan-favorite character's healthy, bouncy, shorter locks have gone up by 174% according to JustMyLook (via Real Simple). Here's how the updated cut differs from the original iconic style made famous by Aniston.
The modern Rachel haircut is much shaggier
While the modern Rachel cut still embodies the major elements of the original — namely volume and lots of layers — it has some notable additions that place it firmly in this decade. The modern take is shaggier and a bit more blended, according to Slice. It also features curtain bangs. We still have the iconic face-framing layers and a lot of the flip, but you likely wouldn't mislabel a photo of this cut as actually being from the '90s. 
The differences are instantly recognizable; the modern take is also longer than Jennifer Aniston's cut, but it still makes a bold statement, which is what the Rachel was all about, per Vogue. "The original Rachel was so iconic because it was the mid-'90s and we'd just come out of this period of grunge; people were getting bored of this no-hair hair and no make-up make-up," explained hairstylist Luke Hersheson.
He continued, "When Rachel Green appeared she was the opposite to all of that. She had a full-on haircut — the kitchen sink of haircuts! — and it was very layered and obviously cut." The Rachel seems to just about have it all. But there is one major downside: Achieving the look is far from effortless. 
This is how to style the modern Rachel haircut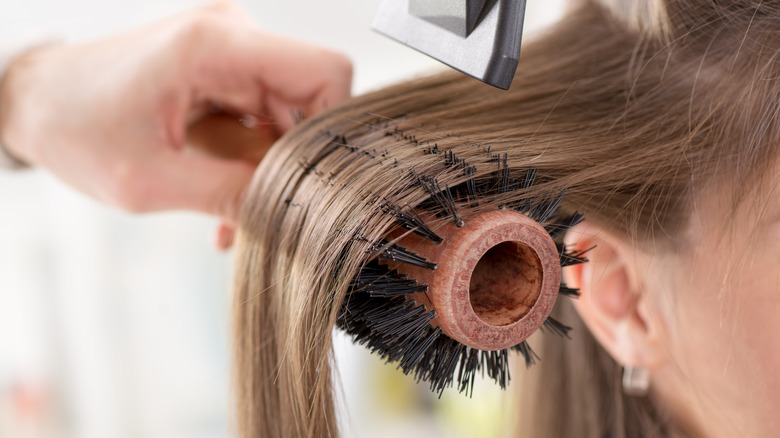 MilanMarkovic78/Shutterstock
Part of the appeal of the Rachel is its boldness, which is admittedly toned down slightly in its modern incarnation. Even still, styling this cut does take a lot of time and some practice. According to JustMyLook (via Glamour), you'll want to wash your hair often with a volumizing shampoo to ensure it has the requisite fluffiness needed to recreate the Rachel. To achieve the iconic flip, blow dry your layers with a round brush and avoid any flat ironing.
A major part of what gave Jennifer Aniston so much dimension in her hairstyle was her highlights — funnily enough, a new take on this classic '90s hair color is also about to be everywhere this fall and winter. As Vogue points out, the blonde, face-framing pieces added a lot of depth. On solidly-colored hair, meanwhile, the modern Rachel could really miss the mark, appearing flat and a bit dull rather than eye-catching.  
According to PopSugar, the "draped layers" style can be achieved on all hair types but is most easily recognizable on straight or wavy hair. So, if the '90s are hitting you full force this year and you're really loving the resurgence, it may be time to book a hair appointment and fully embrace the era with a Rachel with a modern twist.