Lizzo's Grammys Gown Might Not Be For Everyone, But She Nailed One Of 2023's Hottest Trends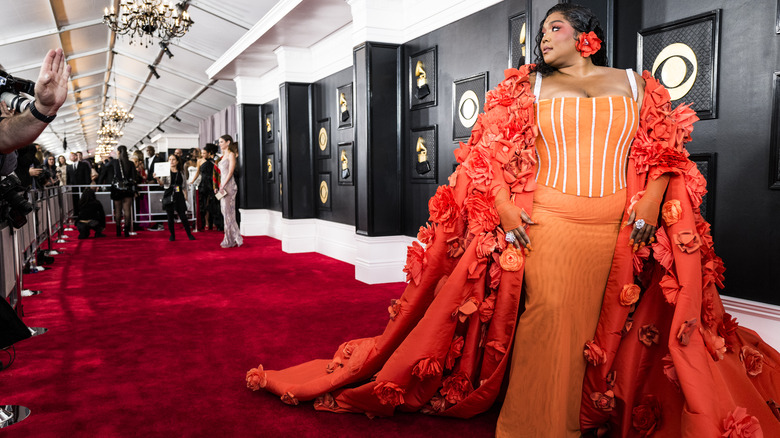 John Shearer/Getty Images
The Grammys red carpet really isn't the Grammys red carpet until Lizzo walks in. When she arrived for the 2023 awards show, the stunning Lizzo turned plenty of heads. Twitter user @jacquemusx eloquently tweeted, "Everybody shut up and LOOK AT LIZZO!!" We couldn't have said it better ourselves, but if you were watching the Grammys, you know that it was difficult not to look at Lizzo. Her vibrant orange look was the perfect unexpected pop of color against the red carpet. Per Page Six, the nominee sported a corset gown by Dolce & Gabbana in a bold orange hue underneath an even brighter orange cape adorned in 3D flowers. She matched orange-y makeup to her 'fit and sported a big, bright flower behind her ear.
Making a real fashion statement often makes for a controversial look. With any great style risk, some people will love it and some people will hate it. This is surely the case with Lizzo's elegant orange ensemble. Still, whether you love the look or hate the look, it's clear that Lizzo had one major trend in mind when she picked out her Grammys' 'fit.
Orange you glad Lizzo is on trend?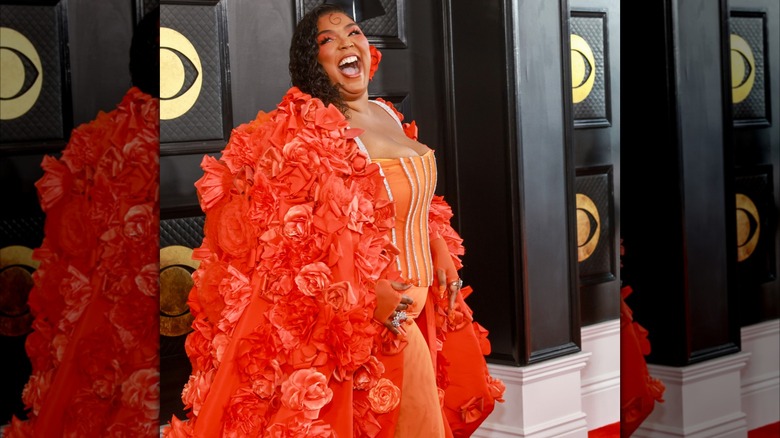 Matt Winkelmeyer/Getty Images
Orange is definitely an unexpected color to sport on the red carpet. This year, though, it may not have been as unexpected as years past. According to Shondaland, pops of orange are going to be one of the biggest accents for brides in 2023. From flowers to bridesmaid dresses and even a splash of orange on the bride herself, shades of orange are sure to be a wedding trend this year. However, that's not the only place we'll be seeing a lot more orange. Per Mulberry Interiors, this shade will also be making a bold and bright splash across the world of interior design. While tangerine accent walls and marigold throw pillows aren't the most typical additions to a chic room, that's all about to change.
Lizzo may not have been borrowing inspiration from interior design trends or the color palettes of brides-to-be when she planned out her Grammys look, but we have a feeling she noticed a certain shift in the fashion world. New York Fall Fashion Week made way for quite a few fashionistas in shades of orange, and plenty of Spring 2023 runways from Marni to Simon Miller featured some orange looks (via Fashionista). Orange is clearly a fashion trend that will completely take over 2023. So, whether you think Lizzo's orange outfit was oddly over-the-top or just the right amount of joyous, there's one thing we can all agree on: Lizzo knows how to make a trend her own.