Jill Biden's Speech At The 2023 Grammys Has Special Significance To Iran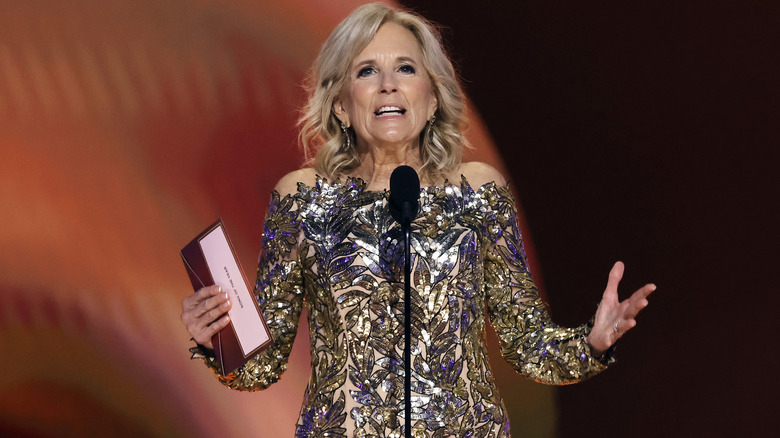 Kevin Winter/Getty Images
The first lady of the United States Jill Biden stepped onto the 2023 Grammys' stage in a foliage-inspired dress with plenty of shine. She was met with a standing and star-studded audience, but why was the first lady at music's biggest night in LA in the first place? 
Dr. Jill Biden had worked with the Recording Academy to introduce a new Grammy award for a culture-changing song. Presenting the award, she explained, "A song can unite, inspire, and ultimately change the world." The first lady then shared that the first-ever Best Song for Social Change was chosen from among over 130,000 submissions, passing through a "blue ribbon committee" as well as the Recording Academy's board.
Dr. Biden also said that the award is "recognizing a song that responds to the social issues of our time and has the potential for positive global impact." There was certainly significance in the first lady's presence at the culture-making awards ceremony, but the Academy's choice for the winning song was the true global star of the evening.
The winning song supports Iranian women's rights
Though Shervin Hajipour's original song "Baraye," or "Because Of," won the Best Song for Social Change Grammy, it has had a much broader reach than the awards show, going viral and being adopted by the women's rights movement in Iran, per Twitter.
Women's rights protests against the Islamic Republic of Iran have been ongoing following the arrest and death of teenager Mahsa Amini in the custody of the government's morality police, according the BBC. These protests have resulted in over 10,000 arrests, per Politico, and an increasing number of death sentences.
As Dr. Jill Biden noted in her presenter's speech, the lyrics of "Baraye," available via Twitter, send a powerful social message. Hajipour sings, "Because of dancing in the streets, because of every time we were afraid to kiss our lovers in a street, because of my sister, your sister, our sisters, because of changing rotten minds." The singer goes on to list other reasons why it is important to fight for freedom. 
As one Twitter user wrote, the song is in support of Iranian women, as well as "all the artists being killed, tortured, or imprisoned by the Islamic Regime." Shervin Hajipour has since been arrested by his government, though the first lady of the United States acknowledged the Iranian singer-songwriter's enduring positive influence, praising his song's support of a better future.