Greg Rikaart Provides Behind-The-Scenes Fun From The Young And The Restless Anniversary Photoshoot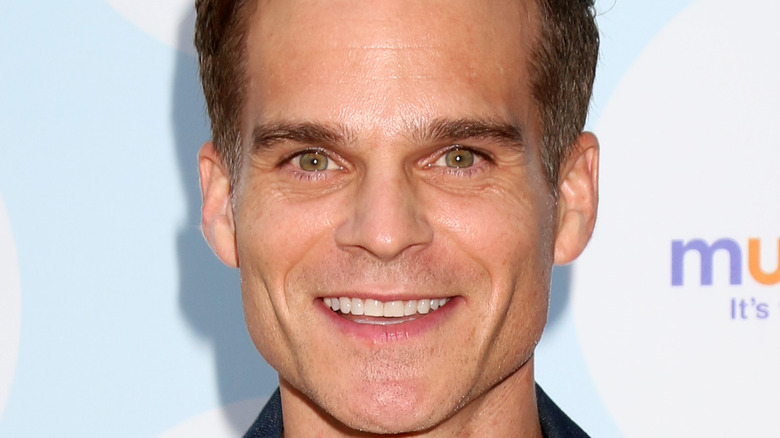 Kathy Hutchins/Shutterstock
On "The Young and the Restless," Kevin Fisher (Greg Rikaart) has been up to no good since 2003. The ne'er-do-well has committed several crimes including most famously kidnapping Phyllis Summers (Michelle Stafford), telling Adam Newman (Mark Grossman) he would exchange her for Chloe Mitchell (Elizabeth Hendrickson), per Soaps. After perpetrating many heinous acts in Genoa City, Rikaart moved over to "Days of Our Lives" in 2018, where he played troublemaker Leo Stark. Rikaart had been off and on as Leo, and when it was announced in 2022 that Leo would be coming back to Salem, "Y&R" fans were concerned that he wouldn't ever return as Kevin.
However, regarding playing characters on both "Y&R" and "Days," Rikaart told Soap Opera Digest, "For better or for worse, I'm not particularly heavily utilized at Y&R at the moment, so there haven't been any challenges there, which is great." He added, "I started back at DAYS in October, shortly after the Peacock stuff wrapped." 
While the "Days" viewers love him as Leo, fans of "Y&R" miss the fun between Rikaart and Stafford, and have been clamoring for more. Rikaart returned to participate in the milestone 50th anniversary of "Y&R," and he and Stafford shared some hysterical off-screen moments.
Michelle Stafford shares a prank that Greg Rikaart pulled
As Soaps reported, the stars of "The Young and the Restless" got together for an amazing photo shoot on September 20, 2022. When Michelle Stafford wasn't looking, co-star Greg Rikaart grabbed her phone and took selfies and a video. Stafford recently posted a video on Instagram in which Rikaart said, "Hey, Michelle's phone. Here I am, the love of Michelle's life. The love for all of her life." Stafford jokingly captioned the video "Good GOD... Make it stop," adding hashtags that highlight their friendship including "mysoulmate" and "myenemyforlife."
"Y&R" co-star Elizabeth Hendrickson commented, "Omg did (he) steal your phone ?! Welcome to my world !!!" Stafford responded with a resounding, "Yes!!!" 
Fans replied that seeing Rikaart and Stafford's friendship behind the camera was truly endearing. Many viewers advised Stafford to change her phone's passcode. 
When the "Y&R" photo shoot originally took place, Stafford had posted Rikaart's video along with a few goofy selfies that he took on her phone. She wrote, "No phone is safe with @gregrikaart," adding that she was thankful he didn't take naughty pictures. Stafford also later posted a selfie that Rikaart took, with him in the foreground looking hilariously confused, while she's in the background getting her picture taken. She stated, "PSA. Surround yourself with co-workers that tell the truth, steal your phone and make you laugh."
Fans were ecstatic at the love the two actors shared, and we can't help but feel the same!