Hints From The 2023 Grammys That Ben & Jen Might Not Make It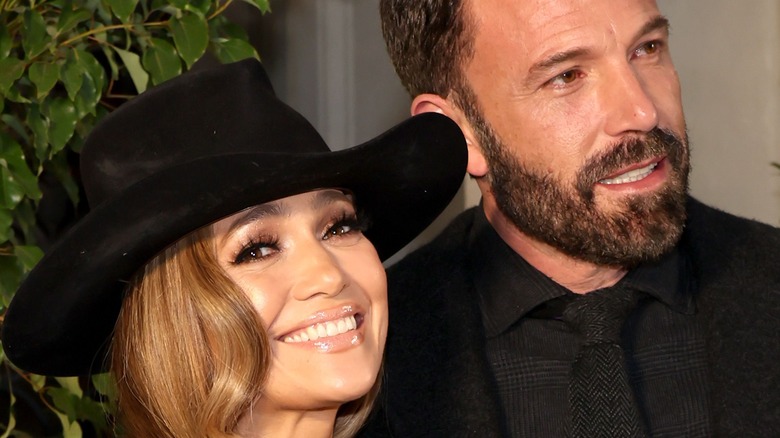 Amy Sussman/Getty Images
Ben Affleck and Jennifer Lopez have been one of the most talked about couples of the past two years. The duo stunned fans in the spring of 2021 when they began dating each other nearly 20 years after ending their original relationship. The couple known as "Bennifer" first met in 2001 (via Women's Health). They soon began dating and became one of the tabloids' favorite topics. Affleck and Lopez eventually got engaged and set their wedding for 2003. However, the pair called off their nuptials just days before their wedding ceremony, citing excessive media coverage as the reason. Just a few months later, in January 2004, the couple officially announced their split.
Lopez moved on to marry singer Marc Anthony, with whom she shares two children. Meanwhile, Affleck wed actress Jennifer Garner and the pair have three children together, per People. In the years after their split, Affleck and Lopez remained friendly with each other. However, after finding themselves single in 2021, the duo decided to give their romance a second chance. One year later, the couple announced their engagement again, and a few months after they tied the knot in Las Vegas with their children in tow.
Fans went wild for "Bennifer 2.0" and loved that the couple got a second chance at love. However, their appearance at the 2023 Grammys sparked rumors that there could be trouble in paradise.
Ben Affleck looked unhappy during the 2023 Grammy Awards
Kevin Mazur/Getty Images
Jennifer Lopez and Ben Affleck lit up the 2023 Grammy Awards. J.Lo rocked a gorgeous dark blue Gucci gown that included ruffles, fringe, and rhinestone beading (via People). Meanwhile, Affleck wore a classic black tuxedo and tie. Although the couple didn't walk the red carpet together, the pair smiled for photos, and Lopez even presented Harry Styles with the award for Best Pop Vocal Album. However, fans seemed to notice that Affleck didn't seem to be overly enjoying their time at the event. While those around him appeared to be having fun and dancing to the musical performances, the actor looked sullen and unhappy.  There was also a moment when the duo appeared to have a brief but intense conversation caught by the camera, where J.Lo nudged her husband encouraging him to smile for the camera, per In Touch. According to Parade, many viewers at home spoke out on social media about Affleck looking miserable at the show.
"Ben Affleck is every man who has to go to his wife's work party rn," one person tweeted. "They forgot to update ben affleck's software before tonight," another said. Ben Affleck is so consistent in his misery I almost have to admire it," a third person commented.
Yahoo! reports that Affleck looking dreary at the Grammys quickly began to trend on social media and the memes quickly followed. Although the pair have been married less than a year, their latest outing has sparked speculation that things could be a sign that things are already fizzling out.
Is Bennifer's marriage in trouble?
Kevin Winter/Getty Images
When Ben Affleck and Jennifer Lopez rekindled their romance, many fans were thrilled. It was a great second-chance love story 20 years in the making. However, Bennifer might still be working on their fairytale marriage and happy ending. Shortly after the couple's wedding, a source told Fox News that Lopez was in a rush to get married because she feared that Affleck would get cold feet and call off the wedding ceremony. As for the couple's talked-about Grammy appearance, In Touch Weekly reports that Affleck only attended the event to be his wife's date. "Ben was on his best behavior as Jen's date, that's the only reason he was there, but it was obvious that he didn't feel comfortable because all eyes were on him," an insider revealed.
According to The U.S. Sun, fans are now worried that the end is near for Lopez and Affleck. "I feel bad for him. I don't think he'll ever be happy," one person tweeted of Affleck. "She has a force smile. This marriage has problems. Soon we will hear the divorce bells," another remarked about Lopez. "Jennifer knows this marriage ain't working and she's not happy," a third person tweeted.
Were Ben and Jen having an off night, or could their 2023 Grammy appearance hint that their relationship isn't built to last? Only time will tell as the stars continue to navigate married life together.