Kate Middleton's Never-Before-Seen Baby Photo Has Fans Drawing Comparisons To Another Royal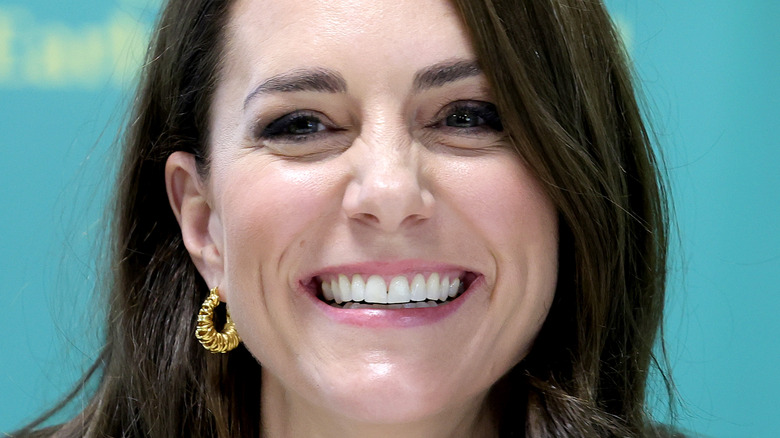 Chris Jackson/Getty Images
The latest move creating royal buzz is very different from what we've come to expect from the royal family these days. In the wake of plenty of startling revelations from Prince Harry's memoir, "Spare," stirring the pot, Kate Middleton, Princess of Wales, has had a handful of moments in the public eye that have distracted us from the turmoil amongst the senior royals. From her sweet response to a nervous fan asking for a selfie to the launch of her "Shaping Us" campaign that focuses on supporting children as they grow, as far as the public is concerned, Kate has been ignoring the family feud and concentrating on spreading kindness (via Page Six).
With all her focus on the importance of childhood, it's no surprise that Kate chose to share a photo of her in her youth with the world. On February 4, Kate posted an adorable photo to The Prince and Princess of Wales Instagram account with a long caption, including "on Tuesday, we launched #ShapingUs to raise awareness of the vital role our early years play in shaping the rest of our lives." 
While the point of the post was to promote the campaign that has been referred to as her "life's work," the photo in question has sparked commentary for very different reasons, per Gloucestershire Live.
Kate Middleton's royal lookalike
Kate Middleton, Princess of Wales, shared a photo of herself as a baby smiling at her father to promote her "Shaping Us" campaign. However, one quick look at the comment section shows that it's difficult for folks to focus on the campaign when the photo reminds them so much of someone else. Royal fans can't believe how much the Princess of Wales as a baby resembled Prince Louis. One fan commented "Louis is your TWIN." Another actually confused the mother-son duo, saying, "I thought it was Prince Louis." One commenter added, "Is it just me or is there a very big resemblance between Cathrine and Louis?"
Four-year-old Prince Louis is the Prince and Princess of Wales' third child, and this photo proves that the third time was a charm when it came to producing Kate's mini me (via People). 
While the photo has caused quite a stir among royal fans over the apparent family resemblance, Kate used the caption to encourage others to share their own baby pictures, writing, "This weekend, we'd love for you all to spend time with your friends, families, colleagues and communities talking about your early childhoods and how they've shaped your lives. I hope you'll also consider joining me in sharing a picture of yourselves before your fifth birthday to help with those conversations and to share some smiles and memories too."