Kate Middleton Had A Sweet Response To A Nervous Fan Asking For A Selfie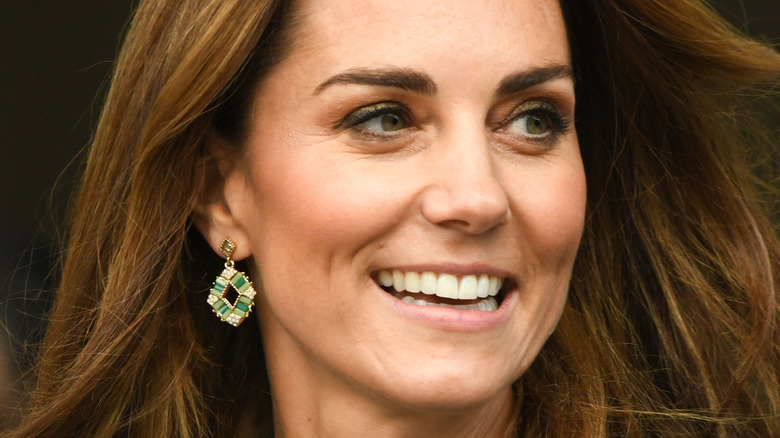 Lingtren.com/Shutterstock
Despite all the press surrounding the royal family these days, the Princess of Wales has stayed mostly out of the spotlight. Even so, she has been one of the many topics of conversation in the wake of the release of the Duke of Sussex's revelatory memoir, "Spare." 
Specifically, the truth about Kate Middleton and Meghan Markle's relationship has been called into question. Prince Harry's book claims one comment landed Meghan in hot water with Kate, writing that in the lead-up to the Duke and Duchess of Sussex's wedding, Meghan claimed that Kate "must have 'baby brain' because of her hormones," per Newsweek. According to Town & Country, Harry didn't shy away from drawing attention to Meghan and Kate's relationship, even shockingly sharing heated text message conversations between the two with the world. 
While Kate has mostly steered clear of the limelight, a source told Us Weekly, "Kate feels that Harry's actions are atrocious. She is appalled at him for dragging her name through the dirt and is finding it hard to forgive." 
Even though the Princess of Wales isn't happy about how "Spare" made her look, she remains one of the most popular royals among the public (via Ipsos). Kate was recently approached by a fan to take a selfie, and her uniquely gentle response proved just why the general public largely remains a Kate Middleton fan club.
Kate's kind words
Kate Middleton isn't one to shy away from selfie requests while on royal engagements (via Mirror). Consequently, it's no surprise that plenty of fans came to greet her when she visited Kirkgate Market in Leeds on January 30. 
One moment between Kate and a fan that was caught on camera has gone viral thanks to Kate's kind words. A man asked the Princess for a selfie and let her know that he was nervous, to which she replied, "Please don't worry, it's OK. We all get nervous." After he snapped the photo, Kate said, "Well done, nice to meet you. Take care."
Kate was in the area to meet with market traders about her Shaping Us campaign. The project was launched by The Royal Foundation Centre for Early Childhood, and it aims to teach folks "what we can all do to help raise future generations of happy, healthy adults," says Kate (via Independent). In a speech, the Princess explained, "The campaign is fundamentally about shining a spotlight on the critical importance of early childhood and how it shapes the adults we become." 
Yet, her viral selfie moment left some fans remarking that her love of children is only one part of what makes her a great royal. Twitter user @Canellelabelle tweeted, "The Princess of Wales Comfortable among her people... 'Its ok, we all get nervous'... We do indeed! She is not only the Children's Princess, Catherine is also the People's Princess".