'Dark Bimbo' Is The Sultry Aesthetic To Indulge In This Spring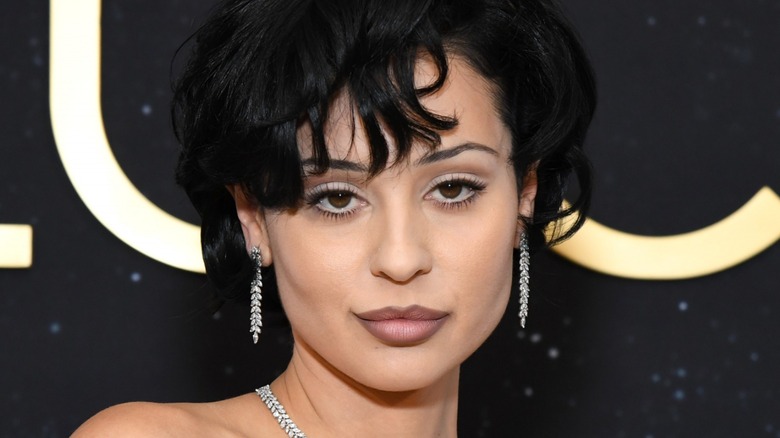 Jon Kopaloff/Getty Images
When you think of the word bimbo, its connotation as an insult might first come to mind. Used as a derogatory slang term for women who were seen to use their bodies more than their brains to get what they want, the stereotypical bimbo was oft a sexualized and highly feminized figure. But one thing is certain — she was definitely having fun. And what is so wrong about a woman enjoying herself and her body? 
With this in mind, the term bimbo is now being reclaimed and used by women to celebrate their bodies and their intellect. Per The Cut, a modern bimbo is a "socially aware, politically engaged person who is capital-C confident. A bimbo finds (versus forfeits) power in expressing femininity." The modern-day bimbo is also sex-positive and unafraid of expressing it. 
Women online are seeing themselves in this new definition. On TikTok, the hashtag #Bimbo has more than 2 billion views at the time of writing. As such, a new generation of bimbos has been born. And, as the internet is wont to do, this new descriptor comes with a new look as well — one that perhaps takes aim at the stereotypical blonde, bejeweled, a pink-wearing aesthetic that once embodied the word. Bimbos are multifaceted, and so is bimbo fashion. 
Enter, the dark bimbo aesthetic. 
The dark bimbo aesthetic
The dark bimbo still embodies the archetypical bombshell bimbo but in goth, akin to the dark academic aesthetic and the dark mermaid look. According to Byrdie, the dark bimbo aesthetic takes after the flappers of the 1920s, featuring form-fitting silhouettes and sharp makeup, and has been seen on celebrities including Alexa Demie, Charlie XCX, and Amelia Gray. 
The dark bimbo wears sharp, black eyeliner, thin eyebrows a la '90s Pamela Anderson, powder-matte foundations, pastel pink blushes, and often a darker-toned lip complete with lip liner.
As far as fashion goes, leather, latex, lace, and mesh textures reign supreme. Form-fitting skirts are a go-to, often paired with tight black tops, black tights, and lug-sole boots or platforms. And of course, the proper accessories are required, such as a statement silver cross necklace. We are obsessed with the look TikTok user @paigebrad puts together in her video, which features black flare pants lined in feathers, a mesh, long-sleeve crop top, knee-high platform boots, and of course, heart-shaped "Bimbo" earrings. She finishes off the look with a metal loop belt. 
We also love how user @malaysiamichelle, a self-described goth bimbo, pulls off the aesthetic in an all-black outfit she posted on TikTok. First, she pulls on sheer black tights and a black pencil skirt. Next, she puts on a black, turtleneck bodysuit, and layers it with a lingerie lace duster. She throws on her favorite necklaces, a pair of heeled booties, and a black headband.