How To Style Your Dark Academia Aesthetic For Spring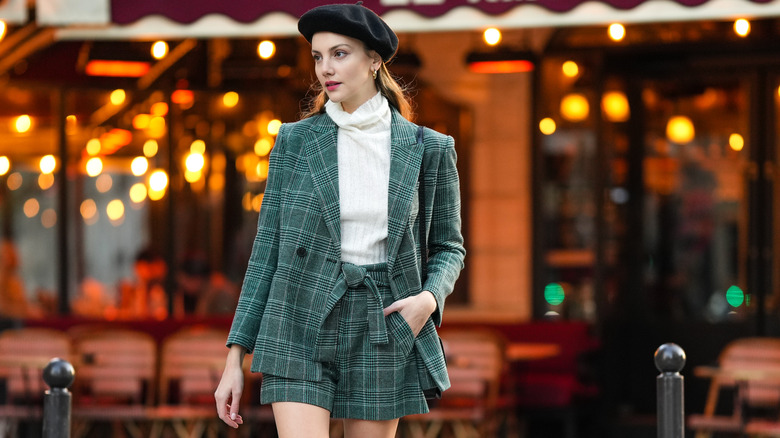 Edward Berthelot/Getty Images
The dark academia aesthetic is transforming closets one tweed blazer at a time. Per The Book Riot, dark academia has evolved from being a fashion subculture into a lifestyle and heavily emphasizes a love of reading and learning. The dark academia tag on Tumblr and TikTok churns out hundreds of scenic photos littered with gothic elements. 
Picture a hardcover copy of Mary Shelley's "Frankenstein" slipped into a brown leather satchel, students walking across a historical college campus in scuffed oxford shoes, and preppy blazers with dark undertones. The New York Times brands it as a celebration of literary classics, vintage/thrifted clothing and classical architecture. L'Officiel lists brooches, watches, Dr. Martens and trench coats as a few staples of this style.
InStyle pointed out that dark academia shares elements with another popular TikTok aesthetic, gothcore, though they're influenced by different subcultures. Both aesthetics experiment with darker themes and colors. But at its "core," gothcore is mostly inspired by the rock and metal music community.
Part of what makes this aesthetic so accessible is that you can pick up many fashion pieces at an affordable price — or simply spend the afternoon sifting through your family's closets for vintage wear. Dark academia is in style year-round. While its dark palette makes it a fashion-favorite in colder months, it can also be styled for spring.
Spring-friendly outfits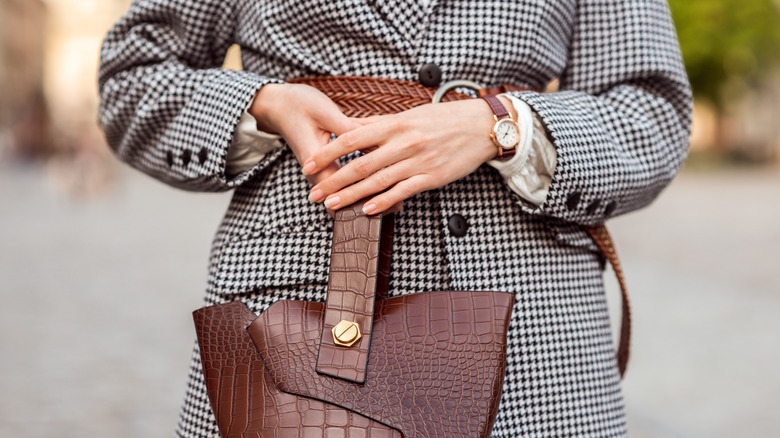 Victoria Chudinova/Shutterstock
Transform your dark academia style for spring by switching your heavier clothing pieces for lighter fabrics. During warmer months, book blog Chasing Daisies suggests wearing lighter colors. Instead of thick wool sweaters, throw on a thin sweater vest or linen blazer over a plain tee. This look doubles as the perfect summer get-up. Depending on your mood, Cosmopolitan recommends keeping it simple with a check short dress or a matching cropped blazer and mini skirt set.
In the spring, you have full permission to borrow elements from dark academia's sister aesthetic, the light academia. To infuse the heat-friendly aspects of light academia into your wardrobe, follow fashion and beauty blog Gigi's Adventures' lead and tuck a light turtleneck sweater into a skirt. You can also opt to wear tops in lighter colors and keep your go-to items, including your dark trousers and loafers, on rotation.
In her aesthetics style guide YouTube series, fashion and lifestyle vlogger Nava Rose showed off how versatile the dark academia aesthetic is by styling distinct outfits. In one outfit, she layered a yellow plaid blazer over a lace top and black high waisted pants. For her next look, she traded yellow for grey and black and rocked a plaid ruffle skirt, sheer tights, oversized sweater and blazer. She completed the look with oxford shoes, a chain anklet and gold rings.
Dark academia lends itself to creativity. You can take this style in so many directions. Go forth and get your scholar on.