Soap Icon Susan Lucci Launches Jewelry Line For An Important Cause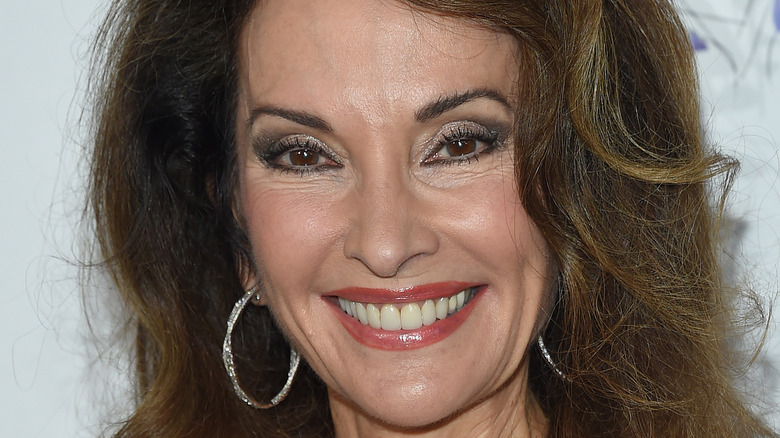 DFree/Shutterstock
On January 10, 2020, soap opera legend Susan Lucci posted a picture of herself from that exact date in 1970 on Instagram, stating, "January 10, 1970—the first day I stepped onto the "All My Children" stage as Erica Kane. Thank you to all of you!!!" According to People, the sudser premiered on January 5, 1970 and ran all the way until its cancellation in 2011. There was a brief online revival of the show in 2013, which was quickly thwarted after production company Prospect Park sued ABC over the rights to characters from "One Life to Live" — which affected "AMC" as well, per Soap Hub.
Just three days prior to the cancellation of "AMC," TMZ spoke to Lucci about the show's rumored demise. The 40-year soap veteran stated, "No truth to that rumor ... not at all." Lucci and the cast had no idea the show was being axed until the very last minute. Sad that both the network and online versions of "AMC" were gone, Lucci's life would also take another tragic turn with the heartbreaking death of her husband, Helmut Huber, in 2022. On top of that, Lucci had heart surgery in 2018, and again in 2022, per USA Today. 
Lucci has become an advocate for heart health and recently opened up about a new way women can remember to take care of their hearts.
Susan Lucci shares her concern for heart health
As the American Heart Association explained, Susan Lucci had twice ignored signs of a heart attack. Fortunately, she was able to get the medical help she needed, stating, "Maybe there's something more important that can come out of telling my story rather than keeping it to myself. I was incredibly lucky, and I want to pass that luck on."
On a recent episode of "Today," hosted by Hoda Kotb and Jenna Bush Hager — as part of American Heart month — Lucci discussed her heart issues, noting that she was ignoring chest pains until things got worse. Fortunately, the manager of a boutique she was in was kind enough to drive her to a local hospital. She remarked that after the first incident, she went back to her old ways instead of following her checklist: "Listen to your symptoms, get checked out, know your numbers, and put yourself on your to-do list." 
The hosts asked Lucci about her heart-shaped necklace. She explained that she created it as a reminder to women, "To keep on being vigilant." She designed it as, "Something concrete to shine a fresh light on the situation." The necklace is a tangible reminder for women to be aware of any heart attack symptoms and maintain their heart health.
An exuberant Lucci also shared the good news that a possible "All My Children" reboot is in the works, so our fingers are crossed!