TikTok Swears By Using 'Foamed' Micellar Water On Your Face, But Some Dermatologists Don't Approve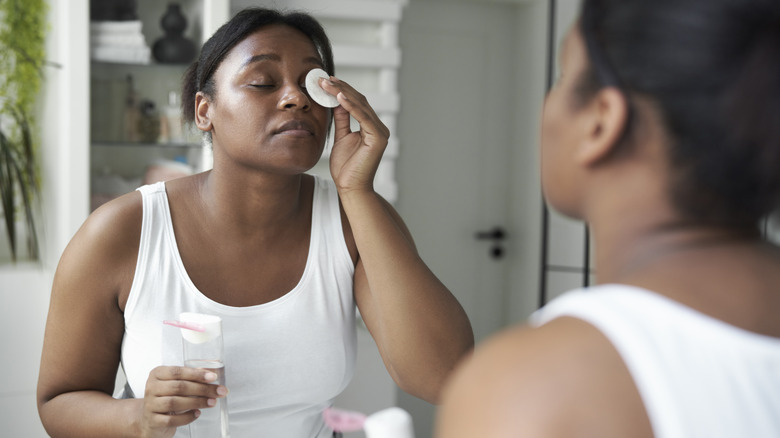 Gpointstudio/Getty Images
When a product or technique becomes increasingly popular on the internet, we may tend to think that we can easily partake in it. If it works for others, it should work for you too, right? But if you ever got tempted to chop off your locks and ended up looking like Lord Farquuad or appear to be the one person that the seemingly iconic Clinique Black Honey lip color doesn't work on, you may think twice about buying into every thing that the algorithm promotes.
The same hesitance should apply to skincare hacks and products that trend on TikTok. Everyone's skin is different, reacting in divergent ways to items and methods based on their chemistry and lifestyle. For some specific issues, there's rarely going to be a one size fits all product for it. Yet, some people are returning to items they once abandoned thanks to others finding new takes on how to use it.
In this case, the product in question is micellar water. According to Kiehl's, micellar water is soft water infused with herbs and made with micelles, or small cleansing oil molecules that cleanse the skin without having to rinse or scrub.
Used for over 100 years, micellar water is intended to be poured onto a cotton ball then swiped on the face to cleanse and remove makeup. Although it didn't always work for some, TikTokers are finding a new way to use the age-old product.
What is the TikTok micellar water hack?
In this TikTok by @saragomez.13, the user pours micellar water onto a cotton pad, then flips it around and blows on the back, producing bubbles. In the video caption, she says the hack works better to remove makeup compared to simply placing micellar water on a cotton pad and putting it on the skin.
While some commenters mentioned that this hack may not make a difference, others noted that all it does is blow bacteria onto the cotton pad, which will then be transferred to the face. While the last point can be true, it has a low chance of actually affecting your skin. The first claim, however, is true.
Fortunately, the effectiveness of the micellar water isn't decreased when it's foamed. However, it certainly doesn't remove makeup better than using it the way it was intended to be used. Changing micellar water from a liquid to a foam does nothing to the efficacy of the formula itself, reports Byrdie.
A dermatolgist named Dr.Shah, who calls himself "DermDoctor" on TikTok, agrees. While the method may be fun to do, Shah explains in order to remove makeup with micellar water, all you have to do is press the soaked cotton pad to your face and wipe it away. With the micelles doing all the work, no foam is required.
The best foaming products to remove makeup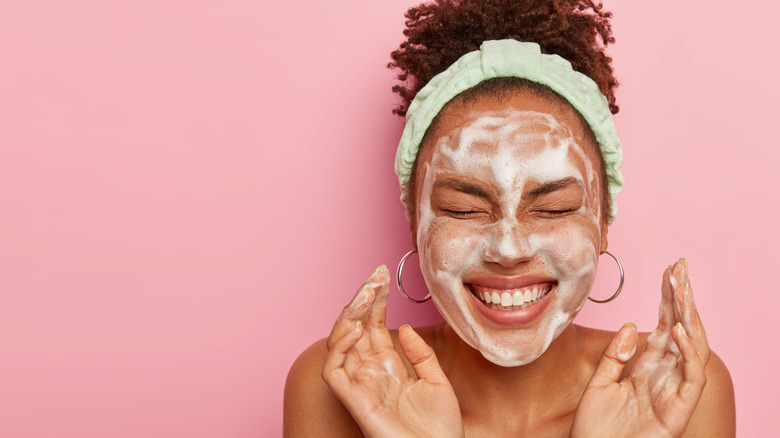 Cast Of Thousands/Shutterstock
If using bubbles to remove makeup and dirt is what attracted you to the micellar water hack, try a foaming cleanser instead. If you want the power of micelles in a formula that's supposed to foam, try the Garnier SkinActive Micellar Foaming Face Wash. Oil and fragrance-free, the gel-based cleanser uses micelles to gently remove dirt and makeup.
For dry skin, the Cerave Hydrating Cream to Foam Cleanser gets rid of makeup, dirt, and sunscreen without stripping the skin. The cream cleanser works into a rich lather, cleansing the skin while locking in moisture with hyaluronic acid and amino acid complex.
The Renée Rouleau Purifying Face Wash is a sulfate-free cleanser that's great for oily, sensitive skin. Mild on the skin, the gel cleanser produces a light foam to draw impurities from the skin. Formulated with chamomile, green tea, and sea whip extract, this cleanser soothes even the most sensitive or acne-prone skin, preventing irritation and flare ups.