Prince Harry's Mystery Older Ex From Spare Isn't Staying Silent Any Longer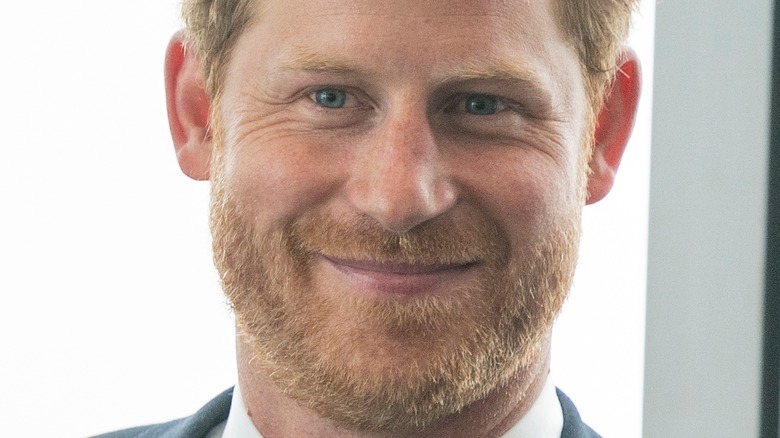 Lev Radin/Shutterstock
Prince Harry, the Duke of Sussex, shocked the world when he released an explosive tell-all memoir entitled "Spare." There were many startling revelations made in the book, like the allegation that his brother, William, the Prince of Wales, physically attacked Harry (via The Guardian). Harry shared that William allegedly "grabbed me by the collar, ripping my necklace, and knocked me to the floor" after his older brother called Harry's wife, Meghan Markle, the Duchess of Sussex, "abrasive" and "rude." 
The incident left Harry with an injured back, and their bond has been strained ever since. The duke did not hold back when sharing intimate stories in his memoir. While Harry focused on details surrounding his relationships with the rest of the royal family, he also got honest about his romantic rendezvous. The prince even shared the shocking story of losing his virginity, revealing that the experience unfolded with an older woman, per TMZ. Harry didn't give the woman's name, but she has announced herself and has a lot to say about the story.
The mystery woman has been revealed
In "Spare," Prince Harry, the Duke of Sussex, shared how an older, unnamed woman took his virginity. The only information the duke gave in his book was that she treated him "not unlike a young stallion." Now, the woman has come forward to confirm the story and share her own take on it. In an interview with the Daily Mail, Sasha Walpole opened up about the experience. 
"I've kept this a secret for 21 years. I would never have said anything if he hadn't put it in his book. I am here to tell my story, in my words," she explained, adding, "I am the lady that Prince Harry wrote about in his book, who he lost his virginity to." Walpole continued, "It wasn't that glorious. We were drunk and having sex in a field. I didn't know Harry was a virgin at the time. Then it kind of dawned on me that perhaps he was because obviously, he'd never really had a girlfriend."
As she acknowledged, "It was just a quickie in the field." Moreover, "Harry wrote in his book that I gave him a slap on the bum. I gave him a little squeeze as well. It was a bit of fun. He had a peach bum, he was young," she concluded. Although Walpole doesn't regret the experience, she expressed surprise that Harry had even included it, since their encounter was such a long time ago. 
Sasha Walpole and Prince Harry were very close friends
Sasha Walpole was a groomer at Highgrove when she and Prince Harry first met, and they reportedly bonded over their mutual love of horses. While the claims in Harry's memoir boast of losing his virginity to an older woman, Walpole is actually only two years the prince's senior — a technicality that doesn't seem like a big difference now that they're both adults, but we imagine was a big deal back in 2002 (via Cosmopolitan).
Walpole did express some slight regret when she recalled the encounter the next day, not because of him being a prince, but due to the fact that she was worried that she had just ruined a relationship with a good friend. Luckily, it seems that Harry has continued to speak very highly of his first encounter. Further, according to Walpole, those close to the pair won't be shocked by the revelation at all. 
She stated, "Nobody from back then would be surprised that it was me and Harry. A lot of people knew about it." Walpole then joked that people may be more surprised that she has since changed careers, and is no longer working with horses. In fact, Harry's former flame told the Daily Mail that she hopes the two of them can catch up over a drink someday, noting, "We were really good friends back then. I wish him all the best."