A-Line Dresses Are Universally Flattering. Here's How To Update The Look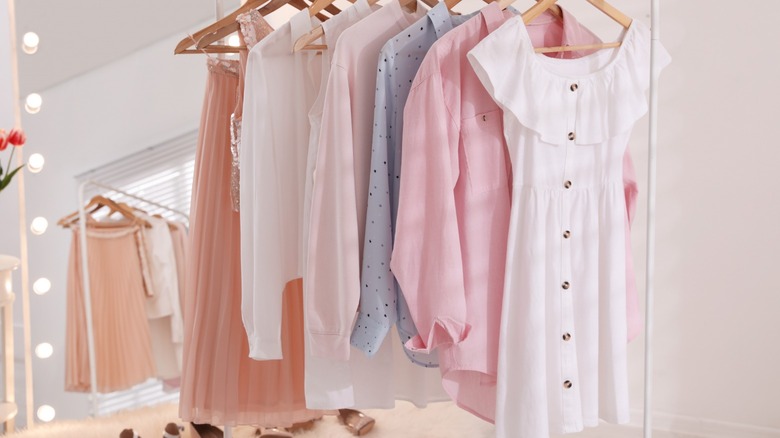 New Africa/Shutterstock
It's understandable to be a little skeptical of anything branded as a universal style. Not everybody in the universe can wear that hat, that blouse, or that sweater. Well, technically speaking, of course they can. And we are huge proponents of wearing absolutely whatever makes you feel good. However, at the same time, there are certain ways to wear clothing and accessories that can optimize what makes you look good. Sometimes, it can also be easier to tell when an item of clothing does not look quite right on us than identifying when an item does, and why it does. 
One of the trickiest garments of clothing to exact is the dress. Although it takes just seconds to throw one on, it could much longer to find a dress that looks flattering on your body. But look no further, we have identified the dress shape that actually does look good on everybody — the A-line dress. 
Now, it is no secret that stylists have loved the A-line dress for decades for just this reason. With such a classic shape, the A-line dress holds many styling possibilities. However, as far as modern trends go, the A-line dress is often overlooked. Here, we've explored how to style an A-line dress to bring it into the future of fashion, without sacrificing its timeless shape. And, if you're looking for more options, here's how to find the right dress shape for your body type. 
Styling a short A-line dress
The A-line dress shape is defined by its fit around the bust and waist, and flare from the hips. The bottom hem of the dress is typically straight across, can range in length, and is usually wider than the length of the shoulders. Because of its simple frame, the A-line dress is easy to style and layer. 
Fashion creator Kaiti Yoo flounces four ways to style a basic white, A-line dress in her YouTube short. First, she tries on a business casual look, layering the dress with a dark gray vest and throwing an oversized, light gray blazer on top. She accessorizes with a black, quilted leather bag and a pair of fun, heart-shaped earrings. 
Next, she tries on a casual, weekend look. She puts an oversized, light blue sweater on top of the dress. This gives the illusion she is wearing a skirt. Then, she layers another sweater on top of the sweater (sweater-ception!) and the effortless look is complete. Here's how to perfect the sweater-over-shoulder look. Her next look is a lunch date look. She wears a gray blazer made of a soft texture, perhaps a knit cotton, and grabs a shapely beige and cream-colored bag. And, last but not least, is another everyday look. She throws a light blue, button-up tweed shirt over the dress, marrying two classic looks in a fresh, modern outfit. 
Styling a maxi A-Line dress
A-line dresses come in many different lengths, and midi and maxi lengths have been ruling the fashion game as of late. TikTok user @gaozongindepth wears two, A-line maxi dresses for a modern update to the flattering style while defining her curves. 
First, she puts on a two-toned, long-sleeved, and tiered dress in light pink fuchsia. The belt on the dress accentuates the shape of the dress, while the tiered detail breaks up the long fabric. This long-sleeved, A-line maxi dress from ASOS features a similar look and color palette. 
Next, she wears another tiered maxi dress. This time the dress is black and perfect for a night out. The fitted waist defines her midsection, while the tiers add balance to the overall look. This black, ruffled A-line maxi dress from Lulus features a similar effect. We also love the idea of wearing a maxi duster over your outfit that can be tied together around the waist for a similar illusion to an A-line maxi dress. Something like this lavender ruffle duster from Forever 21.