How To Perfect The Sweater-Over-Shoulder Look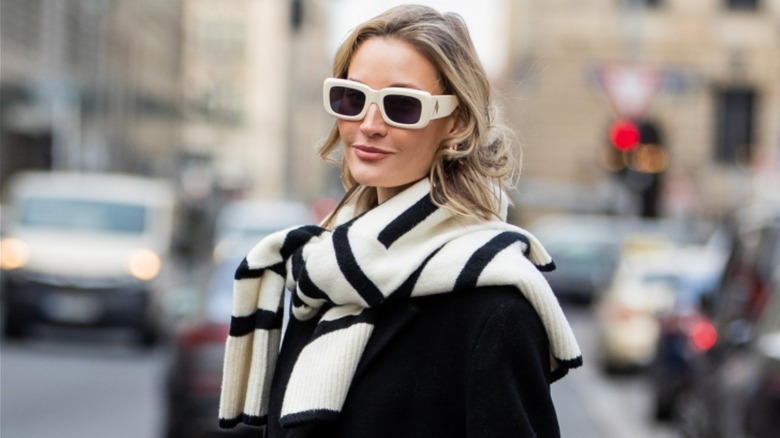 Christian Vierig/Getty Images
One of the chicest ways to wear a sweater is, ironically, not to wear one. And while it might be considered a fashion faux pas to tie a sweater or sweatshirt around your waist these days — although we remember when it was cool — wrapping a jumper around your shoulders somehow has the exact opposite effect. While there are plenty of stylish ways to dress up a sweater, done tactfully, wearing it over your shoulders adds an element of sophistication to your outfit by layering colors and material. And even the slightest adjustment to the look can produce some serious attitude. But, if you're not paying close attention, the effect could look more listless than sharp. 
It is worth noting that the shoulder sweater has, in the past, had a particular connotation. Once a harbinger of a certain kind of toxic masculine energy or rich, WASPy archetype — both in real life and in popular culture — the sweater over the shoulders has since been on its way to redemption, worn in modern ways that signal its new era (via a little bit of rest). (Though this look still lends well to the tenniscore aesthetic trend on TikTok.) As shared by Vogue, Harry Styles rocks the look with a light-blue pullover thrown over his shoulder, and so have a slew of fashion influencers. Should you want to join forces with this new generation of sweater-slinging socialites, we have found some inspiration for you.
The basics to the sweater around the shoulder
TikTok user @anastasiagerrans breaks down a few pointers when going for the sweater around-the-shoulder look in a video. She emphasizes that the piece you choose has a crucial impact on the style's success. The jumper should be a thicker knit, slightly oversized, and ideally, have some texture to keep the tie in place throughout the day. For the classic look, fold the collar and toss the garment around your shoulders, with the back facing outward. Adjust the pullover so the shoulder seams reach slightly past your collarbone. Then, gently tie the garment across your chest, smoothing the sleeves flat first. She notes that, when tying some tops, the tie may bulge as the sweater sleeves stick out in the front. In this case, it is better to leave the garment open. 
The open sweater look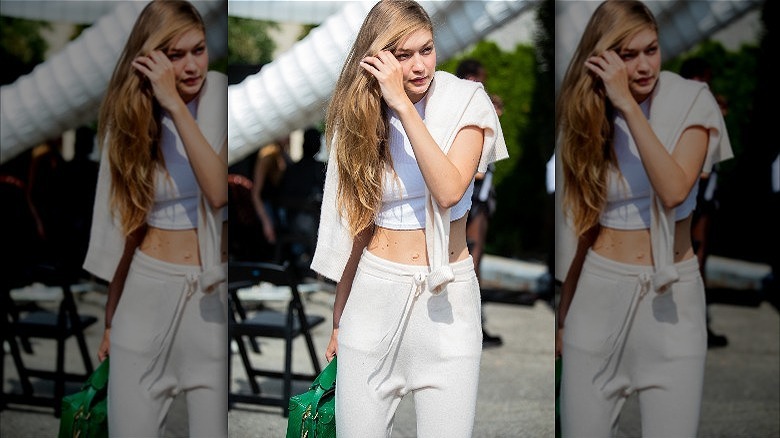 Christian Vierig/Getty Images
Gigi Hadid is a known fan of the around-the-shoulders look, and this aesthetic would be the perfect test run for those new to the style (via WHO WHAT WEAR). Hadid wears an off-white, matching sweater and sweatpants set with a high-neck, cropped white tee, and an emerald green bag for a pop of color. Hadid has chosen to opt for the more casual open look. We love this twist on the classic matching set, which helps break up all that fabric and color. 
Layering color-block sweaters
Another fun way to style your sweater over your shoulders is to wear another sweater underneath! In this look, the jumper on top takes on the role of a scarf. Instagram user @gracemmontana mixed textures and colors as she styled her double tops, wearing a chunkier pink knit sweatshirt as her first layer and a thinner blue sweater over the top. Color-blocking elevates this style into a bold statement, and wearing one over another puts it to new use. 
Over a jacket
Another unique way to style a sweater over your shoulders is to pair it with a blazer. We adore how @liv.ishak pairs her lavender sweater with a matching lavender jacket. And she demonstrates four different ways to wear the look: tied diagonally across, tied straight across, worn open, and tied around the neck as one would a scarf. We love the off-kilter cross body with the blazer, which looks and feels a little rebellious despite being so put together. 
Pair with a button-down shirt
Another way to wear a sweater over the shoulders is with a button-down shirt. TikTok user @fresh.erica tucks a shirt into a pair of straight-leg jeans, then throws a sage green jumper over her shoulders. While this look may read slightly preppier than others (@fresh.eric tagged #coastalgrandma and #preppyaesthetic in her post), we're here to say that, first of all, grandmas can be super chic, and second, a few tweaks to the look would perhaps tone down the prep. For example, untucking the shirt, wearing a cropped button-down shirt, or choosing a sweater without a linear pattern like checkers or stripes. Of course, this style can be a great addition to your repertoire if it's the preppy aesthetic you want. 
Color on color
This look combines a few of our favorite inspirations: doubling up on the tops and matching color with color. YouTube creator @kaitiyoo pairs a thick, V-neck, mint-green sweater with a lighter, mint-green garment. The result is a super fresh (get it?) take on the around-the-shoulders look. Instead of tying the sleeves together, @kaitiyoo drapes the top over her shoulders and tucks the sleeves in behind her arms, giving the shrug effect. Casual, cute, and comfortable — what could be better? 
The striped sweater look
Striped sweaters are a staple piece in any wardrobe, and draping yours over your shoulders is a wonderful way to mix up how you wear them. TikTok user @anastasiagarrans chooses to dress up this look with a blazer, tailored pants, and a structured tote; the sweater adds a new texture to the outfit and a pattern to catch the eye. But you could just as easily throw your striped sweater over a t-shirt with jeans on a casual day out. 
The all black look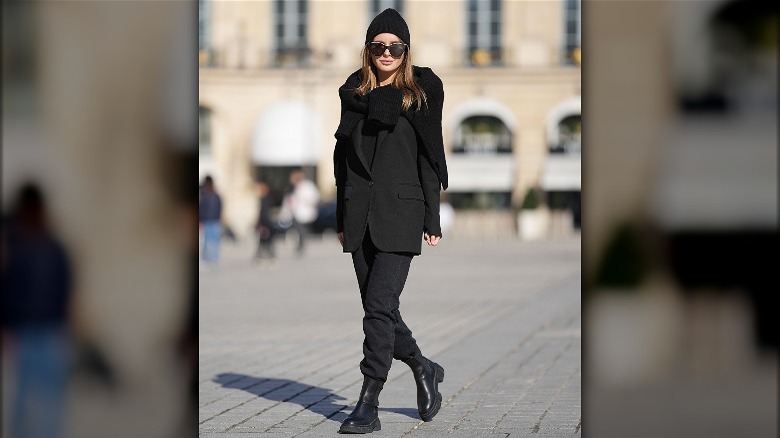 Edward Berthelot/Getty Images
Black has long been heralded as the chicest color in fashion. But it can be hard to pull off an all-black look without the color overpowering the outfit. In this instance, the black sweater tied around the shoulders completes this look, adding contrast to the tailored blazer and balance to the ensemble overall. Mixing textures and shades of black is essential to pulling off an all-black look; toss a black sweater over your next look, and you will feel chicer than you ever thought you could. 
With a dress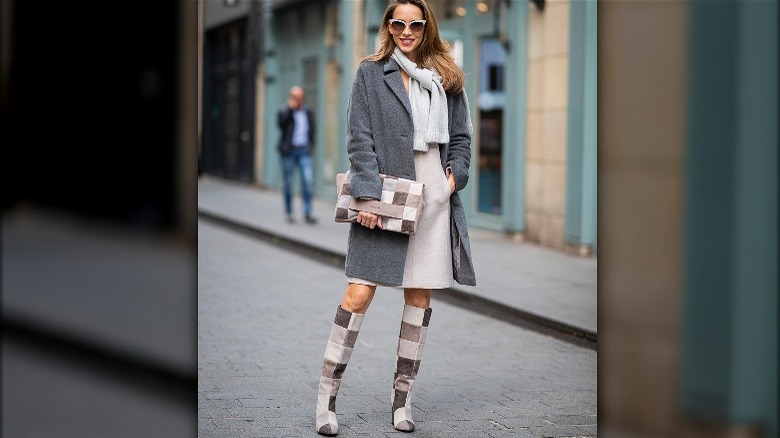 Christian Vierig/Getty Images
Another modern way to wear a sweater over your shoulders is to pair it with a dress for a feminine fit. This monotone gray ensemble would not be the same without that added accessory. Taking on the shape of a scarf, the garment adds body to the look, featuring a checkered print and tailored coat. Since we're always trying to appropriate our summer dresses and skirts during the colder months, we think adding a sweater over the shoulders is the perfect way to do so. But even without the jacket and boots, the same style could apply year round. 
With baggy pants and a crop top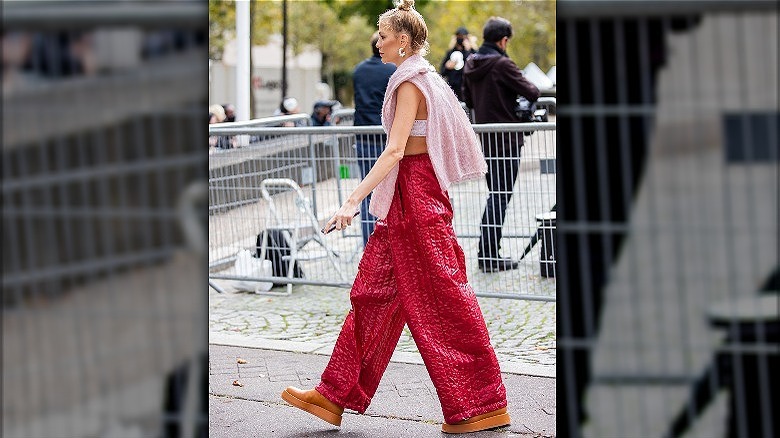 Christian Vierig/Getty Images
One of our favorite uniforms is big baggy pants and a little crop top. Why not shake it up with a cute sweater? Intended for warmer weather days, you will want to be strategic when choosing the right piece for this look. This outfit features an ultra-thin pullover so as not to overheat the wearer — but it is still perfect for transitioning from day to night. We love how the pants' bagginess complements the sweater's flow and the contrasting colors at play. 
Animal print sweater
A good animal print piece is a closet staple. But, if the boldness of the print feels slightly overwhelming, try tying an animal print cardigan over your shoulders to incorporate the print without feeling lost in the jungle. Because animal print is such a statement, we recommend keeping the rest of your outfit simple, like TikTok user @audreekate does with a black t-shirt tucked into blue jeans. Plus, she includes 10 different ways to tie the sweater on top. Talk about creative! 
The sporty look
We love how TikTok user @justlizrenae styled her sweater for a sportier, more business-casual look. This look is simple and sophisticated in all of the right ways, featuring a seamless, high-neck tank top tucked into wide-leg pants and a tied, cream-colored pullover on top. Paired with sneakers and accessorized with a watch, the fit is relaxed yet elevated with the addition of the sweater over the shoulders — the perfect daytime ensemble for a quick lunch with coworkers in between meetings. 
With shorts
Next, we would be doing this style a disservice if we did not showcase the sweater around the shoulders and shorts combo. This is a classic way to rock this style, and we love how fun TikTok user @miabliss makes it look. First, she wears a blue, off-the-shoulder tank top tucked into pleated, high-waisted, beige shorts. Then, she wraps a white sweater over her shoulders and ties in the front. She polishes off her fit with a bow headband, delicate jewelry, and a pair of white sneakers. 
The tidy sweatshirt twist
But what if we told you that you could elevate your sweatshirts by applying the same sweater over shoulders technique? We love how this style can take even the most basic gray crewneck to a new level. TikTok user @hannahwarling demonstrates a technique that keeps the sweatshirt looking tidy instead of tying it around your waist. After tying the sleeves diagonally across, tuck the ends of each sleeve into the knot you've created. Then, pull the sleeves' ends to eliminate any creases. And voila! A whole new life for an old sweatshirt.