The 'Bae Basket' Is The Perfect Last-Minute Valentine's Day Gift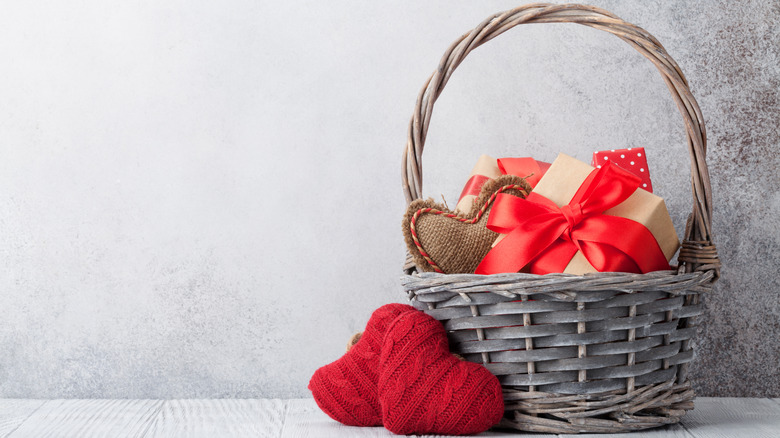 Evgeny Karandaev/Shutterstock
We may receive a commission on purchases made from links.
Not sure what to get your bae for Valentine's Day? Join the (ever-growing) club. Valentine's Day is a notoriously difficult holiday to shop for, but at the same time, it's an important gift-giving occasion to get right. If you can't think of the ultimate present for your partner that's neither too much nor too little, romantic without being cheesy, and perfectly personal, the endlessly creative content creators of the world may have solved this common problem. 
Plus, the solution works for gifting procrastinators, as well as those of us on a tight budget. Influencer Eli Rallo AKA @thejarr posted a video on TikTok explaining the Valentine's Day gift she put together for her boyfriend. Rallo calls the unique gift the "bae basket," and while a Valentine's Day gift basket may not seem like the most groundbreaking present idea ever, the bae basket basically ensures that your loved one is going to love their gift.
Despite all the pressure surrounding this most romantic of holidays, that's pretty much all we can ask for. So, if you're looking for the ideal V-day gift, the bae basket is sure to change the game, and there are no flowers, chocolate, or paper hearts required. Sorted! 
Inside the 'bae basket'
In her how-to video, Eli Rallo starts by filling the bottom of a basket with Easter grass, i.e. those crinkly paper strips that you typically find in seasonal baskets. She then proceeds to fill the basket with lots of little thoughtful gifts for her boyfriend. Rallo goes with staples that she knows he likes, including Clif protein bars and coffee creamer, as well as other, more practical presents, like wine glasses and a cozy scented candle. 
She also adds a game that they can play together and a few romantic tidbits, like Valentine's Day boxers and a card that references their shared love of space. Besides all the amazing and perfectly-tailored contents, one of the best parts of the bae basket is the basket itself. Rallo opted for a soft storage basket, like these ones from Amazon, so even the container the gifts are in is useful after the basket has been opened. 
What makes the bae basket so unique is that everything about it is customizable and tailored to fit your partner. What better way to tell someone how much you love them than by showing them just how well you know what they like? Plus, filling the basket with several smaller gifts means that you don't need to come up with one perfect big gift and you can build your basket around your own budget and get plenty of bang for your buck. 
Making the 'bae basket' your own
Since the bae basket is essentially the perfect way to shower your partner with love this Valentine's Day, it's really no wonder that plenty of people have borrowed the idea and made it their own. TikToker @spamwliv shared her own video showing some of the unique goodies she chose to add to her basket, such as socks and a set of kitchen knives. Fellow creator @kaylanoellesims put her own spin on the idea as well, including a puzzle and some Lego, to make sure her basket was fit for her bae.
A quick glance at all the creative minds sharing their bae baskets online makes it clear that the possibilities with a gift like this are truly endless. A bae basket is an amazing Valentine's Day gift for every stage of a relationship too, so whether you've been married for years or you just made things official, you can tailor yours not only to your partner but also to your relationship. No matter what you choose to include, a bespoke basket that's specifically for your loved one is sure to make them feel special this V-day.