Bold And The Beautiful's Katherine Kelly Lang Dissects Brooke's Newfound Freedom From Ridge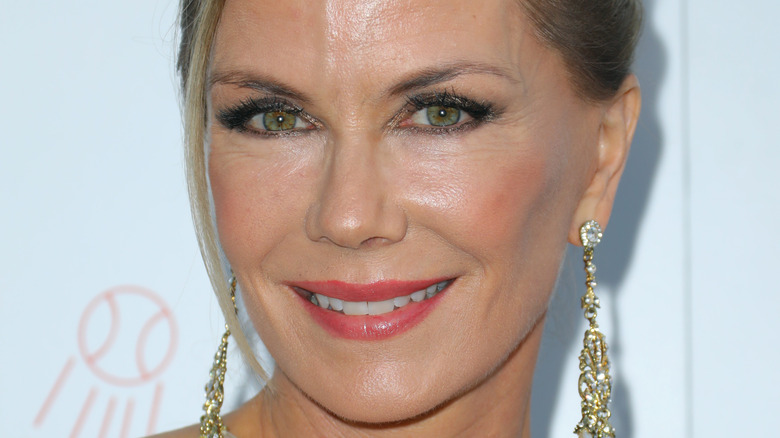 Jc Olivera/Getty Images
Since "The Bold and the Beautiful" premiered in 1987, Katherine Kelly Lang has played Brooke Logan, who has a troubled romantic past. She's been involved in a complicated triangle between herself, Bill Spencer Jr. (Don Diamont), and her sister, Katie Logan (Heather Tom). She also has a tumultuous history with Ridge Forrester, whom she's been married to several times. Ronn Moss originated the role of Ridge until 2012, when actor Thorsten Kaye took over. Ridge and Brooke's relationship has been further muddled by his other ex-wife Taylor Hayes, who was portrayed by Hunter Tylo until Krista Allen took over the part in 2021. Soaps ranks their love triangle among the most memorable one's on "B&B."
Over the years, there has been quite a bit of back and forth between Brooke, Ridge, and Taylor, and things recently came to a head when Ridge couldn't deny that he was in love with both women. He continued to lose credibility as he waffled between the two women, and Brooke and Taylor realized that Ridge had defined their lives, and both agreed to dump him, per Soap Hub. As a result, former enemies Brooke and Taylor have now become practically best friends. 
Lang recently took the time to discuss her opinion on Brooke's life after Ridge. 
The new storyline opens up many possibilities for Brooke Logan
Katherine Kelly Lang told Soap Opera Digest that she wants her "Young and the Restless" character Brooke Logan to move in a different direction, stating, "I'd like to see her more career-driven. Maybe she is getting to that point." Lang also felt that the script for the scene where she and Taylor finally say "no" to Ridge was very mature. "It was great that it was written that way. She wasn't trying to get back at Ridge or stick it to him. Brooke realized what she was doing, and she was not going to do that anymore," she said. Lang explained that after all these years, it was a sudden realization for Brooke to change her life and discard old habits. "I love that [Brooke] was understanding the whole thing and the way she handled herself and the situation," she said.
Regarding Taylor being Brooke's new bestie, Lang stated, "[Brooke] and Taylor are starting to see things very similarly, and I think it's great." She felt, "Who better than having it be your adversary, someone you've been fighting for years and years and years? I definitely think they've come to a point where they are thinking the same way at the same time, which is great."
Krista Allen recently posted a selfie of herself and Lang to Instagram, illustrating that there's even more to Brooke and Taylor's newfound on-screen friendship, writing, "It's even better behind the scenes!"