Oatmeal Nails: The Latest Manicure Style You Need To Try Is Anything But Bland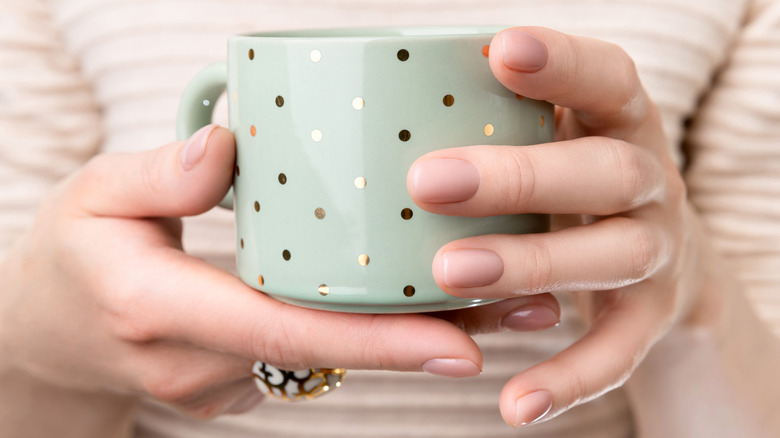 Dariia Chernenko/Getty Images
When you think of nails, oatmeal doesn't usually come to mind. It may be a hearty breakfast choice but it's also reminiscent of the gray sludge that signals a bad lunch. You know, all those TV show cafeteria scenes where the lunch lady scoops an oatmeal-like substance onto the protagonist's tray. However, this manicure style is less lumpy oatmeal and more creamy oat milk (the positive healthy-and-better-for-the-planet vibes).
Oatmeal manicures are ideal because they complement every set of hands. Nail artist Eunice Park told Nylon, "Neutral colors will always be the leading nail trend because they never go out of style."
They are reborn through artistry like the hot chocolate nails trend. Carmel, cinnamon, and vanilla have had their time to shine and now this oaty manicure is taking the stage. Luckily, we have the latest to help you join in on the trend and with the celebrities who already have the love for oats.
The new neutral manicure
Oatmeal nails are a new classic. The founder of Shoreditch Nails, Tina Michael, told Bustle, "We love the new oat milk nails trend; it is such a beautiful way of creating a clean and elegant manicure." The color is warm and creamy yet its simplicity matches any outfit and aesthetic. Michael, a nail educator, revealed that if you don't have any oat-colored polishes on hand, pink is the next best option. A milky, shimmery pink still delivers a semi-neutral tone without overpowering your nail beds — plus, it's glittery. 
This trend is celebrity-approved too. Harry Styles graced the cover of Better Homes & Gardens with his oatmeal manicure. The color played as an earthy shade against his skin tone while complementing his warm-orange beaded necklace. 
In an interview with Dazed, Styles shared his breakout into the beauty business with his company Pleasing started with nail polish. Styles said it was as simple as him "seeing a colour on a flower or a wallpaper or something and thinking, 'Oh, I wanna put that on my nails'." He pulls inspiration from anywhere, even a breakfast dish.
Inspiration for oatmeal nail designs
When it comes to this oatmeal manicure, you can keep it plain like Harry Styles or do it big and maximize. Co-founder of nail brand Tenoverten Nadine Abramcyk told The Zoe Report, "If you're opting for a nude or sheer nail, you can still make a statement by mixing and matching your mani and pedi." 
Since oatmeal is a neutral color, it will complement any hue. Throw in bright neons or bold pastels to take this manicure from modest to extravagant. Or deliver serious contrast with a dark polish and oat-colored designs. You can never go wrong with an accent nail. One or two fingers are dedicated to your favorite nail art, while the rest are full oat color.
To prove this style is far from bland, how about inventing your own shade? The possibilities are endless when you can create your perfect color of oatmeal. As color expert Rebecca Isa explained to New Beauty, "Lavender corrects yellowing, pink brightens and the white fills in a free edge that is separating. The remaining shades range from peach to beige to mauve. They can be layered to create a custom color." This combination creates neutral tones that you can top with a glossy coat for an iridescent finish, similar to the popular unicorn nails. Personalizing your oatmeal manicure will make it the true definition of unique.