Adrienne Bailon-Houghton On 'Love For The Ages' And Joining E! News - Exclusive Interview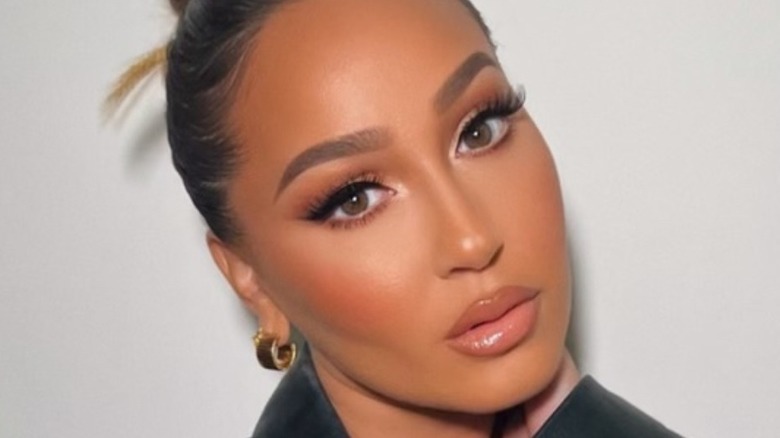 Arianna Garcia
Singer, actress, and TV host Adrienne Bailon-Houghton has seemingly done it all. The onetime founding member of R&B groups 3LW and The Cheetah Girls moved into TV hosting with an eight-season run as co-host of Fox's Emmy-winning talk show "The Real," as well as the design show "House to Home" on CleoTV and her own YouTube channel, "Love Always, Adrienne."
In the fall of 2022, two exciting new opportunities came her way. Per Deadline, she landed a development deal with NBCUniversal Television and Streaming to host and produce unscripted shows for its networks and streaming service Peacock. This includes hosting Peacock's new love and relationship reality TV series "Love for the Ages," which highlights age-gap relationships as several married couples put their relationships to the test by being paired with single, younger partners. Additionally, Bailon-Houghton joined E! News as a co-host when the daily evening broadcast returned to E! on November 14.
Outside of her latest career ventures, Bailon-Houghton is also a new mom to a baby boy named Ever James, whom she and husband Israel Houghton welcomed in August 2022 via surrogate after a difficult struggle with infertility. The List sat down with the multi-talented star to get the scoop on Season 1 of "Love for the Ages," her E! News hosting gig, her journey into motherhood, and more.
The social experiment that is 'Love for the Ages'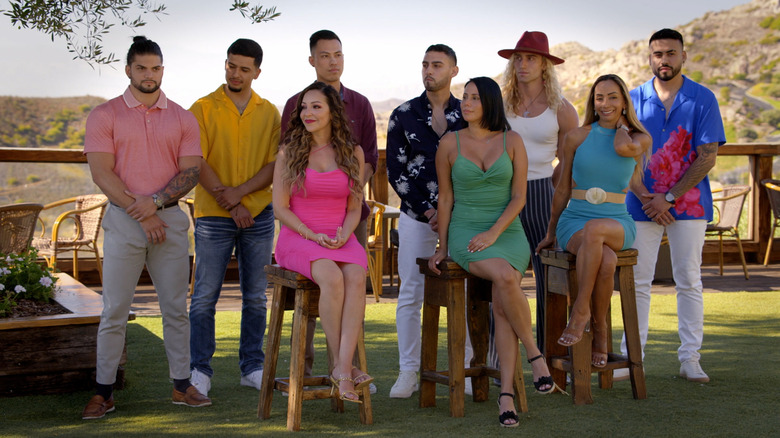 Courtesy of Peacock
You landed a development deal with NBCUniversal Television and Streaming to host and produce new series, such as the reality dating series you host, "Love for the Ages." It certainly has an interesting premise. How did the idea for that come about?
It's crazy. They created the production company Kinetic, which is insane. They created some of my favorite shows. I came on to this project because of my love for the other shows they've done, like "Love Is Blind" and "The Ultimatum." They said, "Hey, this is a new social experiment that we're doing." I was like, "Oh my gosh."
When you bring in the idea of younger women, older men, younger men, older women — the whole dynamic — I was especially intrigued, because my husband is almost 13 years older. I was like, "This piques my interest and is something I can relate to." Again, being a fan of shows like this, I couldn't believe I get to actually be in the midst of all the craziness. It was wilder than I even expected.
I bet. Will there be a Season 2 of "Love for the Ages"?
I don't know, but I would absolutely love that. It'd be so interesting to get three new couples [and] a whole new adventure. It'd be cool to see the difference between the ones [who] were doing this experiment for the first time versus anyone [who] comes into the experiment now. They would know what to expect and how that would affect the series. I'd be so interested.
With the first season of anything, no one really knows what they're getting into. It could be a little bit scary.
You don't know what you're signing up for. There definitely were moments where [the contestants] were like, "I thought this was something I wanted." Especially with Sylvia and Sebastian, that was hard for them. When you see Sebastian completely breaking down crying, and literally going through physical and emotional withdrawal from his wife, I [don't] think it's what we expected at all.
There's definitely a big emotional element to it. It sounds like "The Reunion Special" has a lot in store.
Absolutely.
Adrienne Bailon-Houghton's thoughts on age-gap relationships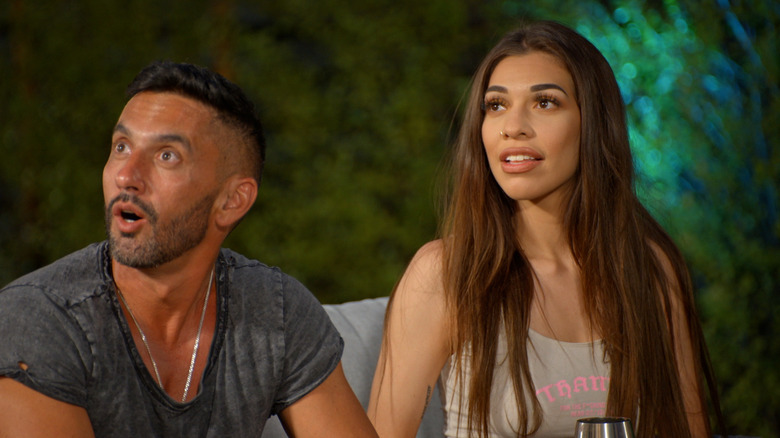 Courtesy of Peacock
After working on the show, what do you think people get wrong about age-gap relationships?
What they get wrong is that there are so many variables as to why it works or why it doesn't work, and it's never the same every time. There's no blueprint to the idea of the stereotypes, whether it's young guys dating older women or young women dating older men, which is [commonly thought] to be like gold-digging. [There are] so many ideas and misconceptions where that comes in, but you learn on this show that people connect to each other regardless of age.
There are some older people who maybe have more youthful spirits, and there are some younger people who maybe have a mature and old soul, so to speak, and it just depends. It's so much bigger than age. There's an interesting dynamic that happens, especially in this sense. In an experimental situation like this, you can see that there are differences.
Which love story from Season 1 made the biggest impression on you, and why?
They all did, but especially when you're talking about age, I was intrigued by Maria and Michael's story because I understood where they were coming from and why this show seemed perfect for their situation. We are talking about a girl who has dated Michael since she was 16 years old; she's never had another boyfriend ever. She gave him all her youth. Now they've been married for 20-something years, their children are grown adults, and they're about to become empty-nesters soon, yet they're only in their 40s. I'm like, "That's so young. They have their whole lives still to live."
In that situation, it made them want to reassess, like, "We're at a crossroads. Do we stick this out together, or do we attempt to explore youth again and get out there?" I think, in this sense, there are parts of Maria that feel like, "Did I miss out on something? I've never kissed anyone else; I've never slept with anyone else. What am I missing out there?" There was a curiosity that I totally understood, and then, at the same time, I get that while she signed up for this, she still got there and realized, "Oh my God, he's my safety net. I don't even know how to navigate these situations." It was really interesting.
Their story also resonated most with me. When I watched them, especially, I thought how that could've been me. I'm glad that I met my husband later and that I was able to have all those experiences earlier on.
Same. I got married at 33. I get it. [It's interesting] asking them now ... [if this] is this something they would want their kids to do. Would they tell their kids, "Date, explore, settle down," or "literally marry the first person you ever dated"? You could have questions 20-something years down the line, saying [to yourself], "Did I sell myself short, or am I grateful that I've had this one person on this journey with me all this time?"
Her new hosting gig with E! News and being starstruck like the rest of us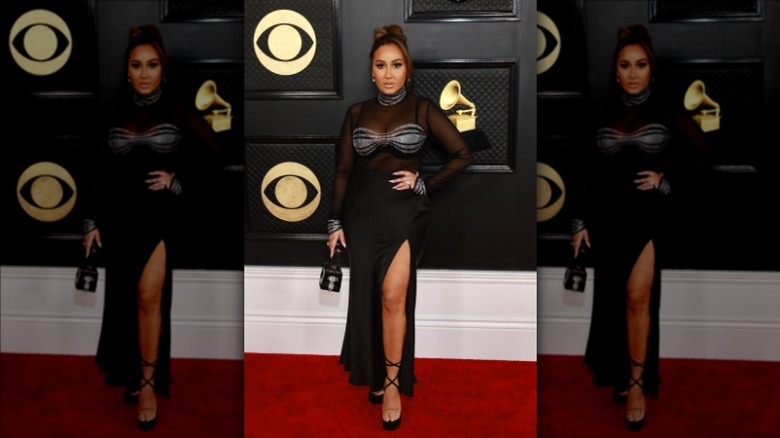 Matt Winkelmeyer/Getty Images
Congratulations on your hosting gig with "E! News."
Thank you. I'm loving it.
How has that experience been so far?
We are in the middle of award season, and I am loving it. I just got to host the countdown for the Grammys on the red carpet. We literally had LL Cool J run up to us on our stage ... There is nothing like live television. I did it for so many years on "The Real," so there is a rush that comes from it. At the same time, with so many incredible stars and celebrities in the mix during this award season, it's been awesome, and I am honored to be a part of the legacy of "E! News." It's my favorite to watch and tune in to. It's what I've watched for all these years, and now, to be a part of it is special.
I can imagine how exciting it must be out there on the red carpet.
It's so much fun. It's really, really cool ... I'm having the best time on E!, and I'm excited because, again, it's award season. Oscars are up next, and I'm excited for what's to come from there.
Definitely. My mom and I follow all the top movies.
It's fun. My husband is the same. He knows everything about every movie that'll be up and nominated. He watches them ... and gets into it on another level, and I love that because we used to host Oscar parties. I'm like, "Oh my God, I get to go now." It's fun.
Managing work with her fertility journey and helping support other women with infertility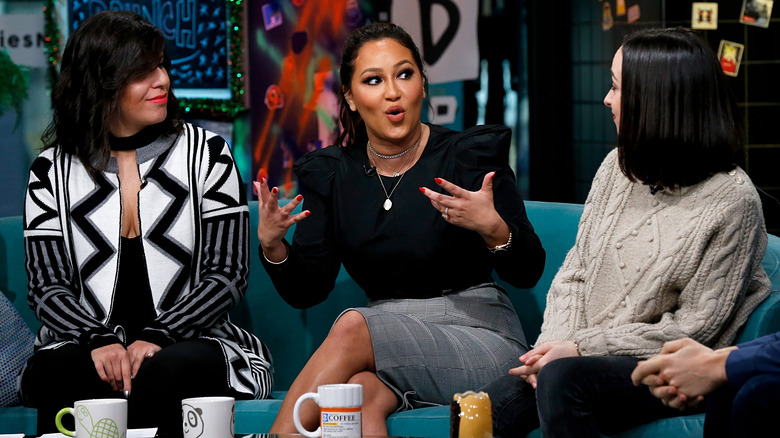 Dominik Bindl/Getty Images
You're also a new mom. Congratulations!
Yes — thank you.
I read about your journey to motherhood. I experienced a similar journey myself for about four years with multiple IVF cycles. How did you manage to balance your career with such a time-consuming process?
It was not easy, especially because in this industry, we're on camera, and you could be going through the worst experience — whether it was me recovering from a miscarriage or literally in my dressing room where Jeannie Mai [Jenkins] was giving me shots in my stomach. There are so many things going on behind the scenes that we didn't share or that I wasn't prepared to share at the time.
Now, being able to launch my YouTube channel, "Love Always, Adrienne," and produce and create a series that's informative and fully transparent, I feel so proud to be able to give another woman hope or information or encouragement through my story. It's a series we just launched called "Faith and Familia" on my YouTube channel. The last episode is about to come up this week, and it's called "Meet Ever James." It's my birth story, which was very different than what I ever imagined it would be because we had a surrogate, and it goes into what that was like. I love that I get to take everybody on that journey with me.
We are also announcing and launching the Faith and Familia Foundation, which will help women get information and help finance fertility treatments for those [who] can't afford it. The reality is that it's wildly expensive, and not everybody has the opportunities that I had to have a surrogate. That sounds so foreign to other people, who are like, "Okay, that's great, and we're happy for you, but that's not even an option for me." I want to be able to open that up to many other women.
That's amazing what you're doing. It's relevant to so many women.
If it's a woman [who's] maybe single or put her career ahead, and she'd like to freeze her eggs, we want to be able to help her make that a reality — whether it's getting her information or supporting her in a financial way.
Balancing an exciting career with life as a new mom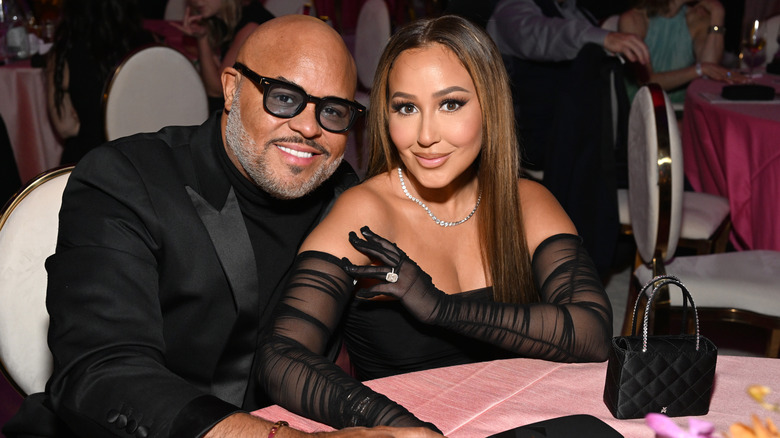 Michael Kovac/Getty Images
Having a new baby, how do you handle the demands of marriage and the transition to motherhood with all these exciting career opportunities?
It's a lot, but I'm so grateful for a great support system, which is my mom [and] my best friend, who's also my manager. My husband is with me; he travels back and forth with me from New York to LA for jobs. Right now, we're in this house — my manager's sitting here, my husband just got up from the sofa, the baby is taking a nap, my mom is in the other room ... Everyone pitches in to help me out.
For me, what's most important is that my son be with me. Whether that is while I'm doing hair and makeup, which takes two hours — that is two hours with my son on my lap playing with me. Then, [I'm] making the time to also be a great wife, [maybe] as soon as the baby falls asleep. We might take time to binge-watch something on TV and take those moments for ourselves. I'm grateful that I have such a loving family [who] has been on this journey with me and [who] support me.
That makes a huge difference. It really is all about being mindful of how you spend your time.
That's the key. [When it comes to] mindless scrolling on Instagram for an hour, I'm like, "No — if there's an hour that I could spend with my son, that's what I want to be doing."
Adrienne Bailon-Houghton's interesting career trajectory in entertainment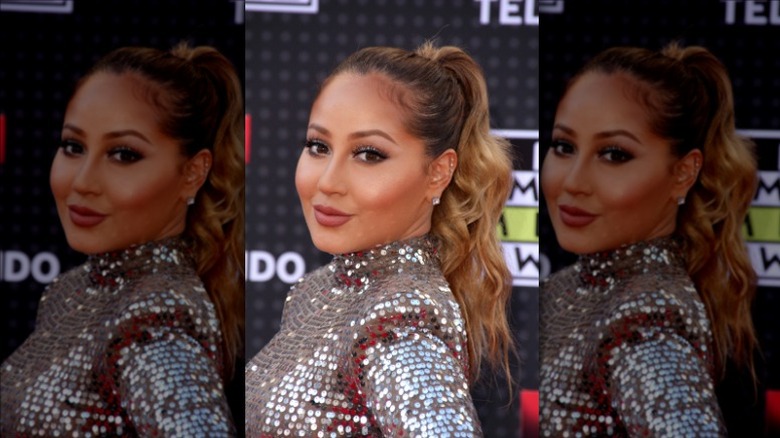 Kathy Hutchins/Shutterstock
You've had an interesting, diverse career as a singer, actress, TV host, and producer. What was your initial goal in entertainment, and has your career trajectory surprised you at all?
Not just surprised me — it's shocked me. I came into this industry when I was 14 years old in a girl group. I loved singing; I loved acting. Crazy enough, when I got into this industry, I wanted to be a singer, and I wanted to do soap operas. I was obsessed with soap operas like "Days of Our Lives" and — at the time — "Sunset Beach" with Eddie Cibrian. My mom would give me $5 for the week, so I would get on the bus and take my money and buy "Soap Opera Digest." I would read about where everyone lives and what they're doing, and I would get on the bus and imagine moving to California. I was obsessed with this idea of making it in the industry, and I knew that I wanted to sing, act, dance, and all those things.
I joined my first girl group, 3LW, when I was 14. We got a deal and [released] our first album when I was 15. I didn't expect to have a No. 1 song on "TRL." I'm from New York City, so I used to cut school and go stand in Times Square with my own posters for NSYNC, and seeing people out there cheering for 3LW was insane. That then allow[ed] us the opportunity to audition for a movie, like "The Cheetah Girls." Disney was like, "Hey, we're doing a film about a girl group. Let the girl groups come in and audition." I did, and getting that opportunity was insane.
What I sought out to do was to get my foot in the door. More than 25 years later, to still be working in this industry is an honor and a privilege. I feel really grateful. It's crazy how you can start your career and have an idea of what it will do, and then these doors open up for you. I'm grateful that I've never been stuck in an idea, like, "Oh, this is what I'm supposed to do or be," because then I would've missed out on a lot of great opportunities.

All eight episodes of "Love for the Ages" are now streaming exclusively on Peacock under the Tplus banner. "The Reunion Special," where the group meets again — with lots of surprises in store after leaving things unsaid — airs Thursday, February 9 on Peacock. E! News airs Monday through Thursday at 11 p.m. ET/PT on E!
This interview has been edited for clarity.