Tracee Ellis Ross' Guide To Healthy, Voluminous Curls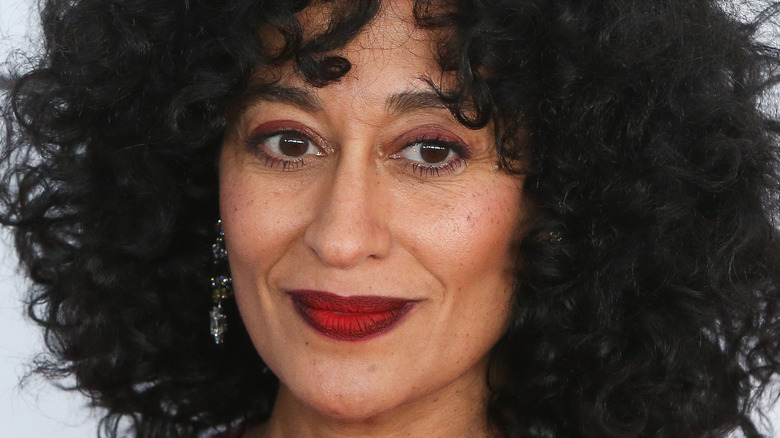 a katz/Shutterstock
Tracee Ellis Ross has garnered plenty of praise for her portrayal of lovable matriarch Rainbow Johnson on the hit show "Black-ish." Throughout its impressive eight-season run, the actor was nominated for 5 Primetime Emmy Awards. Although "Black-ish" finished airing in 2022, Ross' workflow hasn't slowed down. In fact, she recently took part in a powerful Hulu docuseries that showcased Black women and their hair.
"The Hair Tales," in which Ross collaborated with Oprah Winfrey and Michaela Angela Davis, focuses on six Black women; Issa Rae, Rep. Ayanna Pressley, CHIKA, Marsai Martin, Chloe Bailey, and Winfrey, and their personal definitions of beauty standards as expressed through their hair, per The Hollywood Reporter. As Ross explained, "We really wanted to express the fullness and the expansiveness of our identities — all the different ways that we wear our hair, all the different skin tones, all the pieces of who we are." 
She continued, "This was an intentional series where we [set out] to contextualize our experience not only through the stories that we tell each other but also by bringing in scholars and allowing them to give genuine historical context to so much of the experiences that we have." Now, Ross is sharing her haircare routine, and you're going to want to take notes on how she gets her mane looking that perfect. 
Ross has all the tips to replicate her perfect curls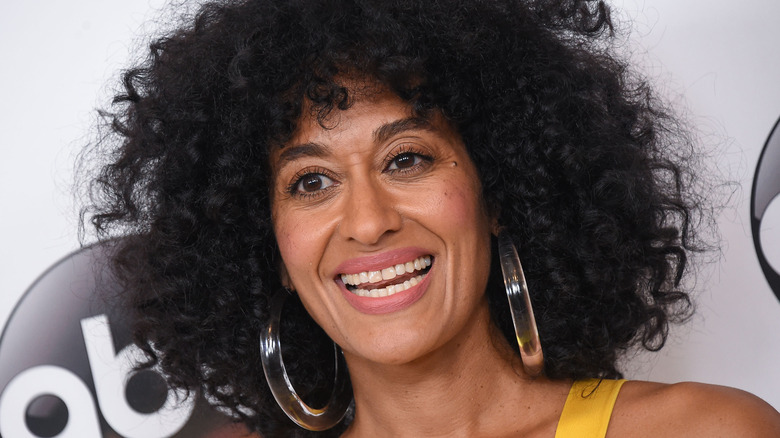 DFree/Shutterstock
Tracee Ellis Ross recently blessed us with her skincare routine, and now she's sharing exactly how to replicate her healthy and voluminous curls at home. Ross is an expert in embracing her natural 'do. She even released her own styling tools and products for textured hair (via People). Ross recently sat down with Harper's Bazaar and detailed how she styles her gorgeous mane — using her own products, naturally. 
The "Black-ish" star begins the process by washing her hair with Pattern's Hydration Shampoo, followed by the Medium Conditioner. "While my hair was soaking wet after I rinsed it out with freezing cold low-pressure water, I put the Leave-In Conditioner in my hair while it was sopping wet, which seals in all the moisture that I had just put in my hair and gives me a light hold and makes that curl just pop," she shared. 
Afterward, Ross began the diffusing process. She then used the wide-tooth comb feature on her dryer on high heat and low pressure to make her tresses fluffier. Next, the actor put the dryer on a higher setting to help stretch her curls. She concluded, "I like to leave the ends, so that the ends and the outside of my hair, the shape, stays with the little curls and the fuzz is at the base, so we get a lot of volume. I like to go from the root, not all the way down to the end."