Hot Rollers Vs. Curling Irons: Which Offers The Prettiest Curly Tresses?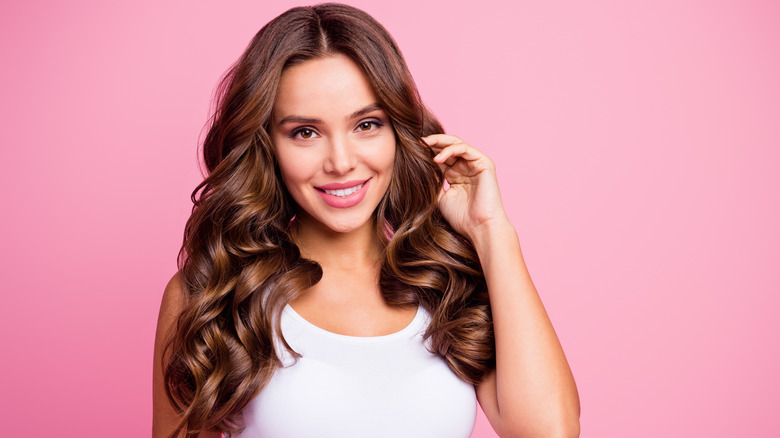 Roman Samborskyi/Shutterstock
We may receive a commission on purchases made from links.
Whether you are vying for a gorgeous going out look or just want simple curls for your day running errands, there are a ton of different ways to achieve that curled hair look that never seems to go out of style. And while heatless curls are having a moment on TikTok, sleeping with a giant rod (or leggings) in our hair isn't for everyone. So what is the best way to get curly locks?
For many of us, the idea of using a hot roller is an archaic method. In fact, Millennials and Gen Z may only be able to reference hot rollers from old movies where the female lead wears them along with her robe and slippers. But according to Illeisha Lussiano, a hairstylist and owner of The Way in New York City, those same hot rollers are back and people of all ages are flocking to them to achieve gorgeous curls, via TODAY. But are they really better than our favorite curling iron?
Settling the big debate between hot rollers and curling irons
After years of beachy waves, big curls are back in style. As with most trends, TikTok led the trail as influencers showed the results of using hot rollers and people were shocked about not only the curls, but also the ease of the hot roller process. As the Dyson Airwrap trend slowly began to fade, TikTokers who didn't want to spend the big bucks on the Dyson or who wanted a less complicated curling process began to discover our grandma's secret: hot rollers. Soon, our FYP was filled with users trying out inexpensive hot rollers.
And while it's been proven that hot rollers do, in fact, give us those gorgeous, bouncy curls, don't put away your curling iron just yet. Alyssa Hare, hairstylist and In-House Beauty Consultant at Vagaro, told Formulate that hot rollers are limiting, meaning you can't really dictate how they turn out. Curling irons, on the other hand, are super customizable and allow you to create the types of curls you desire, whether that's beachy waves, tight curls, or the curled blowout look. So, if you want curly locks, both hot rollers and curling irons are great options, just be sure to pick the one that works for your desired look.
The best hot rollers and curling irons for every curly look
No matter which side of the debate you are on, achieving the right curls has a lot to do with the right products. When it comes to hot rollers, more expensive doesn't always mean better curls. In fact, according to TikToker Deanna Giulietti, these Conair Jumbo and Super Jumbo Ceramic Hot Rollers are not only relatively cheap, they work wonders on those wanting those big, blowout curls that look like you just left the hair salon. If you are worried about damaging your hair or already have damaged hair, this set of BaBylissPRO Nano Titanium 20 Roller Hairsetter is a bit pricier but ideal for preventing any heat damage or hotspots.
As for curling irons, you may have to spend a bit more to achieve the look you want. The Dyson Airwrap is uber popular among influencers and for good reason — it dries and styles your hair at the same time and offers a ton of different options for curls. If you don't want to spend that much, the NuMe Octowand 8-in-1 Curling Wand Set is a similar iron that also offers different barrel styles. If budget is a concern, consider the Hot Tools Pro Artist 24K Gold Marcel Iron and the Conair Double Ceramic 1-Inch Curling Iron are also great curling irons.