King Charles Laughs Off Question About Prince Harry During Royal Outing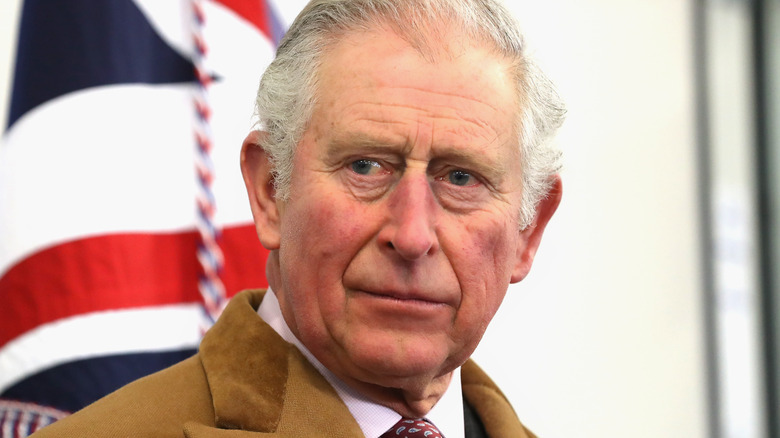 Chris Jackson/Getty Images
As Leo Tolstoy famously wrote in his novel "Anna Karenina," "All happy families are alike; each unhappy family is unhappy in its own way." And there is no unhappy family quite like the British royal family (and there are five seasons of "The Crown," with more on the way, to prove it).
Prince Harry, Duke of Sussex, recently published his memoir "Spare." The startling revelations in Harry's memoir, from how he lost his virginity to his recollection of an unfortunate bout with frostbite on his nether regions in 2011, have caused quite an uproar (via Slate). Harry also gave an unvarnished look into the life of a royal, specifically his thorny relationship with his father, King Charles. Per Harry, upon his birth, Charles remarked to Diana, "Now, you have given me an heir and a spare — my work is done," lending Harry the title of his memoir (via Today).
Harry also describes how he and William, Prince of Wales, begged King Charles not to marry Queen Camilla. "The only thing we asked in return was that he not marry her," Harry wrote. "You don't need to remarry, we pleaded. A wedding would cause controversy. It would incite the press. It would make the whole country, the whole world, talk about Mummy, compare Mummy and Camilla, and nobody wanted that."
An awkward moment for King Charles in Stratford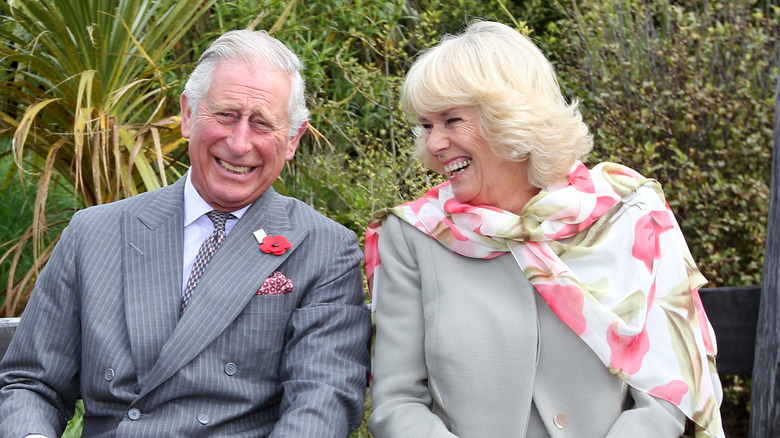 Rob Jefferies/Getty Images
Although the royal family has yet to address Prince Harry, Duke of Sussex's memoir, they likely know that they can't avoid the subject forever (via Time). Recently, when King Charles paid a visit to the University of East London's Stratford campus, a student asked Charles, "Can you bring back Harry?" According to GB News, King Charles didn't properly hear the question and replied, "Who?" When the student clarified the question and made clear he meant his son, Harry, the monarch began laughing. 
Although the king may appear to have a cavalier attitude about the situation, one royal expert says this couldn't be further from the truth. "King Charles is a monarch, but he's also a father," royal expert Angela Levin told Us Weekly. "He loves Harry. He might not like what he's doing, but he loves him and there's a weakness there for him. He doesn't want to lose him as a son."
As of now, it does not seem as though there's been any movement towards reconciliation, but per Harry, he's open to it if they are. "There's a lot that can happen between now and [King Charles' coronation]," Harry recently told ITV (via People). "But, you know, the door is always open. The ball is in their court. There's a lot to be discussed, and I really hope that they are willing to sit down and talk about it"
The reality of a truce between King Charles and Prince Harry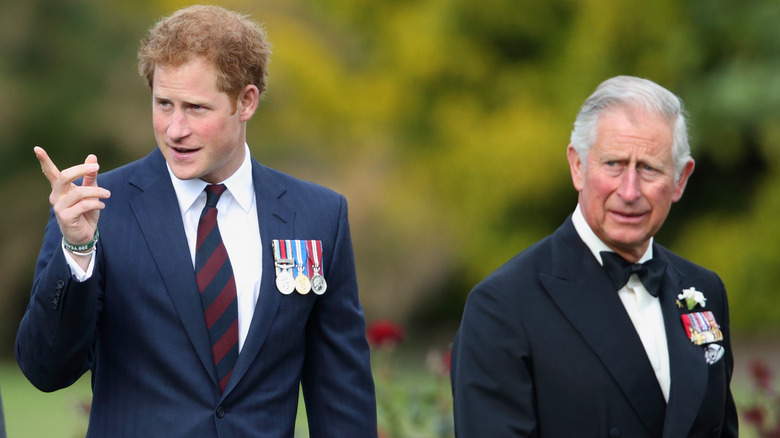 Max Mumby/indigo/Getty Images
Every time it seems as if the royal family is taking steps toward reconciliation, a bombshell announcement surfaces that threatens to derail their progress. Over the years, King Charles' relationship with Prince Harry, Duke of Sussex has gone through many changes. For a moment, the heartbreaking death of their beloved matriarch Queen Elizabeth II appeared to bring father and son closer together, while also slowly mending the fragile relationship between Prince Harry and his estranged brother William, Prince of Wales. 
The loss of Her Majesty was a major blow to the royal family. The leaked pictures of King Charles, Prince Harry, and wife Meghan Markle, Duchess of Sussex receiving the late queen's coffin caused a stir as this was the first time they were all photographed together since 2021, per Insider. Royal watchers hoped that this was a sign that the mounting tension between them would be put on hold for the sake of presenting a united front. However, the release of Prince Harry and Meghan's divisive Netflix documentary series, coupled with his explosive memoir "Spare" proved that the fracture is still there. Time will tell where their relationship goes from here, but His Majesty is reportedly turning to Justin Welby, the Archbishop of Canterbury, to reconnect with the stateside royals, reports GBN.