Ree Drummond's Stunning Transformation Into The Pioneer Woman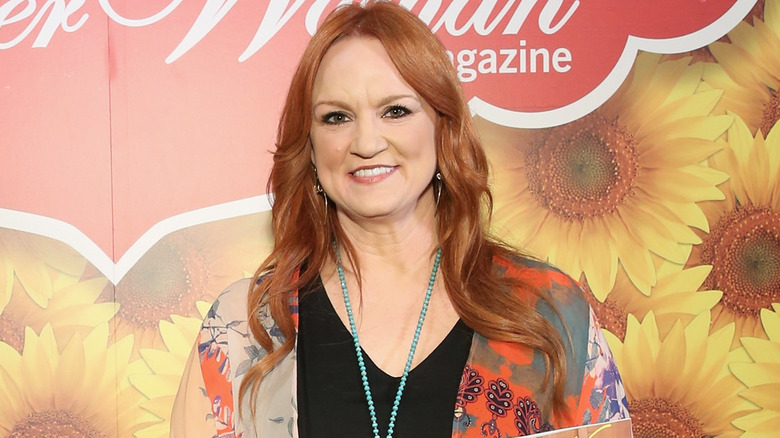 Getty Images
The world may know Ree Drummond as the Pioneer Woman today, but she first found fame in the early 2000s when she decided to write a blog. Not yet known by her nickname, she used her blog to write about both her life living on a farm and her fabulous cooking.
Reading it, one would think Drummond has always been a country girl; it's a natural fit for the redhead. But in reality, Drummond is not originally from rural living. In fact, she lived in both the suburbs and the city before meeting someone in her mid-20s who changed her life. She then found herself in the place she was meant to be, starting her very well-known country lifestyle.
Fans can find Drummond on television, read her best-selling books, and still check out that blog she has kept from the very beginning. She has had quite the life story so far, finding her way to the place she now calls home. So let's take a closer look at Ree Drummond's life and the stunning transformation she has experienced throughout the years.
Ree Drummond had childhood dreams of being an actress
Ree Drummond was born as Anne Marie "Ree" Smith in 1969, and she grew up in Bartlesville, Oklahoma. She was a kid who had big dreams and constantly challenged herself, gaining new experiences in life. At a young age, she had plans for herself that would take her to different places away from home. Reminiscing about her childhood during an interview with People, she shared, "I always thought, 'There's a big, huge world out there beyond this.'"
One way in which Drummond was able to travel as a kid and see more of the country was through her ballet competitions. Dancing made her think about the entertainment industry and a possible future in show business. She noted, "When I was young, I wanted to be an actress. I had no idea what that meant, but I just thought it sounded fun." Little did she know then what the future held for her.
Suburb girl ready for the city
The desire to be a part of the entertainment industry eventually led Ree Drummond to Los Angeles for college. As The New Yorker reported, the future star attended the University of Southern California, initially studying broadcast journalism. "I wanted to be Jane Pauley," she shared.
After switching her major to the "completely random" gerontology, Drummond spent a lot of time enjoying her early 20s in the city and she felt she fit in well and could picture a certain kind of future on the West Coast. "I'm pretty sure I could've ended up on Real Housewives of Orange County," she shared with People. "They need a fair-skinned redhead." 
But Bravo success wasn't in Drummond's future. She continued to work in Los Angeles for a couple of years. She then eventually headed back home in order to study for the LSAT and prep for her next life adventure. It was meant to be a pitstop before returning back to big city living.
Ree Drummond tried vegetarianism for a spell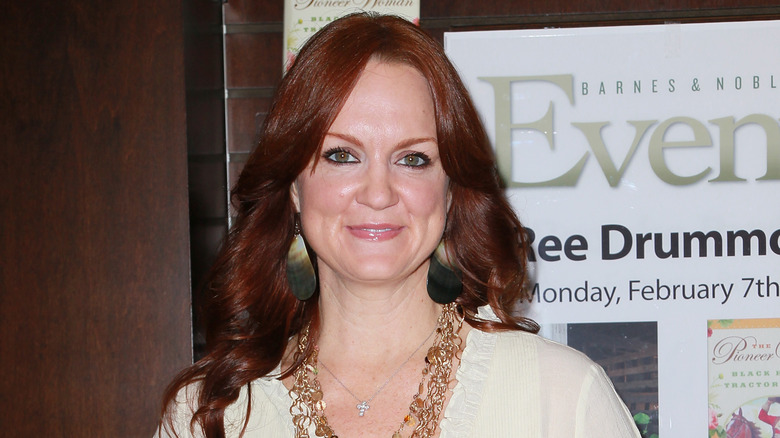 David Livingston/Getty Images
Although it might shock long-time fans to find out, there was a time when Ree Drummond wasn't a meat eater. As she revealed in her blog on the Pioneer Woman site, during freshman year in college, she suddenly decided to go vegetarian, and that was that. "I'm still, to this day, not sure why. I never had any real aversion to meat itself, nor was I necessarily against the practice of raising animals for the purposes of meat production, nor did I question the nutritive or health value of meat, nor was I ethically or morally opposed to the idea of eating meat," she admitted.
The reality star doubled down on her comments in an interview with Closer Weekly, sharing it was only when, years later, a Jack in the Box sourdough bacon cheeseburger caught her eye that she relented. "It was the best thing I'd ever put in my mouth!" Drummond exclaimed. In fact, her chosen final meal would be beef tenderloin with creamed spinach, sauteed mushrooms, and mac and cheese, as she told Taste of Home. "With bacon and caramelized onions," Drummond noted. "Kind of like my fancy mac and cheese."
A cowboy changed Ree Drummond's plans
When Ree Drummond found herself back home after school, it was meant to be temporary. But the unexpected happened when 20-something Drummond went out to the bar with friends. As she described in her book The Pioneer Woman: Black Heels to Tractor Wheels (via Today), "That's when I saw him — the cowboy — across the room."
She convinced herself that meeting this man didn't change the facts. She said, "I was headed to Chicago. To a new city. To a new life. I had zero business getting attached to anyone around there, let alone some Wrangler–wearing cowboy with salt-and-pepper hair."
And yet, get attached is just what she did. She ended up staying in Oklahoma, and, at 27 years old, she married that cowboy in 1996. As she shared in an interview with People, "I didn't even know any cowboys growing up. When my friends heard that I was marrying a cattle rancher and moving to the country, they literally could not believe it." It was the beginning of something big. According to Drummond, "They started calling me the Pioneer Woman as a joke."
Adjusting from the city to the country wasn't easy for Ree Drummond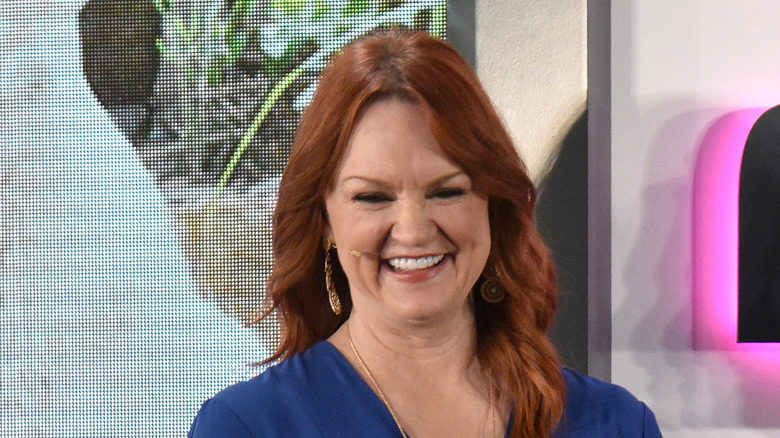 Getty Images
Falling in love and marrying her cowboy wasn't the only unexpected surprise for Ree Drummond in her late 20s. She then went to live in a rural area near Pawhuska, Oklahoma. A lifestyle change that extreme, especially having come from spending years in Los Angeles, definitely affected Drummond, and it took her time to adjust.
As she said while speaking with the Associated Press, "It was, kind of just, love that got me out here, and then after we got married I thought, 'Oh my gosh, what have I done?' You know, 'Where am I, and this is real. I live in the country.'"
As time passed and the future star had more time to adjust to her new life, she realized how wonderful it was — and how wrong her past stereotypes of the country had been. She told People, "I remember living in Los Angeles and coming home and eating lunch with my grandmother and her friends and just thinking, 'Oh! Their worlds are so small.' After I moved back and actually started having regular lunches with them, I realized they were this amazing, dynamic group of women who got together and would debate issues."
From tired housewife to business expert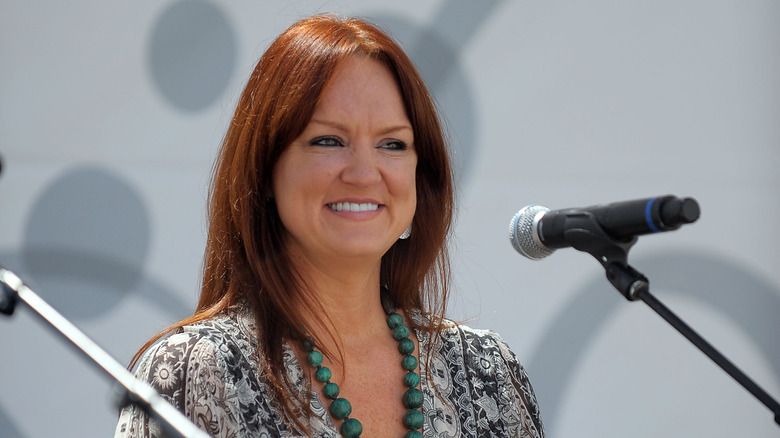 Getty Images
Throughout the next ten years of Ree Drummond's life, she gave birth to four children — two girls and two boys. And not only was she raising her children, but she was homeschooling them as well. So when her husband told her that he was taking all of the kids with him to work one day in May 2006, Drummond didn't know what to do with herself. It was the 37-year-old's first time alone for hours in years.
According to The New Yorker, she was going to spend that precious time planning for homeschooling, but she instead decided "to start one of those blog things." When she started, the blog was more for fun than anything else.
During an interview with Design and Living magazine, she said, "I just started with a personal blog, free software online and no plan at all except that I would post photos and my mom would read it. It enabled me to express a creative side that I didn't know I had. I lived in the country for 10 years at that point, so maybe it stored up and needed to come out somehow."
Cook, writer, and now photographer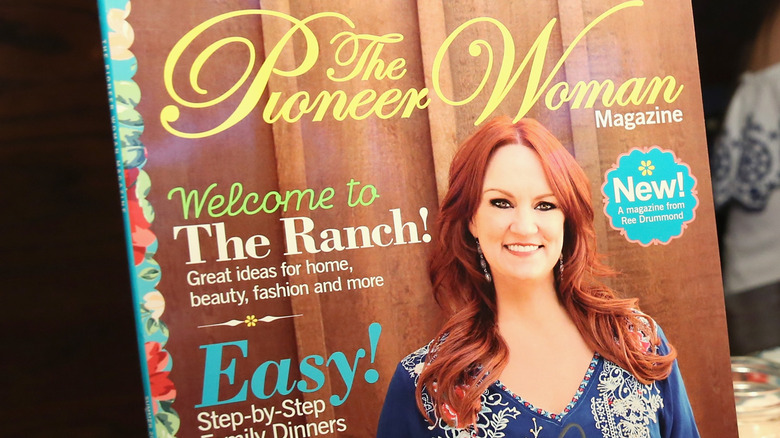 Getty Images
What Ree Drummond started as a casual blog with the perfect name of The Pioneer Woman, became much bigger. She began with recipes each month, and then she continued to get more readers. After a couple of years of writing, it was time for this blogger to become a full-fledged author. 
Drummond had plans for a cookbook, but she didn't limit herself to just focusing on the recipes. She took on another role, as she told Design and Living magazine during an interview. "Obviously, I had no idea what I was doing. I had been a food blogger for a couple of years and taught myself photography." That's right — the photos throughout the first cookbook came from 40-year-old Drummond herself.
After The Pioneer Woman Cooks: Recipes from an Accidental Country Girl was released in 2009, Drummond looked back on those photos, sharing, "Even though I look at it now and could say, 'Oh this should be better,' I wouldn't change a thing about it. It was my first cookbook."
Ree Drummond's life is possible movie perfection
Ree Drummond's story of living in the big city and eventually experiencing love at first sight with a cowboy at a bar sounds like the perfect plot line for a movie, and others have had this exact same thought.
In 2011, The New Yorker interviewed 42-year-old Drummond about her success in life. It wasn't long before the talk of a possible movie, based on her book Black Heels to Tractor Wheels, came up. Movie producer Laura Ziskin, who optioned the book at the time, shared during an interview with The New Yorker, "When you look at the book, or you look at the cookbook, you think, I'd like to do that. I don't care if there's cow dung on the porch, it looks pretty good to me."
As the article reported, Reese Witherspoon was in talks to star in the film at one point. Since then, there hasn't been much word on the movie, but fans of Drummond have more of the star's blog posts and cookbooks to keep them occupied in the meantime.
Ree Drummond realizes her lifestyle isn't for everyone
While Ree Drummond's life has a fairy tale component that many may want to watch on the big screen, Drummond is the first to say that she knows her lifestyle is not for everyone.
In 2011, BookPage interviewed the then-42-year-old, and she discussed her life and what it would have been like if she had never moved to the country. She said, "Yeah, I shudder. I am thoroughly convinced that I am where I was meant to wind up. In the country we really lead an isolated life... we're just together, we're out here, we're on the land and in the quiet."
She also understands herself well enough to know what she needs in her day-to-day life. She continued, "It's not that everyone needs [the quiet] to maintain some level of peace and contentment, but I needed it. It centered me."
Ree Drummond wants a small bottom and a six-pack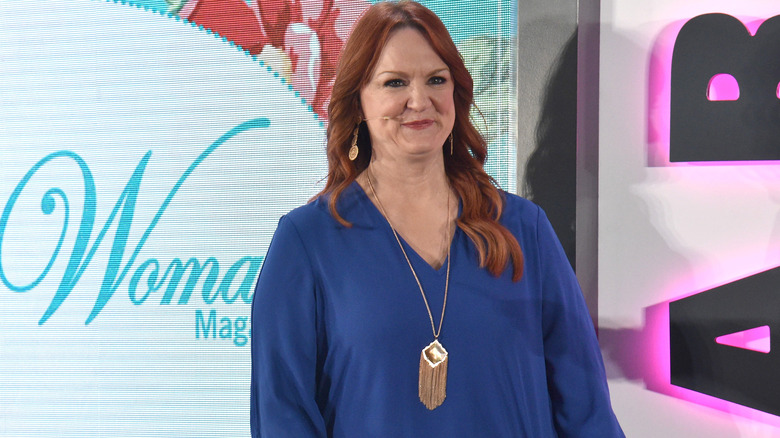 Getty Images
The refreshing thing about Ree Drummond is the fact that she is very honest when it comes to her blog and social media. One topic that she has brought up includes yoga and being healthy. 
She shared her and her husband's fitness goals in a yoga-inspired Instagram Story in December of 2017. She just told it as it was, writing of her husband, "He's a cattle ranching athlete stud-muffin, but he can't touch his toes and he wants more flexibility." Drummond, on the other hand, has no issue with touching her toes. Instead, she shared, "I can put my ankles behind my head and need no help with flexibility, but my jeans are tight and I want a small bottom and a six-pack."
Drummond is honest about her goals, and she's honest about the results too. So how did yoga go? "The funny part is that I got so winded carrying the yoga mats back to the hotel that I had to stop and rest," she continued. "The only thing that gave me the strength to continue on my own was fear of ridicule."
Ree Drummond continues to work hard at her relationship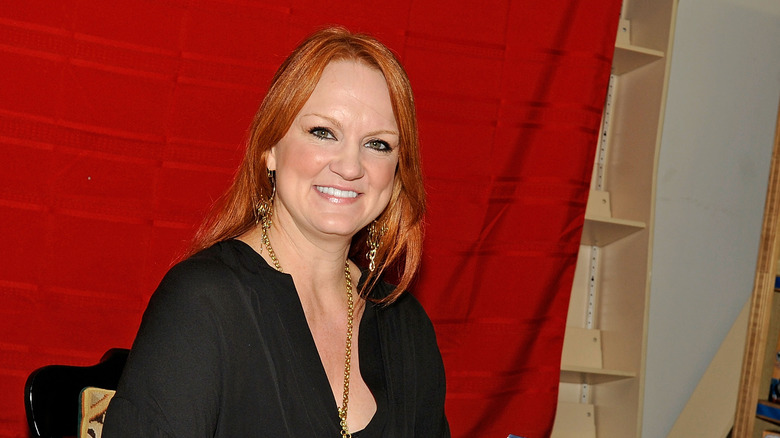 Bobby Bank/Getty Images
Ree Drummond has been married to Ladd, her "Marlboro Man," for more than 20 years, and considering they're clearly still nuts about each other, fans are clamoring to know what the couple's secret to longevity is. In an issue of The Pioneer Woman Magazine (via Cheat Sheet), a reader inquired about what the happy couple does on date nights, to which Drummond responded, "We love to watch movies together." Unfortunately, the closest theater is almost an hour away, so they save their visits for special releases like superhero movies.
Watching movies is a tradition for the long-term couple, as revealed on her official website. Drummond shared they both love westerns, as well as "any of The Godfather movies and '80s flicks." 
So what happens if they ever have a falling out? Well, the duo just ensure their feet touch when they're laying in bed. "I know that if our feet touch before we go to sleep at night, we're not going to bed upset or angry," she explained to People.
Ree Drummond would love to be a fashion designer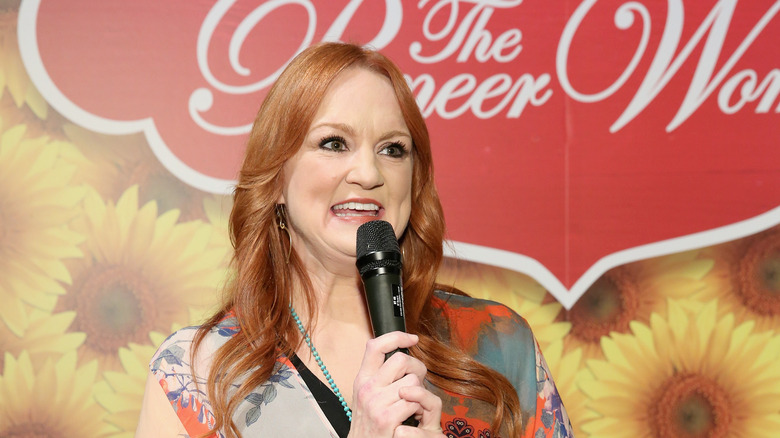 Monica Schipper/Getty Images
She's a mother, author, wife, cook, and plenty more, but Ree Drummond isn't content simply being a multi-hyphenate businesswoman. She wants to be a multi-multi-hyphenate, which is why the reality star decided to go into fashion, too. A post on her official site revealed her line — which is inspired by her own casual, comfy dress sense — is due out by the end of 2020. "I'm working on a clothing line right now," she told The Pioneer Woman Magazine, as noted on her website. "The idea has been in my head for many years, but ... the reality of it has started to fall into place and I'm so excited!"
Drummond first worked out what kind of shape and fit she wanted for the pieces before moving on to colors and patterns, noting, "It's very important to me that the clothing be gorgeous and great quality but affordable." The Food Network star hoped to launch in stores and online before the year was out. 
Fans are constantly asking Drummond where she buys her signature flowy blouses whenever she posts an outfit selfie, so her line will likely fly off the shelves as soon as it drops.
Ree Drummond is laying bare the realities of motherhood
Ree Drummond is no stranger to sharing the intimate intricacies of her life with fans, but her book Frontier Follies: Adventures in Marriage & Motherhood in the Middle of Nowhere goes deeper than she ever has before. The tome, which was set for release in November 2020, details her life, documenting all the hardships and triumphs that have happened along the way. The Pioneer Woman star revealed on Instagram, "In this book of real-life stories from the ranch, I talk about marital spats, parenting neuroses, run-ins with wildlife, ER visits, triumphs, tribulations, love, loss ... and some unexpected new developments in our lives."
The Food Network stalwart described the book as a "deep dive and a fun romp," "both a love letter and a laugh letter," that she hopes will make readers smile. However, Drummond also promised prospective readers will get the chance to know her better, too.
Empty nest syndrome hit Ree Drummond hard
Motherhood has certainly changed Ree Drummond for the better, as detailed in her bestselling book The New Frontier. However, it's also brought unexpected difficulties, as she discussed in a wide-ranging interview with Cowboys & Indians. The book documented how the family home went in a new direction as each child left for college. Drummond recalled, "When Alex, my oldest, left for college in 2015, it was sad and difficult as is always the case when the first kid goes to college." She add, "But I still had my second daughter, Paige, at home, so while we experienced a void where Alex had been, the vibe in our household was still the same."
Then, when Paige left in 2018, everything changed. Suddenly, their home became a "man cave," where sports ruled and Drummond had to work extra hard to maintain some semblance of female energy. However, the newfound sense of calm and quiet has also given the cookbook author space to focus on different projects and experiment creatively in her own way.
Ree Drummond doesn't think her stories are any more important than those of her fans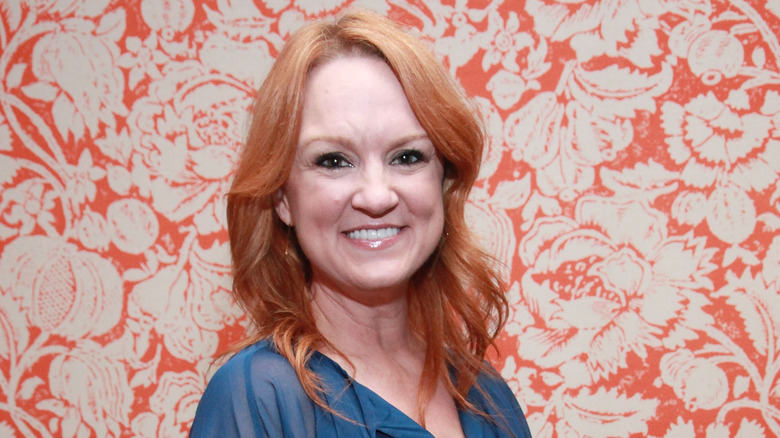 Astrid Stawiarz/Getty Images
In spite of having lived an impressive life with plenty of stories to tell, Ree Drummond is adamant that there's nothing particularly special about her or her approach. In an interview with BookPage, she admitted, "I know this sounds a little funny, but I contend that I am not an extraordinary person; there's nothing extraordinary about me or my story." As the Food Network star sees it, anybody could do what she does. She argued, "I think everyone has a story—I've just found a fun way to tell my story and convey my day-to-day life."
Even her relationship, which is the definition of #couplegoals, is something Drummond downplays. "The passion ... propels you forward through the tough times," she explained succinctly. Drummond knows that simply putting in the effort, whether it's in matters of work, life, or love, pays off in the end and that's the message she wants to communicate with fans looking to follow in her footsteps. After all, as she sees it, "I am thoroughly convinced that I am where I was meant to wind up."