Using Foundation To Touch Up Your Makeup? There's A Better Way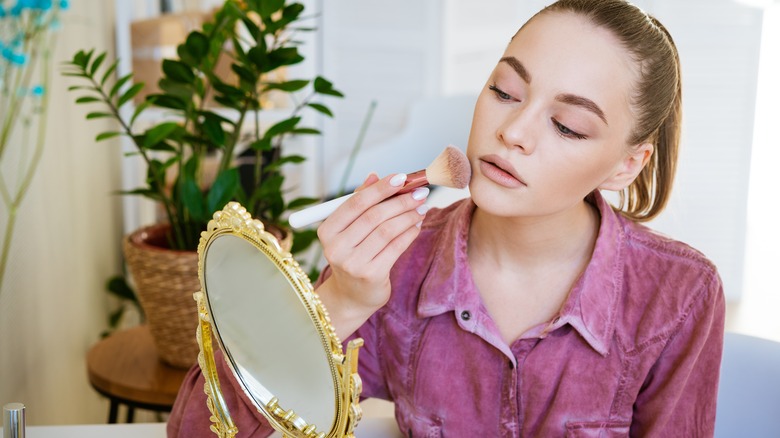 Pereslavtseva Katerina/Shutterstock
For a good chunk of people, the act of getting ready is more exciting than actually going out. Whether you're hastily applying finishing touches on the floor in front of the mirror or doing a full beat at your vanity, a good playlist and all your favorite products are all you need. The actual plans you've set for the day are nowhere near as good as being perched on the bathroom counter, pretending that you're filming a Vogue Beauty Secrets video.
Even less appealing? The way your makeup gets blotchy and oily after a few hours of being done. The powder that you applied so carefully is now causing your under-eye concealer to crease, and there's an even layer of sheen setting in around your face. The sight of uneven patches starting to settle into your foundation may make you want to reach for more, but adding more foundation to an already full face may make your base look super cakey, warns L'Oréal Paris.
A solid base is the key to fewer touch-ups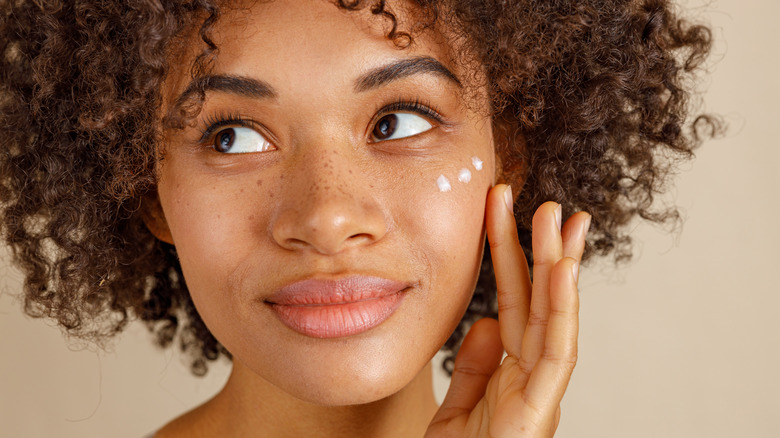 Dima_sidelnikov/Getty Images
Every good makeup artist knows that prepping the skin before is one of the more important factors if you want your makeup to last. Use a good moisturizer along with a hydrating serum such as the Good Molecules Niacinamide Serum. Niacinamide prevents water loss in the skin and reduces the appearance of pores and fine lines, creating a smooth base that your makeup won't settle into over time.
After using a primer (our favorite primer is the Fenty Pro Filt'r Instant Retouch Primer), opt for a long-wearing matte foundation that won't require too many touch-ups. If your skin tends to get oily, matte foundation will keep your base intact, preventing oil from creasing your makeup, especially under the eyes and your smile lines. The Juvia's Place I Am Magic Foundation is a long-wearing foundation with a velvety, yet lightweight finish. With its highly-pigmented formula, a little bit goes a long way with this buildable foundation.
For the final steps, using both a setting and finishing product will help your makeup to stay intact. While finishing sprays and powders help to fuse the makeup together while creating an airbrushed effect, setting powders and sprays set the makeup into place (via Ipsy). For a more even texture, try the Maybelline Fit Me Loose Finishing Powder. To set makeup, the One/Size Setting Spray creates an immovable, waterproof base with a matte, featherweight finish.
Avoid full-coverage products
Before you reach for the concealer or tinted powder, use a blotting sheet to take away excess oil around your face. The DHC Blotting Paper has 100 sheets of 100% all-natural hemp fibers and is currently $6 on Dermstore's website. If you don't have blotting paper on hand, gently dab a thin square of toilet paper wherever there's shine.
If you need a bit more color, use a concealer the shade of your skin tone. Rather than going in with something super full-coverage, try the Nyx HD Concealer. The medium-coverage concealer covers up acne, hyperpigmentation, and redness, perfect for touching up spots that need a little bit more love. Let the concealer sit for a few seconds then dab with your finger for a more natural look.
To set and mattify, Sephora recommends going in with a light powder to touch up a few spots. For a powder that can match every part of your face, use a translucent powder such as the Fenty Invisimatte Instant Setting and Blotting Powder. The refillable powder absorbs oil while reducing the appearance of pores, giving your foundation a longer lifespan.