The Ideal Number Of Coats For A Fast-Drying Nail Polish Routine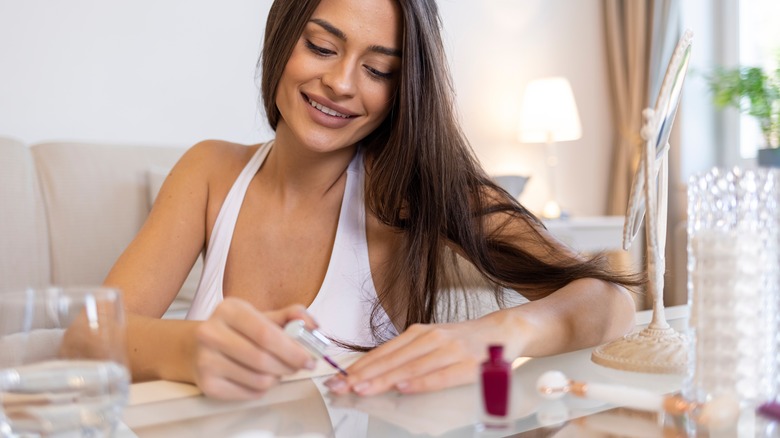 Dragana Gordic/Shutterstock
Not only does a trip to the nail salon keep your cuticles fresh and your fingers looking cute, but it also creates an opportunity for connection and community building. "I got into [manicures] because my mom and I do it together — that's pretty much how we bond — and it's a practice I've carried on with my girlfriends," Samhita told The Cut, adding, "I also think nail salons are a safe space for women to be on their own." 
Today, the use of nail polish has extended beyond gender, with more and more men including celebrities like Harry Styles, Bad Bunny, and Lil Nas X proudly rocking colorful, manicured nails. According to Cosmopolitan, a standard manicure will cost you anywhere between $10 and $40, with the charge understandably increasing if you opt for decorative add-ons or a long-lasting gel polish treatment. 
On top of the price, the time commitment makes frequent visits to the salon tricky for many of us. Luckily, giving yourself an at-home manicure is an affordable alternative when you just can't swing it. Here's what you need to know to avoid smudging your carefully-painted nails. Shockingly, it involves applying fewer coats of polish than you may think.
Don't apply more than three coats of nail polish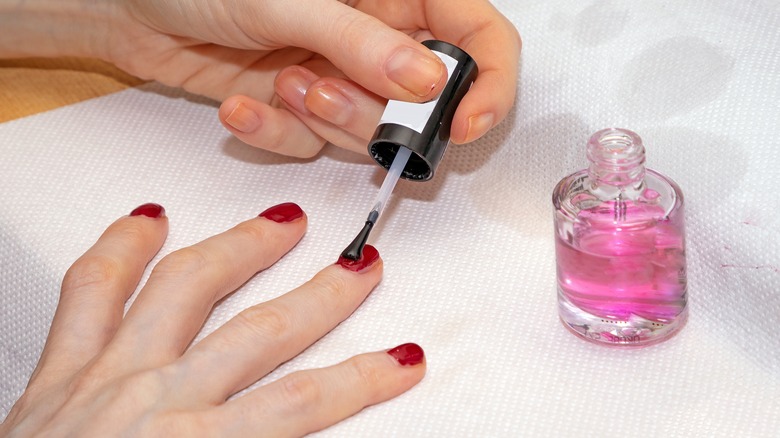 Ttatty/Shutterstock
When painting your nails at home, it's crucial to stick to a three-coat maximum. "If you apply more than three coats in one sitting, the application will be prone to clumping off in one piece, almost like a shell," manicurist Jin Soon warned Allure. "Even if you allow each coat to dry before applying the next, it is really just the surface of the nail that dries. That is why too many coats can fail or at the very least, smudge more readily."
Most importantly, practice patience. Mimi D, a celebrity manicurist and nail artist, recommends waiting at least two minutes before applying another coat. "Let's say you're watching an hour-long show, polish [your nails] during the show and allow the polish to dry during the commercial breaks or vice versa," she advised MarthaStewart.com. As is true for any type of paint, thinner layers will harden faster. Wipe off excess polish before going in with the applicator brush.
If you're particularly averse to waiting, invest in a fast-drying polish. Even so, "When polishing with a quick-dry polish, avoid applying too many coats," says Michelle Saunders James, owner and founder of Saunders and James Nail Care. As she told Byrdie, "It's actually quicker to remove too thick of an application and start over with a thinner coat." For starters, check out Sally Hansen Insta-Dri Nail Color, which has rave reviews and retails for under $6 at Target.
Cold water won't speed up the drying process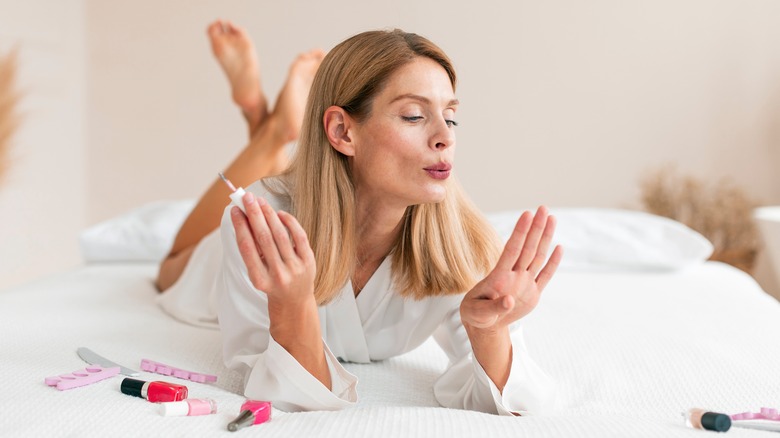 Prostock-studio/Shutterstock
Contrary to popular belief, running your freshly-painted nails under cold water won't speed up the drying process. As Evelyn Lim, a nail technician and the chief educator of nail studio Paintbox, clarified to Good Housekeeping, "Running your hands under water doesn't help nail polish dry faster." Lim also pointed out, "The cold water may harden the top layer, but not the coats underneath, so nails will still be susceptible to smudging." 
Kelly Bannon, senior product testing manager at ORLY, agrees, telling MarthaStewart.com, "The bottom layers would be wet, so you'd want to still be careful." Alternatively, Healthline recommends using your hairdryer to quickly harden your polish, first switching the setting to "cool," of course. To decrease the risk of smudging, tackle one hand at a time. It's also worth keeping in mind that certain shades of polish dry faster than others. 
"If you're in a rush and need your nails to dry fast, reach for a sheer or metallic shade," Sarah Gibson Tuttle, the founder of Olive & June, advised Byrdie, confirming, "They tend to dry faster and typically require fewer coats." Whichever way you choose to proceed, remember that patience is key. The best way to ensure a smudge-free finish is time.