Mascara Colors That Make Hazel Eyes Pop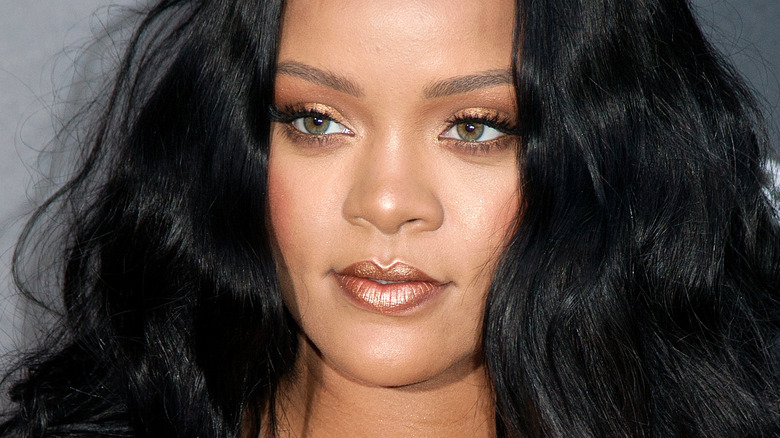 Andrea Raffin/Shutterstock
We may receive a commission on purchases made from links.
Having a signature for everything you wear can help you to solidify your individuality — your "main character energy," if you will. A signature perfume, necklace, or nail color allows you to leave a mark on the world. And while you may have your go-tos, finding other outlets for expression can let you switch up a look without compromising your trademark.
Makeup, for example, gives you a bare canvas to work on and experiment with. Rather than sticking to the same shades and styles, play around with hues to complement the natural color palette of your face. Makeup artists routinely use color theory when looking at the natural palette of a client, says Simply Makeup. This typically applies to things like mixing foundations and figuring out what lip color to use, but it can also be used on the eyes, particularly the eyelashes.
It's quite common to play around with eyeshadow colors, but using mascara in shades other than standard black is a low-effort way to play up a look. Just like the ones found in the rest of the face, hazel eyes possess multiple different hues within them, allowing them to work with various different mascara colors.
Bring out the sparkles in your eyes
Among the greens and browns of hazel eyes, gold flecks accentuate the irises. If you want them to sparkle a bit more and not just in the sun, try gold or bronze mascara. A metallic shade works best with rich, neutral colors such as a rich brown or olive green, explains Better Homes & Gardens. The Maydear Waterproof Color Mascara in has a smudge-proof and long-wearing formula that will accentuate the ambery-gold flecks of your eyes with its bright, gilded pigment.
According to Who What Wear, makeup artist William Scott recommends cool tones for hazel eyes in order to accentuate them and bring them to the forefront. Among these cool tones is violet, a dark purple shade that matches with green, one of its complementary colors. The L.A. Girl Volumatic Mascara is an electric purple that intensifies the emerald color found in hazel eyes. It has a petal-shaped wand for easy application and is volume-enhancing and water-resistant.
Cool tones enrich the color in hazel eyes
Blues and greens on the eyes aren't just for getting the mermaid skin look. They're also cool-toned jewel colors that enhance hazel eyes in different ways. While it may seem that blue would distract from hazel eyes, they actually highlight the brown tones in your irises, reports Byrdie. This is because brown is a darker shade of orange, which is complementary to blue.
The Diorshow Mascara in deep blue has a long-wearing, buildable formula that lengthens and volumizes lashes. A navy blue shade, it's close enough to black if you don't want to go too crazy, but still blue enough to bring out the chocolate brown of your eyes.
If you want to eliminate the multi-faceted tones of hazel eyes, a green mascara will bring out the mossy color and make your irises look more monochromatic. The Eyeko Colored Lash Alert Mascara comes in a dark forest green shade. Created with caffeine and biotin, this mascara strengthens lashes while giving them a lift and a curl.