Bill Hayes' Special Message For Fans Celebrating 53 Years On Days Of Our Lives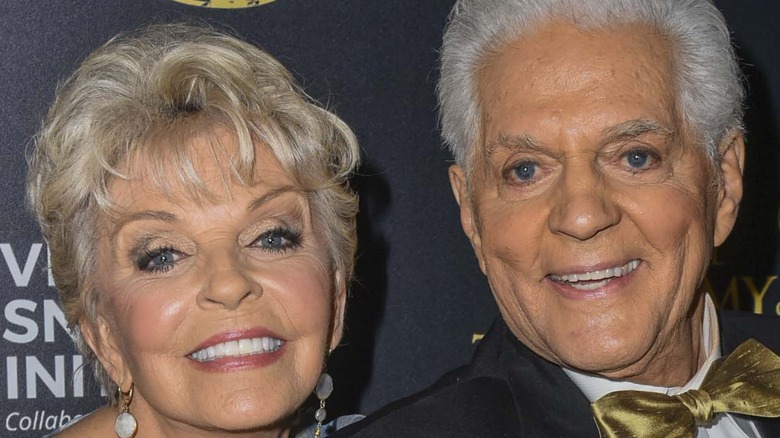 Vivien Killilea/Getty Images
On a recent episode of "Days of Our Lives," Chad DiMera (Billy Flynn) walked in on Doug and Julie Williams (Bill Hayes and Susan Seaforth Hayes) perusing a photo album and reminiscing about all the people they've lost over the years, per Soap Central. Doug commented that he's almost 100 years old, which isn't far from the truth because his portrayer is 98 years old in real life! Bill and Susan got married in 1976, two years before their characters on the show did. The couple has shared their marital longevity secrets on their own website, which was inspired by their grandson David Samuel who'd gotten divorced and wanted to know their undisclosed answers.
Doug and Julie went through some tribulations at first because Doug was paid by Susan Hunter (Denise Alexander) to woo Julie. However, Doug and Julie fell in love, but things got crazy when Doug married her mother, Adelaide Williams (Patricia Barry), and the two had a child named Hope Williams (Kristian Alfonso). But, love prevailed and Doug and Julie got past all the drama, going on to become one of the most venerable and beloved couples on the long-running soap. 
53 years later, Bill Hayes can't be thankful enough for the job that defined his career.
Bill Hayes is grateful for 53 years on Days of Our Lives
"Days of Our Lives" star Bill Hayes shared a heartwarming video on Twitter, writing,  "Thank you to all who have loved Doug Williams! But believe me, Bill Hayes is even MORE fun! Hugs and kisses, Susan Seaforth Hayes."  In the video, he stated, "Wow. 53 years. It's a dream. A dream come true." He explained, "My character was in prison for securities fraud." He laughed and continued with, "I'm so glad that you've been with us, especially those who've seen the show every day . . . that's amazing. We love it. Love having you go with us."
The video also included pictures of Bill and Susan Seaforth Hayes through the years on the show. Love and congratulations from the fans were abound. One fan responded by posting, "Have so enjoyed watching and hearing you perform all 53 of those years, Bill, thank you for premium daytime performances and Happy Anniversary!" Another follower wrote, "Congratulations [on] all your years of wonderful work! I always look forward to when you & your lovely wife are on the show! So great to have you there." A long-time fan responded with, "I was a [tad] pole back then. But let me tell you something. Bill Hayes is the rarest and truest gentleman of all time. Always a pleasure to see him when he graces my TV screen."
Another viewer posted the heartfelt, "You both are loved and admired more than you know."