Why You Might Want To Switch To Organic Pads For Your Period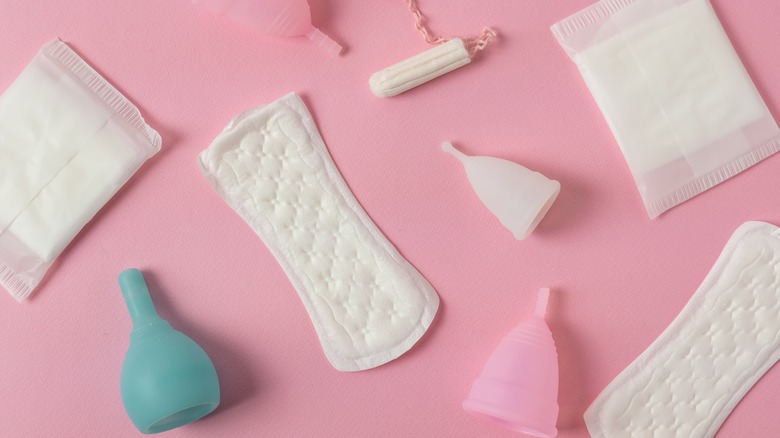 Yekatseryna Netuk/Shutterstock
We may receive a commission on purchases made from links.
There is no such thing as being too prepared when your period rolls around. You think about your period hygiene and vaginal health and regularly question which menstrual product is right for you. Though you've heard many people wax poetic about the diva cup or disc, you're still working your way up to that step. Or maybe you prefer the comfort of a pad since it's all you've ever known from the first time you were visited by Auntie Flo.
There's no question that every menstrual product has its setbacks. Synthetic pads come with their own list of concerns, including the bleaching process they go through to get their color and the chemicals trapped in the material. In a 2019 study published in Reproductive Toxicology, researchers found that pads and diapers had a more significant amount of toxins (phthalates, in particular) compared to other plastic products. In another study released a year later, it was revealed that the United States has a lot of menstrual products on the market packed with hormone-disrupting chemicals. This idea alone gives room for pause and leaves us with more questions than answers. That is all the wake-up call we need. While it may be impossible to completely avoid all chemicals for the rest of your life, there are steps you can take to safeguard your menstrual hygiene and overall health. Organic pads are one strategy.
Organic pads are a healthy alternative worth checking out
Making the switch to organic pads can eliminate some of the concerns that come with regular, commercial sanitary pads. They generally contain fewer synthetic dyes and are less likely to irritate your skin, per health outlet OnlyMyHealth. Organic pads come in many shapes, sizes, and materials. Some of the products on the market are made from 100% organic cotton, bamboo, and other natural ingredients. 
They are also biodegradable, making them a much safer alternative for the environment. The benefits keep growing. With the number of pads, you will cycle through in a lifetime, going the greener route will significantly impact more than just the environment — your reproductive health, too. The same 2019 Reproductive Toxicology study connected the use of pads to a potential increase in diabetes risk and exposure to cancer-causing chemicals. There is no better time than the present to make the switch.
When it comes to environment friendly organic pads, your options are endless
With so many people becoming more conscious about their menstrual health, the market for organic pads gets bigger and bigger each day. There is a wide range in the cost, though they tend to be more because of the natural ingredients used and their biodegradability. While the price tag of some organic pads can be a major turnoff, you shouldn't let that deter you, as the benefits make them worth the buy. Luckily, some brands are more cost-effective.
Over on Amazon, L. Organic's 100% Pure Cotton Ultra Thin Pads got a 4.7 rating because of their absorbency and comfort, as well as the fact that they are fragrance-free. One customer warned that as environmentally friendly as the organic pads are, the packaging they come in is not and is made from plastic. While Blume's 100% Cotton Organic Pad is a bit of a splurge at $10 for ten pads in a box, they come in sustainable packaging and are free of irritants. Flo's Organic Bamboo Pads are black-owned, hypoallergenic, secure, and soft. Rael's Organic Cotton Cover Pads are another great vegan option.