For A Pigmented Eyeshadow Look, Just Add Water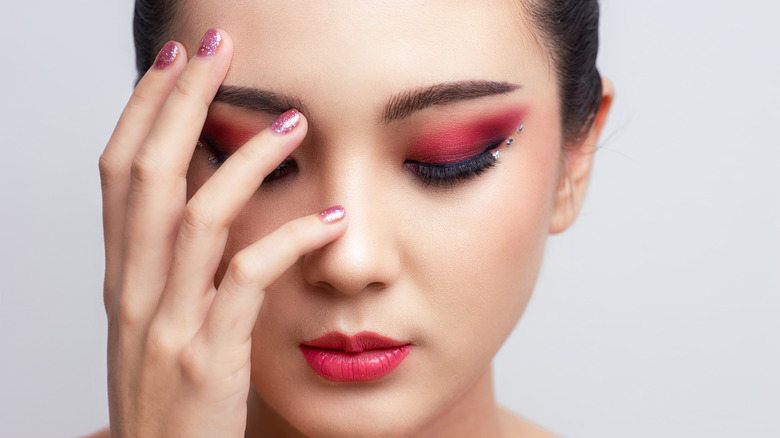 ME Image/Shutterstock
Eyeshadow is a makeup must. It elevates any natural look to make a statement. Eyeshadow can make your eyes look bigger, add a pop of color to your eyelids, and create dimension. Celebrity makeup artist Emily Cheng says, "I will always contour an eye to create depth, even if it's minimal for a no-makeup makeup look" (per Who What Wear). Her clients, ranging from Yara Shahidi to Julia Garner, are always spotted with gorgeous eye makeup.
The fun thing about eyeshadow is its versatility. When looking for her favorite pallet, makeup artist Ashleigh Ciucci wants to see that one kit can give multiple looks. Nars Duo Eyeshadow is her number-one pick. She shared with Self, "they're easy to blend and can be sheered out or packed on for maximum impact." We found a beauty hack that creates the perfect pigmented eyeshadow to unlock that maximum impact with any pallet in your collection.
Water and eyeshadow create a saturated hue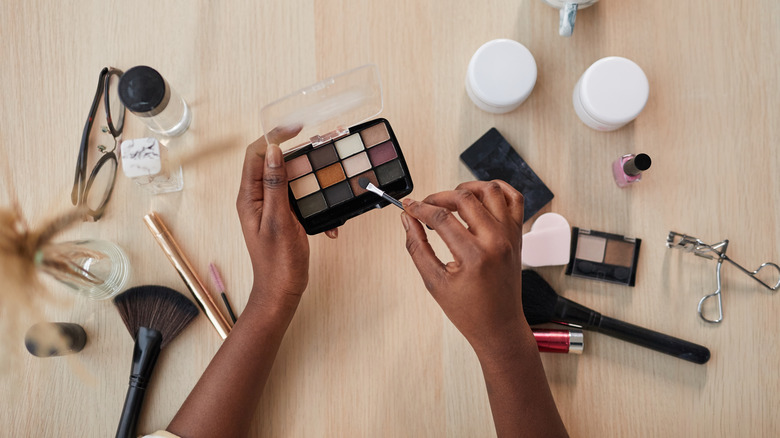 SeventyFour/Shutterstock
With a simple spritz of water, you can amplify your eyeshadow. The pigmented powder is activated by water withdrawing its rich hues. This cosmetic tip is sure to intensify your favorite eyeshadow pallet. Makeup artist Jenny Patinkin suggests using micellar water. Unlike regular H2O, micellar water contains molecules of cleansing oil. Patinkin explains, "The reason this trick works so well is that water turns the shadow into a paste, and the oil helps that paste glide smoothly over your eyelid" (via Makeup). However, tap water, a water-based facial mist, or a setting spray gets the job done.
Co-Founder of CTZN Cosmetics, Naseeha Khan, is a fan of this beauty hack. The makeup expert tells Byrdie, "It also dries matte, so if you want to add other colors, they won't mix or blend in if you wait for them to fully dry." It is the perfect solution to create eyeliner from your eyeshadow. Since the color is so saturated, you'll only need one swipe to paint on the full color. But that's not the only eyeshadow trick up our sleeve.
Don't just use eyeshadow on your eyes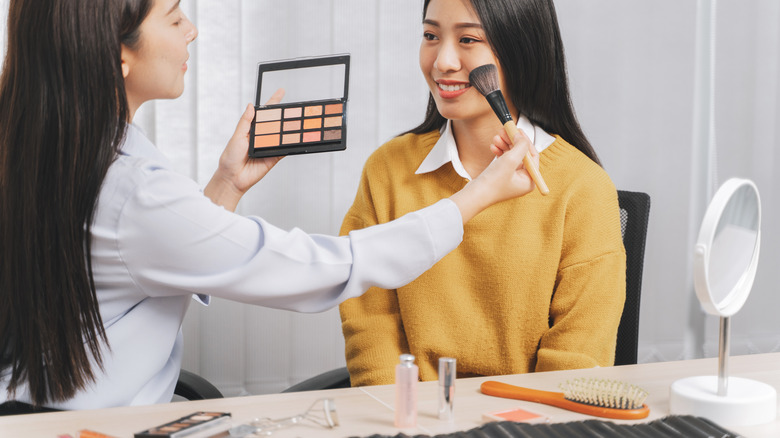 mojo cp/Shutterstock
Despite its name, you can use eyeshadow on various parts of your face. It can brighten your cheeks just like it does your eyelids. According to the experts at QC Makeup Academy, eyeshadow can be used as the triple threat of blush, bronzer, and highlight. Simply follow the method of contouring with your eyeshadow replacements. Use a dark eyeshadow for your DIY bronzer and apply it to the center of your cheek. A medium shade acts as the blush you'll apply to your cheeks' rounds. And the lightest eyeshadow color goes right above your cheekbones for highlights.
Down from the cheeks are our luscious lips. And yes, eyeshadow can be used on your kissers. With pink and blue eyeshadow, a London makeup artist dubbed The King of Colour created his stunning lip look. He used the eyeshadows in two different ways, as a lip liner to define his cupid's bow and as a top coat to add colorful shimmer. For an easy DIY look, brush your favorite eyeshadow onto your lips and seal it with a clear lip gloss. If you aren't using eyeshadow in multiple ways, you're missing out.