Blue Ivy's Super Bowl 2023 Look Is A Master Class In Accessorizing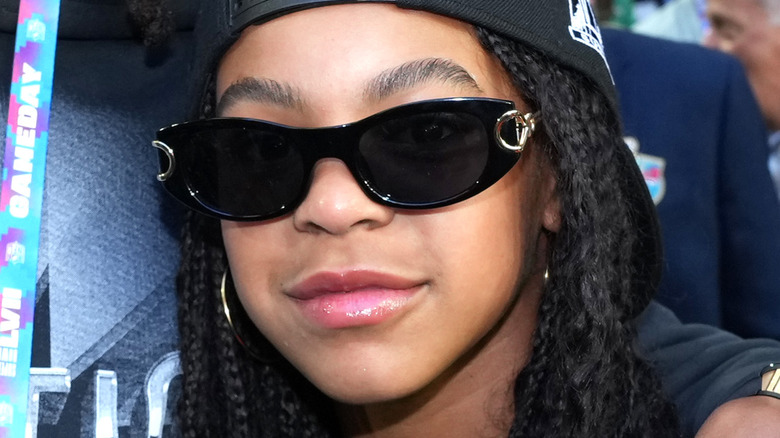 Kevin Mazur/Getty Images
Stars and football fans alike flocked to Glendale, Arizona for the LVII Super Bowl on February 12 — but the night was not only about sports. Our favorite pop music royalty joined the crowd as well. Of course, this isn't surprising considering the event featured pop star, designer, and makeup juggernaut Rihanna's return to the stage for the halftime performance. 
The singer's mentor and friend, Jay-Z, made an appearance, with many of us reminiscing on all the details Rihanna and Jay-Z's relationship. According to The Hollywood Reporter, Jay-Z's Roc Nation helped to produce Rihanna's performance. And Jay-Z and his daughter, Blue Ivy Carter, attended the Super Bowl LVII together presumably to see Rihanna light up the stage. 
Their heartwarming father-daughter date quickly caught the attention of fans for their immaculate fashion sense. Specifically, jaws dropped seeing how much Blue Ivy has grown, and she seems to have inherited her mother's style. Like the looks from Beyoncé that stand above the rest, Blue Ivy's Super Bowl LVII outfit is a lesson in how to properly accessorize.
Blue Ivy looked so grown up at the LVII Super Bowl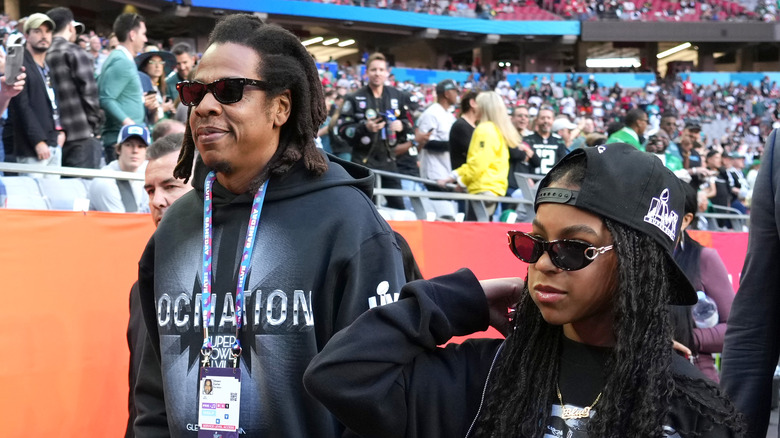 Kevin Mazur/Getty Images
Many of us remember when Blue Ivy Carter had just been born, becoming part of one of the most iconic families in the music industry. But we saw just how much Blue Ivy has grown at the LVII Super Bowl. She attended the biggest American sporting event of the year alongside her father, Jay-Z, to who she obviously bears some resemblance.
According to Elle, Blue Ivy celebrated her 11th birthday on January 7, 2023. Her appearance at the LVII Super Bowl distinguished that she is well into her tween years — though, unlike some of us, she doesn't seem to be burdened with the awkwardness that blighted our middle school days. Suffice it to say Blue Ivy is looking more grown-up than ever.
Though we can assume Beyoncé and Jay-Z have bittersweet feelings about their daughter growing up, fans on social media have been quick to share their reactions to Blue Ivy's more adult look. "Why haven't Beyonce and Jay figured out a way to stop Blue from growing up yet," one Twitter user wrote. "She's still a baby in my mind." Others noted how Blue Ivy takes after her mother. "She's such a little mini me of her mom its wild," another Twitter user wrote. Blue Ivy is growing up, and her fashion sense is evolving, too.
Casual looks can easily be elevated with the right accessories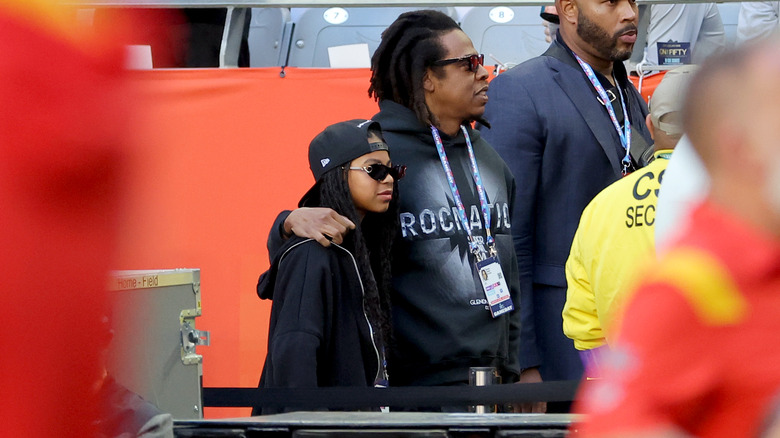 Mike Coppola/Getty Images
Blue Ivy Carter demonstrated how even the most simple looks can be taken to the next level with just a few well-picked accessories (and looked so much like an adult in the process). Accessories like hats, jewelry, and sunglasses can help show off your personality and showcase your unique style. Blue Ivy wore what appears to be an oversized T-shirt, black hoodie, and black pants — an incredibly straightforward look that would take little time or effort to recreate. She donned a backwards baseball cap and sunglasses, adding an extra sense of swagger to her outfit.
To brighten up her look, Blue Ivy also added some fun gold jewelry, wearing large hoops and a necklace. The juxtaposition between the casual nature of her outfit and the elegance of her necklace and earrings makes for an especially interesting outfit. In a video posted to Twitter, you can see Jay-Z hyping up his daughter and taking pictures of her on the football field. With an outfit like this that exemplifies her personality, Blue Ivy was sure to feel confident and look amazing.
Blue Ivy shows that you shouldn't be afraid of mixing gold and silver pieces
Upon closer look, you'll see that Blue Ivy Carter didn't mind accessorizing with gold and silver at the same time. Some people cringe at the sight of gold and silver pieces worn together, but according to jewelry store Monica Vanider, mixing gold and silver is a classic trend that shows off your personal style. Blue Ivy took part in this trend at the LVII Super Bowl, wearing gold hoop earrings, a gold necklace, sunglasses with silver rims, and a silver chained purse.
This method of accessorizing looked especially good with Blue Ivy's already casual outfit. She gave off a cool and confident air, with her baggy fit contrasting her fancier pieces. Accessories are great for stepping up your ensemble, and playing around with different tones and shades of jewelry, bags, and sunglasses can make your look more unique.
How to recreate Blue Ivy's Super Bowl look
Kevin Mazur/Getty Images
So we can all agree that Blue Ivy Carter's Super Bowl LVII outfit was nothing short of exemplary, leading us to wonder how she can only be 11 years old and already this stylish, as some of us were definitely awkward looking in our tween years. If you want to capture the essence of Blue Ivy's Super Bowl look, start with a casual and comfortable base layer. An oversized dark t-shirt and comfortable dark pants will serve as your canvas. Add a black hoodie for extra comfort and more layering, adding dimension to your outfit.
Now for the fun part: accessorizing. A ball cap is a great addition to a simple outfit like this. Consider wearing sneakers that add a pop of color. As for jewelry, don't fear mixing metals. You can stack silver and gold rings or mix and match silver and gold necklaces or earrings. Wear a small black bag to keep hold of your phone and keys, and then slip on a pair of shades. Just like Blue Ivy, you'll be looking cool, confident, and like a Carter.