Everything We Know About Rihanna's Second Pregnancy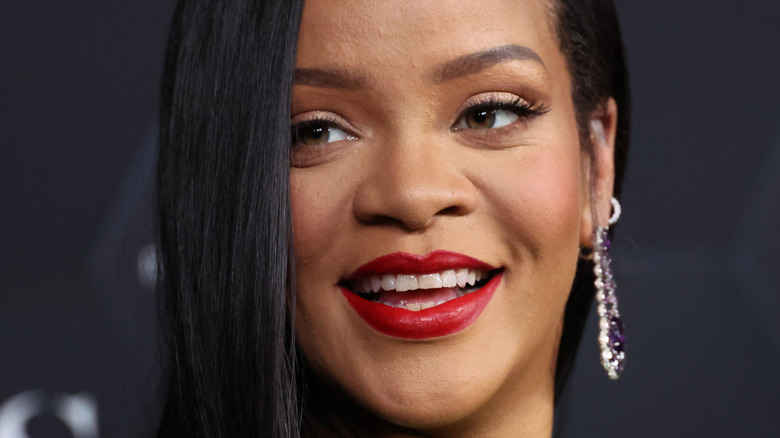 Mike Coppola/Getty Images
Rihanna made her long-awaited return to the live stage at Sunday's Super Bowl event in Arizona, storming through a selection of hits from her untouchable back catalog in an all-red ensemble, which included a puffer jacket that paid homage to dearly departed Vogue editor André Leon Talley. Even though Rihanna's Super Bowl 2023 outfit was otherwise a bit of a snooze, it proved the monochromatic trend is red hot and also helped the singer to announce her second pregnancy. 
The "We Found Love" hit-maker had everybody drooling with her effortlessly chic maternity style last time around, memorably telling Vogue: "When I found out I was pregnant, I thought to myself, There's no way I'm going to go shopping in no maternity aisle." Over the nine-month period, Rihanna proudly showed off her bump in a variety of form-fitting, edgy, and super sexy outfits, including when she and partner A$AP Rocky first made the initial announcement. 
Judging by her spectacular Super Bowl display, this time around is going to be no different. This is everything we know about Rihanna's second pregnancy thus far. 
Rihanna debuted her baby bump at the 2023 Super Bowl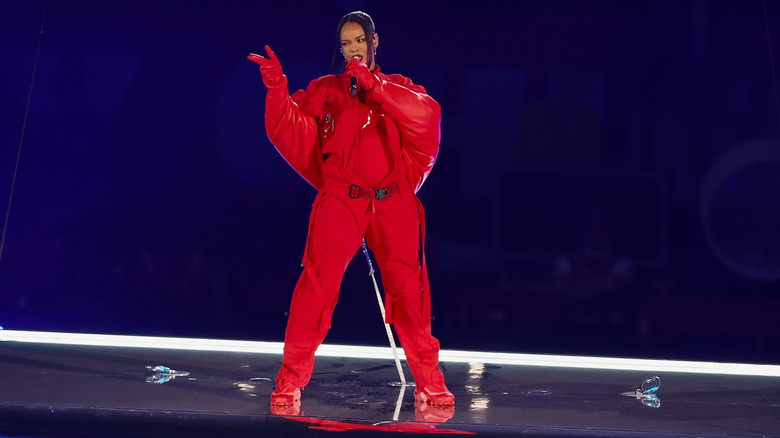 Kevin Sabitus/Getty Images
The debut of Rihanna's growing baby bump was among the most emotional moments at the 2023 Super Bowl. The singer's live performance — which included chart-topping cuts like "Work" and "Diamonds" — generally got rave reviews, with The Hollywood Reporter describing it as "a unified showcase that took advantage of the star's effortless magnetism" while Page Six gushed that the show reminded "fans why she has dominated the music industry for nearly two decades."
Naturally, though, the choreography was pared way back to accommodate her. After everybody rushed to google whether the singer was really expecting her second child or just messing with us, Rihanna's representative confirmed that she is indeed pregnant to THR. The legendary performer might have actually dropped a major hint by rocking an eye-catching gold "MOM" ring at a press conference just a few days prior, in fact.  
She also acknowledged that motherhood has made her braver overall. "When you become a mom, there's something that just happens where you feel like you can take on the world, you can do anything. And the Super Bowl is one of the biggest stages in the world," the Fenty Beauty founder said. Although juggling work and motherhood is often challenging, Rihanna wants to do the best she can at both for the sake of her kids. 
The singer welcomed her first child just a short while ago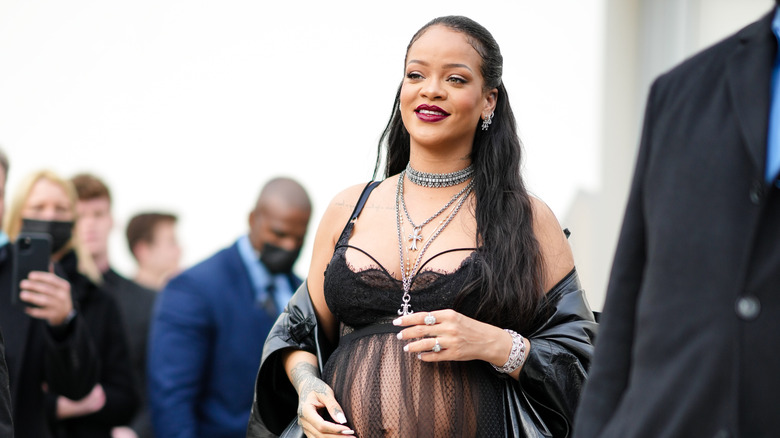 Edward Berthelot/Getty Images
Although Rihanna revolutionized maternity style with her wild and attention-grabbing outfits, she kept the other details of her first pregnancy relatively private. For instance, we still don't know the name of her son with rapper A$AP Rocky, whom the happy couple welcomed on May 13, 2022, as insiders informed TMZ at the time. According to Us Weekly, only their inner circle knows the child's name and that's how they intend to keep it. 
The "Rude Boy" hit-maker proudly displayed her baby bump throughout her term but both she and Rocky have remained mostly tight-lipped since welcoming their first child, and it's safe to assume they'll do likewise once the second one comes along. Rihanna did open up about the kind of mother she intended to be, though, telling Elle that "Real Housewives" icon Teresa Giudice was her inspiration. "She will flatten you about those kids. And that resonates with me a lot because I feel like that's the type of mom I'm going to be. Psycho about it," the singer admitted. 
She also warned, "You talk about my kids, it's over." Rihanna later told ET that mornings with her son are the best part of her day, sharing: "Seeing a baby with, like, little bags and waking up and they're just, like, startled. They're trying to figure out where they're at. It's the cutest." She also confirmed, "He's amazing. He's a happy baby."