Rihanna's Super Bowl 2023 Outfit Was A Snooze, But Proved The Monochromatic Trend Is Red Hot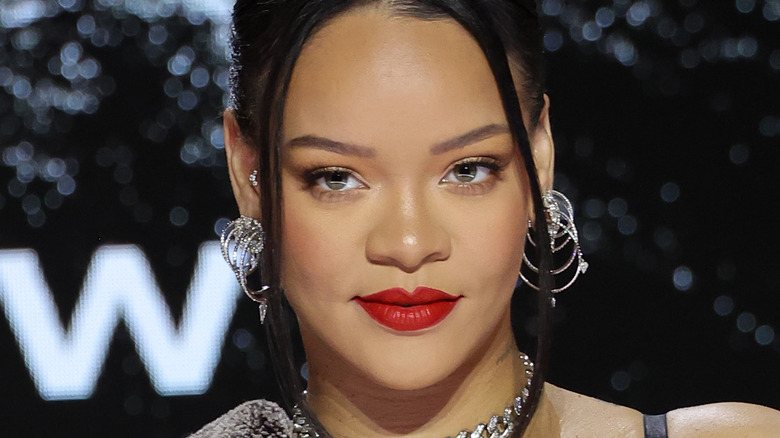 Mike Coppola/Getty Images
For many Super Bowl LVII viewers, the draw wasn't the outcome of the Eagles and Chiefs matchup, or even the fun of watching commercials such as the "Clueless"-inspired Rakuten ad. Their focus was on the halftime show, featuring Rihanna. The superstar singer had been keeping a low profile in recent years, particularly since the birth of her son in May 2022. So, fans were excited at the prospect of hearing her perform a medley of hits such as "Umbrella" and "We Found Love."
Speculation also whirled about what the singer might be wearing to the big game. Rihanna's red carpet moments have often left us speechless: her Pope-inspired Met Gala look in 2018; her sweeping Guo Pei cape at the Gala three years earlier; her daring black leather and lace Jean Paul Gaultier ensemble at the American Music Awards in 2013 (via BuzzFeed). But when she took the (very elevated!) stage at halftime, the effect was underwhelming. Not only did she not change outfits, the one she wore wasn't as breathtaking as we've come to expect. Of course, now we know that she's expecting her second baby (per People), it's understandable that Rihanna wanted to keep things simple. Her red jumpsuit was perfectly suited to an expectant mom, and it was also in keeping with her fondness for the still-hot monochromatic color trend.
Monochrome fashion is here to stay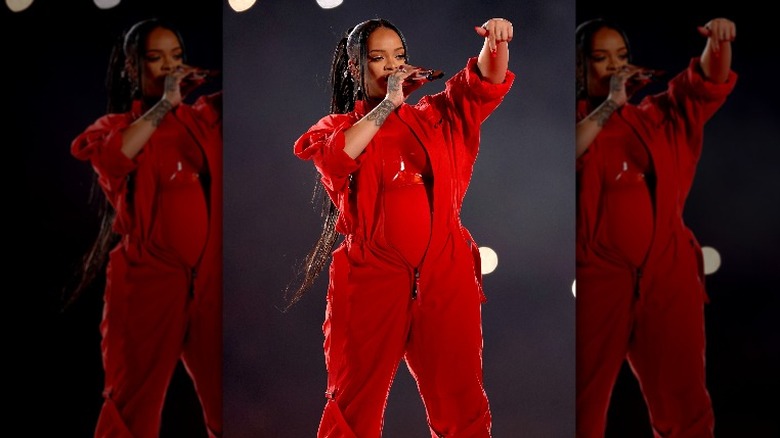 Gregory Shamus/Getty Images
As much as we may want to ditch the monochromatic trend, it just refuses to die — as Rihanna's Super Bowl outfit proved. The red ensemble consisted of a belted jumpsuit over a bodysuit, with a matching scarlet coat that she ditched mid-performance. The bodysuit was accented by a plastic bra piece, again in the same bright shade. While it wasn't the fashion-forward look we were expecting, it was still eye-catching, which was the whole point. 
The monochrome look has been a favorite style among celebs and regular folk alike since at least 2016, according to Vogue. What accounts for its popularity? For one thing, a one color palette makes a bold statement, explains UNIONBAY. Whether it's a neutral tone like beige or brown or a bolder color like purple or emerald green, a single tone will get you noticed. If you feel more confident or happier wearing a certain color, wearing it from top to toe can enhance that effect. Visually, it also creates a flattering line that can make you look slimmer. In Rihanna's case, it didn't hide her belly as much as she might have hoped; it was quite visible during the halftime show, and her pregnancy was confirmed shortly after the performance.