Summer House's Amanda Batula On The Value Of Self-Love During Valentine's Day - Exclusive Interview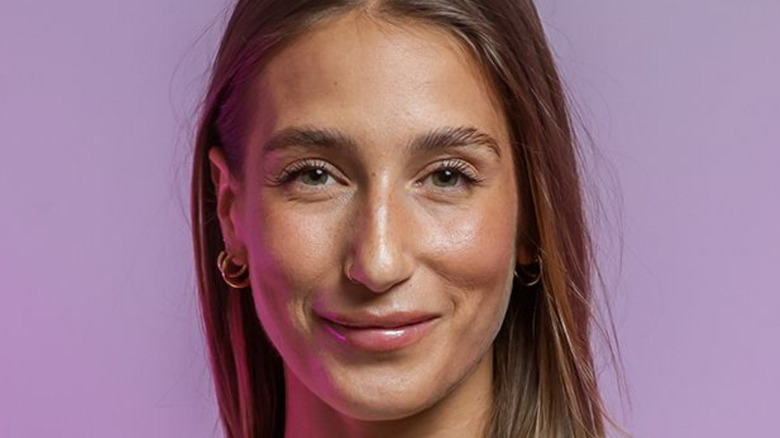 Loverboy
The messaging around Valentine's Day comes with mixed emotions for many Americans. According to Pew Research Center, 57% of single adults in the U.S. report that they aren't interested in dating or a romantic relationship. The good news is that whether you love the day or love to hate it, Valentine's Day has evolved for many to be about much more than romance. In fact, 67% of adults polled by OnePoll say "Valentine's Day shouldn't be a purely romantic holiday."
If you're one of those people who are just feeling yourself this Valentine's Day or wants to spend the day catching up with friends, then Galentine's Day may be just the thing for you. Celebrated the day before Valentine's Day, on February 13, the day is all about spending quality time with the fellow women in your life.
It's a day that even celebrities, like "Summer House" cast member Amanda Batula, love to celebrate. Batula, who co-founded Loverboy, an alcohol brand known for its canned cocktails and hard teas, spoke exclusively to The List about why she likes to use Valentine's Day to practice self-love and how Galentine's Day helps her connect with her closest friends.
Amanda is enjoying her life as a married woman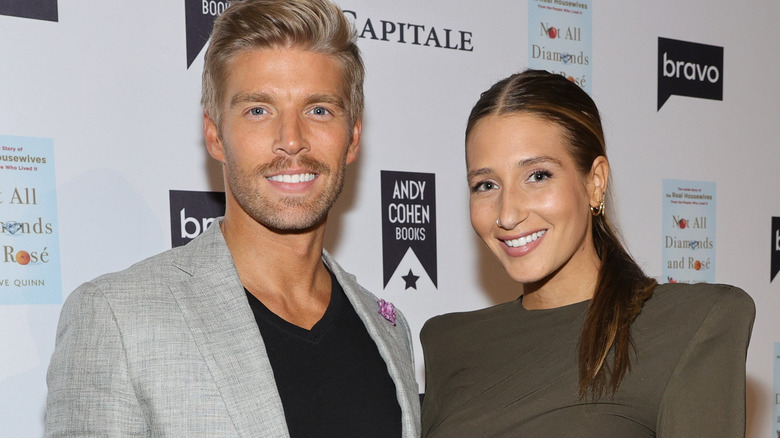 Jamie Mccarthy/Getty Images
How are things going for you and Kyle [Cooke]?
Great! We're living in that newlywed phase still. We're about a year and a half into it, so we're still enjoying the young love. Not much has changed. We've been working together and living together and doing all this stuff together 24/7 for so long. It's just nice to no longer have to plan a wedding.
Season 7 is coming up soon, on February 13. How is it being on the season as a married woman?
I haven't really thought about it. One of the things I love about my relationship with Kyle is that we're able to exist as a couple but also as individuals. Especially in the house and with our friends, we don't need to be together all the time, and that's definitely something that we carry through[out] our married life. I don't know if anything has changed. Maybe my friends see me differently. I don't feel much different, though. Right now, we're glad to get that epic party done and out of the way, and we're just enjoying it. We have our dogs now, and that's most of it.
There's a clip in the trailer of the upcoming season where you talk about health issues and whether [they] could affect your chances of getting pregnant, which is an issue so many women can relate to. What advice do you have for women who are going through the same thing?
The best advice I have is to talk about it. We don't speak about it enough, and you don't realize how many other women or [how many of] your friends are going through the same thing or something very, very similar. I joke that in health class, you were taught that if you make love, you get an STD or you have a baby, and there is no in-between. You don't realize how complicated it is and how complex it is.
Ever since sharing the little that I have so far, [so many] people have reached out to me, essentially diagnosing me with exactly what I have because it's so common and so many other people have experienced it. So the best thing is to talk about it because there's absolutely other people out there who know exactly what you're going through, and you're not alone in it.
It's amazing that you used your platform to talk about it. It's such a sensitive topic, and like you said, it's been taboo for so long.
Yeah, it was unexpected. It came out when I was drinking, and it opened up a lot of doors, and it opened my eyes to a lot more too.
Planning down time with the girls is crucial for Amanda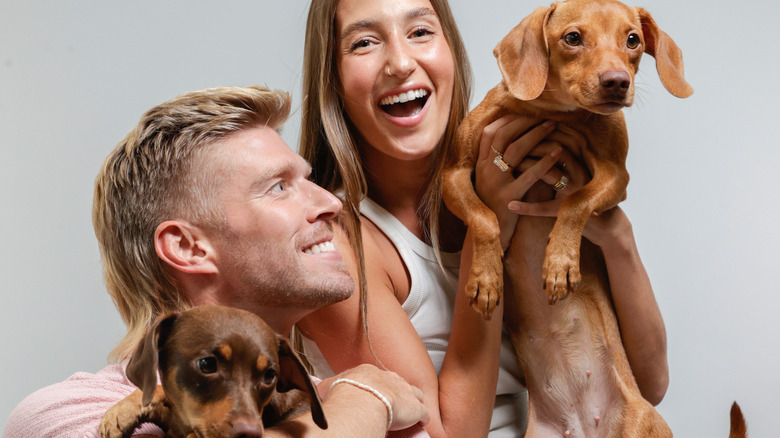 Loverboy
In Page Six's "Virtual Reali-tea" podcast, you said that you'd be "down" to adopt a "Real Housewives" lifestyle. What do you think is appealing about that?
I don't exactly remember what context this was in, but I feel like it was more of their filming process and how their show goes. There's an appeal to going out to more lunches and having more sophisticated, classy parties instead of the trip out to the Hamptons every weekend and staying up super late all night. It gets exhausting. I do love that lifestyle of just going out for a midday drink. The hangover [after late-night drinking] lasts for one too many days, so day drinking is more my speed.
For single women who may not be looking forward to Valentine's Day, how can they turn around the holiday?
There's a lot of pressure around Valentine's Day in general, whether you're in a relationship or not. I know Kyle feels it every single year. I'm always gently reminding him to order flowers in advance or make the reservations for a restaurant. Spending quality time together means more than anything.
But when you're single, it's a great opportunity to show yourself how much you love you. I think Miley Cyrus said it best: "I can buy myself flowers." You don't need someone else to make you feel loved. [Practice] some self-care; have a self-care day, night. Buy something that you've had your eye on; treat yourself to something special. Sign up for that workout class you've been putting off. Order your favorite food and binge whatever nonsense TV show, whether it's a rom-com or a murder mystery, like I love. [Give] yourself that space and [do] whatever makes you happy. I'd almost prefer my Valentine's Day to look like that.
Galentine's Day is the perfect girls'-night-in opportunity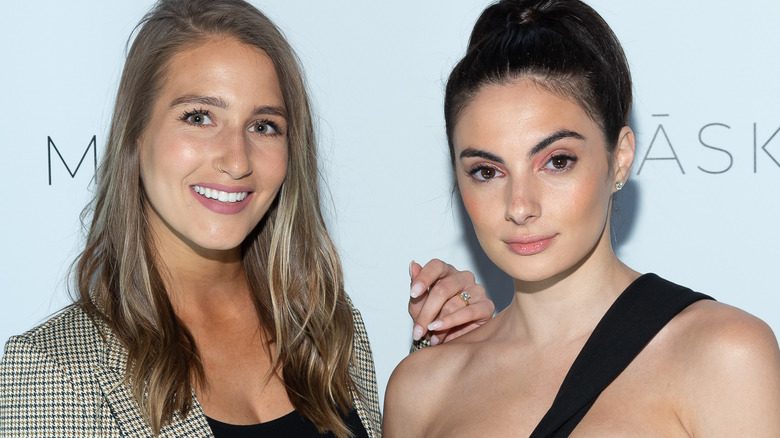 Mark Sagliocco/Getty Images
What is Galentine's Day, and how do you like to celebrate it?
Galentine's Day is on the 13th of February, and it's a day that you spend with your girls. Sorry, boys — this one's for the ladies only. Going out with your friends is typical, but it's a day you get to spend with your friends and celebrate your love for one another. 
My friends [and I] can be very chatty, and restaurants have a time limit. You can overstay your welcome. So we like to have more girls' nights in, and that way, we're able to dress however we want, whether it's comfy or we want to dress up. And we can sit together, chitchat, gossip, and we have full control over the menu, from cocktails to snacks. It's a day to be girls.
What sort of snacks, games, and activities do you recommend for Galentine's Day?
For snacks, I am not a dinner-hosting queen. I get overwhelmed with all the cooking and feasting. The best tip is to have your friends bring something over, whether you want to do all appetizers and finger foods, or have people in charge of entrees, desserts. Setting a theme in general for what the food is and getting creative with it could be really fun.
I am a huge fan of convenience, which is why I love our Loverboy canned cocktails. There's no cleanup; there's no mess. You just have to put them into a shaker, add some ice, and then pour it into your favorite little festive cocktail glasses, and it looks like you spent all this time making delicious cocktails.
My friends [and I] love to chitchat. Sometimes we do like to whip out a little deck of cards — there's so many different brands that make fun talking, topic games. [There's] also the old school "would you rather" and "truth or dare." If you make it a little bit of a drinking game, as long as it's responsible and you loosen up a little bit, the "would you rather" and "truth or dares" can be really fun.
Ready-made drinks from Loverboy are key to a successful Galentine's Day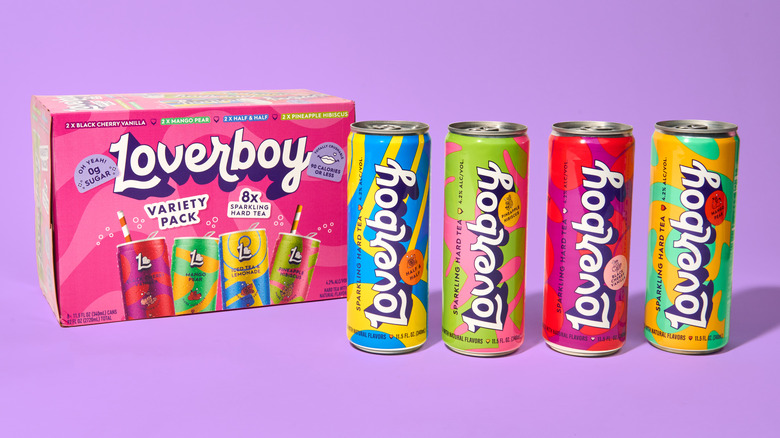 Loverboy
What other tips do you have for hosting a successful Galentine's Day party?
A theme, a good theme. Forget about the show. My friends and I always love a good theme, and I touched on it before. [You can do] a theme for the whole night [or for] how you're dressing up or for the food — everyone makes their own cocktail or a bake-off, cook-off-type thing. [Do] something fun like that and carry it through with decorations and refreshments. Again, how you dress up and what you wear makes the night feel extra special and more than a typical get-together with your girls.
As co-founder of Loverboy, what drinks would you recommend from your brand for Galentine's Day?
My favorite is the cosmopolitan martini. I recommend it year-round, but it's probably the best one for Valentine's Day. It's fun and light and easy to drink. It's pink, which we love for a theme, especially if you're doing [a] Valentine's Day pink theme. And it is so synonymous with girls' night. The cosmopolitan we all know from "Sex and the City," and that's a core group of girls who really embody a fun friend group. So drinking a cosmo on Valentine's Day is the perfect thing.
I just wanted to say, your skin is glowing. I don't know what it is; it just looks so dewy.
Thank you. I'll tell you. I did my moisturizer and all that fun stuff, and then it's Saie — they have this gel. I've posted it somewhere. I forget what it's called. But I put that under, and I did a little bit of foundation, and my skin glows all day long. It's incredible.
Check out Loverboy's website to learn more about its fresh alcoholic beverages.
This interview has been edited for clarity.