Kyle Cooke Shares A Sweet Tribute To Wife Amanda Batula After Rocky Couple Of Weeks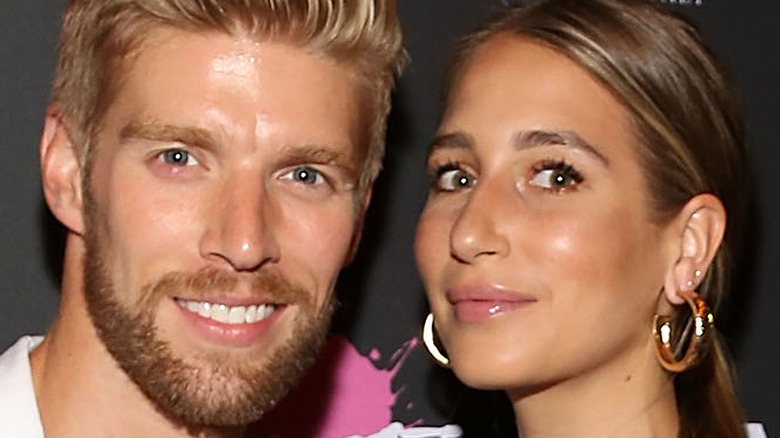 Manny Carabel/Getty Images
Sharing a relationship with the public can be challenging, but reality stars Kyle Cooke and Amanda Batula make it look like an art form. The couple have openly shared their relationship throughout the entirety of their time on Bravo's "Summer House." Per Us Weekly, what began as an on-again, off-again fling has now ended in a sunset wedding. It sounds like the stuff of fairytales, right? Think again. Fueled by ample cans of their joint business endeavor "Loverboy," the couple haven't been shy about sharing the tougher aspects of their relationship on the set of "Summer House." This includes the cheating scandal that the pair weathered together in 2019. "I have the ring, I know that he loves me, the world has changed now that he's serious about me, and I think that's all that matters," Batula concluded on an episode of "Watch What Happens Live," after she decided to stand by her man. 
Following a long engagement that was pushed back due to COVID, fans didn't know whether or not the couple would make it to the altar, as Batula and Cooke have bickered throughout more recent episodes of "Summer House." However, when the couple shared pictures of their wedding day on Instagram, fans thought that the worst might be behind them ... which might not be the case after all.
Kyle Cooke shares how lucky he feels to have Amanda Batula in his life
Only one episode into Season 6 of "Summer House" and Kyle Cooke and Amanda Batula were back to bickering. Per The Sun, Batula was once again left sobbing over Cooke's drunken antics. "My biggest fear is that he would get so drunk one night, he would cheat on me and he wouldn't even know what happened," Batula shared with her friends at the time (via The Sun).
The couple continued to clash in the show's second episode. But after Cooke faced a grueling interrogation by host Andy Cohen in January 2022 on "Watch What Happens Live," he chose to share a touching tribute to his wife. "Proud of my wife. Not gonna lie, the last couple of weeks have been tough," Cooke wrote on Instagram, underneath a photo of their visit to the live show together. "Watching yourself make stupid decisions on TV is worst than just reliving it because it's out there in the world for everyone to judge. Yes, that's what we signed up to do, but reality TV is hard enough. Doing it in an evolving relationship over 6 years is a totally different ballgame." Cooke then went on to praise his wife. "I love this woman. She crushed it last week on #wwhl despite the inevitably tough questions from Andy, and I'm just relishing how lucky I am to have her. I love you @amandabatula!"