The Young And The Restless' Alum Sasha Calle Makes Super Bowl Commercial Debut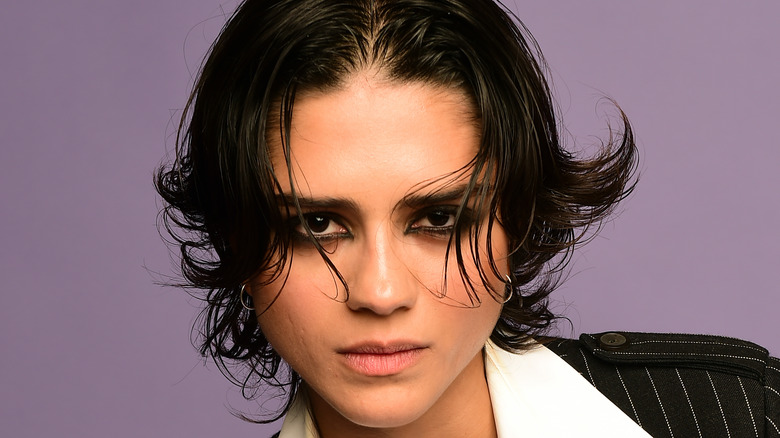 Vivien Killilea/Getty Images
While almost everyone is familiar with the DC Comics character Superman, many might not be familiar with his cousin, Supergirl. The character was created in 1959, and much like Kal-El — aka Clark Kent or Superman — Kara Zor-El also escaped the doomed planet Krypton, ending up on Earth. There she took the name Kara Danvers, and would eventually become known to the world as Supergirl. The character was first portrayed in a live-action format by Helen Slater in the 1984 film, "Supergirl." More recently, Melissa Benoist played the character on the CW television series of the same name. Now, actor Sasha Calle will be playing Supergirl in the upcoming DC film, "The Flash."
Calle became a soap opera fan favorite when she played the sassy Lola Rosales on "The Young and the Restless" — a part that earned her a Daytime Emmy nomination for "Outstanding Young Performer in a Drama Series." The new "Flash" trailer dropped during the 2023 Super Bowl to the excitement of fans, and the film itself has done amazingly well with test audiences. The preview depicts tons of action as The Flash (Ezra Miller) messes with the time stream, almost causing worldwide Armageddon in the process. Michael Keaton and Ben Affleck reprise their roles as Batman from different Earths, and Calle's Kara Zor-El is also introduced, where she shows off her incredible superpowers.
Fans are excited that Supergirl will join the DC Extended Universe theatrically.
Sasha Calle's Supergirl debut wows fans
Sasha Calle posted a clip of her and others watching the trailer for the upcoming film, "The Flash," on Twitter. She wrote, "IF THERE'S ANYTHING SUPERGIRL HAS TAUGHT ME, IT'S HOPE. ANYTHING IS POSSIBLE. DO NOT LET ANYONE TELL YOU OTHERWISE! I LOVE YOU!!!!!!" In the trailer playing on television, two versions of Barry Allen (both Ezra Miller) see Calle's character for the first time, and one states, "It's not Clark [Kent]." She then introduces herself saying, "My name is Kara." Calle and everyone watching cheered excitedly. Calle then followed up her post, tweeting, "Y'ALL! I LOVE YOU! I PUT MY HEART AND SOUL INTO SUPERGIRL. IT'S SO EXCITING TO FINALLY SHARE A LITTLE BIT OF HER WITH YOU! SHE'S SO SPECIAL & STRONG. GETTING TO KNOW HER & FEEL HER HAS BEEN ONE OF MY GREATEST HONORS. I LOVE HER SO MUCH AND I LOVE YOU! JUNE 16. LETS F***ING GOOOO!"
A loyal Supergirl fan was happy to see she'd be joining the other major heroes, responding, "Kara Zor-El NEEDS more mainstream representation." One fan honored Calle by posting, "I'm so happy you get to see your hard work finally get recognized and praised (as it should)." Another follower paid a supreme compliment to the actress, stating, "The participation of @SashaCalle looks brutal, ¡congratulations! her outfit seems made for her."
Despite on-set troubles delaying the film's production, we're excited to see that it's coming out in June.