Behind The Scenes Of General Hospital's 60th Anniversary Photoshoot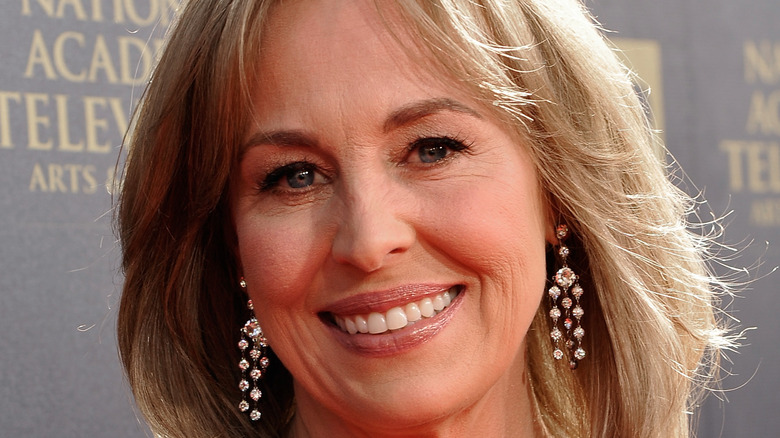 John Sciulli/Getty Images
In 2013, many "General Hospital" cast members along with executive producer Frank Valentini and then-head writer Ron Carlivati celebrated the show's 50th anniversary by ringing the Opening Bell at the New York Stock Exchange. Among the actors in attendance were Tony Geary, Genie Francis, Finola Hughes, Kin Shriner, Kelly Monaco, and Jason Thompson. Not only did TV Guide list "GH" as the "All-Time Best Daytime Soap" in their 40th-anniversary edition, but the show holds the top two spots in the magazine's 60 all-time greatest moments in soap opera history: the wedding of Luke Spencer and Laura Webber (Anthony Geary and Genie Francis), and the tear-jerking story of how B.J. Jones (Brighton Hertford) died and her heart was given to Maxie Jones (then Robyn Richards).
In June 2022, "GH" celebrated another milestone — its 15,000th episode — which focused on Laura throughout the years. Francis herself is one of the longest-running actors on the show, having taken over the part of Laura in 1977. Back then, she wasn't just a teen that went along with whatever story was going on. Laura was the driving force in several storylines, and still is to this day. 
One of the four remaining soap operas on the air, the beloved sudser premiered on April 1, 1963, and is now set to celebrate its 60th anniversary on the air as the longest-running American soap opera currently in production.
Cast members have fun at the anniversary photo shoot
People has announced a special edition that will celebrate the 60th anniversary of "General Hospital." The issue will present an exclusive interview with star Genie Francis who states, "I just want it to be fabulous and wonderful and inclusive — get it the love it deserves. How many shows make 60 years? It's so special." Other castmates who will discuss the milestone include Finola Hughes, Tabyana Ali, Donnell Turner, Rebecca Herbst, and Maurice Benard.
A video posted on the "General Hospital" official YouTube page teased the photoshoot of the cast as part of the celebration, with the caption, "Mark your calendar! The #GH60 Class Photo will debut exclusively on People.com THIS TUESDAY (February 14th). Will you be our Valentine?" All of the actors were excited including Eden McCoy and Cassandra James who said, "Happy birthday!" Clips also included the hustle and bustle on the show's soundstage. Actress Amanda Setton stated, "The entire cast is here today for the 60th anniversary." A montage of the actors sharing their enthusiasm included Cynthia Watros, who said, "It's amazing!" Donell Turner stated, "60 years!" and Wally Kurth followed that up with, "And we're still here!"
Co-stars Nancy Lee Grahn and Maura West high-fived each other, with Grahn asking, "Do people still do that?" adding, "I still have AOL." Everyone was dressed to the nines and we can't wait for the surprises the show has in store when April finally arrives.