Whatever Happened To Stitch's Son Max On The Young And The Restless?
It's safe to say that whoever shows up to Genoa City, they do so with lots of secrets. This is, of course, in addition to creating some new ones that need hiding. The fictional city where "The Young and the Restless" is set is practically brimming with hidden identities and extramarital affairs. 
And even medical professionals aren't above the fray. When Dr. Benjamin "Stitch" Rayburn first came to Genoa City in June 2013, he got involved with both Abby Newman and her mother, Ashley Abbott – and then eventually, Abby's sister, Victoria.
But Stitch had a whole life before he came to Genoa City, and even a child named Max he shared with his first wife (via Soap Dirt). Sadly, when Stitch's first wife, Jenna Kieran (Stephanie Lemelin) died, Max came to live with his dad, Stitch and his stepmom, Abby. Unfortunately, Max didn't quite take to life in Genoa City — or at least, that's what it seemed like. Despite Abby's best efforts, Max simply saw her as his wicked stepmother, and did everything in his power to drive Abby and his father apart.
The reason behind Max's troubling behavior
Things really took a turn for Stitch, Abby, and Max when Abby shared news that she was pregnant. Max, not surprisingly, didn't take this so well and even went so far as to physically harm Abby. He put a wire up, which caused Abby to trip down the staircase, miscarry her baby, ensure that she would never be able to have children again. Eventually, Max was caught and sent to a psychiatric facility.
While there, it was discovered that there was a reason Max was behaving this way — he had a brain tumor. Initially, Stitch was unsure if surgery was the right way forward, saying, "The idea of this mass making my kid angry, unable to control his emotions? That's not who Max is. That's almost the worst part. He believes he's capable of these horrible things. I want him to get his life, his mind, his soul back" (via CBS). Eventually, Stitch decided to have Max go through with the surgery, but his relationship with Abby was too far gone. The pair divorced, and Stitch left Genoa City in 2017.
But more often than not, no one ever really stays gone from Genoa City. Stitch eventually returned in 2021, at which point he shared with Abby that while Max was still receiving treatment, he remained hopeful for his son. Maybe someday Max himself will return and give Abby a much-owed apology.
What the actor who plays Max thinks of him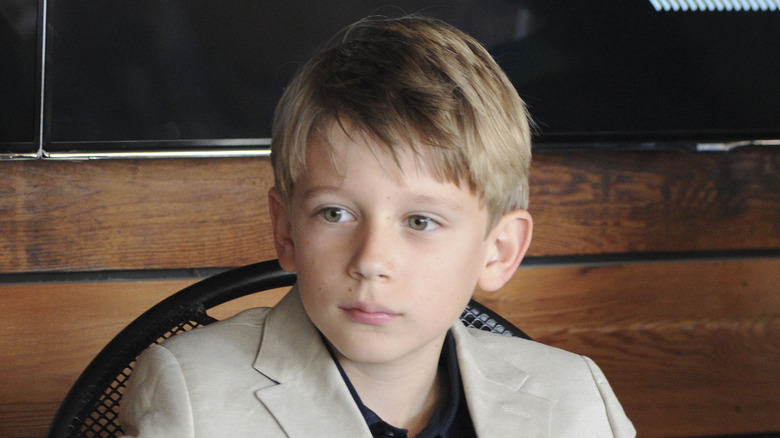 Vivien Killilea/Getty Images
It's not always so easy for an actor to tap into the headspace of a character who's difficult or dangerous, but for child actor Jared Breeze, who portrays Max on "The Young and the Restless," it seems to be his specialty. In addition to playing Hitler on "Another Period," he also portrayed the character of Ted in "The Boy," who eventually grows up to become a murderer (via Austin Chronicle).
Breeze was so convincing in the film that he even beat out Jacob Tremblay to take home a Young Artists award in 2016. Afterwards, Breeze chatted with Soap Opera Spy about what he thinks separates the two characters, and at the time, what the future might hold for Max. Although Max is certainly troubled, Breeze thinks Ted's issues outpace Max's by a mile. "Ted has a real problem; I think Max just tries to be mean to Abby so he can be with his dad," Breeze explained. "He likes most of the others." When asked if he could see a path forward for Abby and Max's relationship, Breeze replied, "Possibly, when it works for his benefit. Max really seems to play people as he needs them."
With a hefty number of roles under his belt, Breeze was encouraging for those who want to follow in his footsteps, advising all young actors out there, "Follow your heart and no matter how hard the script, keep memorizing the lines and practice."