The Time The Young And The Restless' Ashley And Abby Wanted The Same Man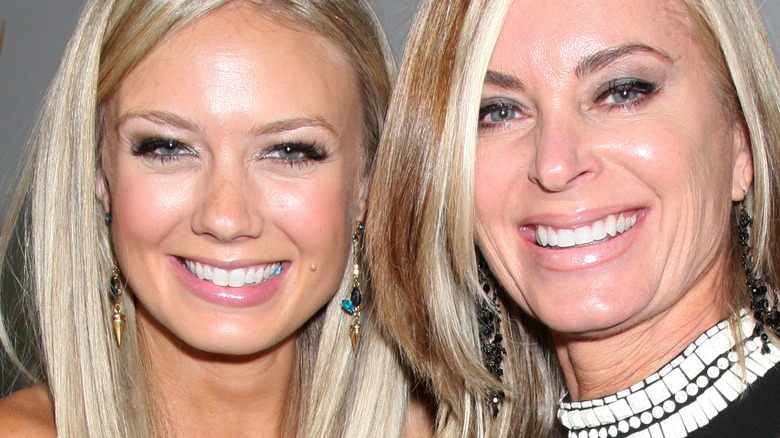 Kathy Hutchins/Shutterstock
"The Young and the Restless" knows how to deliver spicy romance storylines that captivate the audience. And while it takes the right chemistry and lots of dramatic twists and turns to make a compelling love triangle, there's one storyline involving two women of the same family wanting the same man that sticks out above the rest. Some people struggle to find love and affection, but Ben "Stitch" Rayburn (Sean Carrigan) had the opposite problem. Instead, Stitch found himself attracted to two women, a mother and daughter duo with whom he had undeniable chemistry (via Soaps In Depth).
The two women lusting after Stitch were mother Ashley Abbott (Eileen Davidson) and daughter Abby Newman (Melissa Ordway). They had their own love stories prior to Stitch, but there was something about this man that caught the attention of both women. The ironic part about them falling for him is that Abby is the one who tried setting up Ashley with him at the beginning. Even though she'd be in competition with her mother down the line, she is somewhat to blame for the initial attraction.
If that sounds like a messy dynamic, that's nothing compared to the complicated and confusing direction their love triangle took throughout Stitch's tenure on the "Y&R." For Ashley it would be a tale of disappointment, and for Abby, it played out like a tragedy, with multiple heartbreaking moments. 
Ashley slept with Stitch in the lab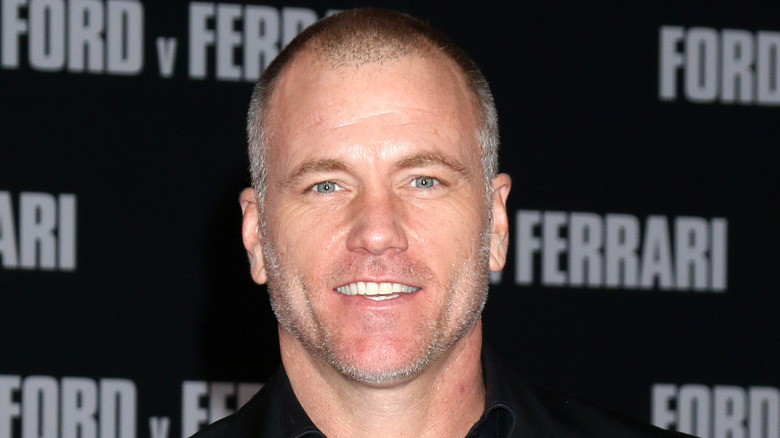 Kathy Hutchins/Shutterstock
Stitch Rayburn was originally a love interest for Victoria Newman (Amelia Heinle), but after questionable affection between her and her ex, it wasn't long before he strayed to someone else. Reeling from what he thought was going on with Victoria, Stitch became intoxicated, leaving Ashley Abbott to take care of him. Her original intentions were pure, but the next morning, she couldn't resist his charms. He may have been intoxicated, but she still hopped into the shower, engaging in steamy lovemaking.
However, Ashley and Stitch decided to keep things platonic, agreeing it was a one-time encounter. Their shower sex didn't become a relevant topic again until Stitch began spending a significant amount of time with Ashley's daughter, Abby Newman. Eventually, Stitch admitted to Abby about his affair behind her sister, Victoria's back. This incensed Abby, who laid into him. Perhaps more shocking to Abby than the news that he was unfaithful to her sister is that the woman having the illicit affair with him was her mother, Ashley.
Ultimately, Stitch ended things with Victoria, turning to Abby almost immediately and jumping into bed with her. Their involvement is where things began to get complicated between the three because the latter denounced the idea of Stitch sleeping with her daughter. She was vehemently against their potential relationship, which prompted Stitch to accuse her of being jealous that he ended up with her daughter and not her. 
Ashley was jealous of Abby and Stitch's relationship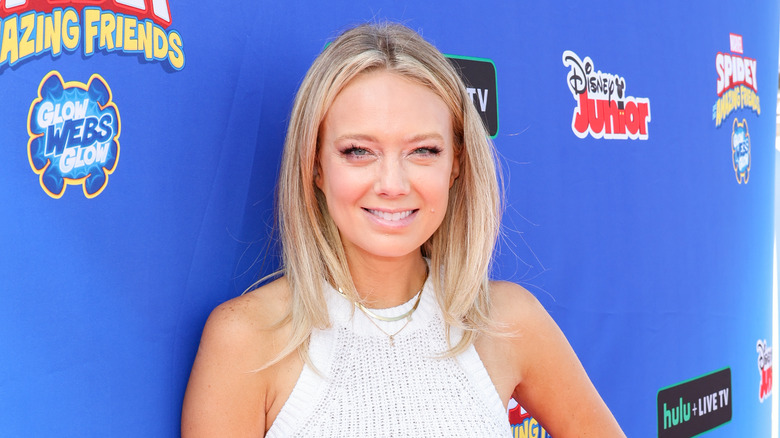 Matt Winkelmeyer/Getty Images
In Ashley Abbott's defense, she was the only one concerned about her past involvement with Stitch. Once Abby was sexually involved with him, she came clean to her mother about knowing they slept together in the past. Ashley didn't want the two of them together even after that revelation, finding it quite difficult to withhold her true stance on their fledgling relationship. 
For a while, Ashley kept her feelings to herself. That is until a family party led to the obvious reveal that she still had genuine feelings for Stitch. In addition, she was harboring jealousy that Stitch moved on with Abby instead of seeking solace once more with her. However, it wasn't the end of their flirtatious and inappropriate interactions. Instead, Stitch turned to Ashley following a personal tragedy, admitting he still had feelings for her as well, despite being deep in a relationship with her daughter, per Soaps In Depth. 
Even though Stitch admitted his feelings for Ashley, he intended to take his relationship with Abby to the next level in the form of an engagement. His desire to propose came after divulging his true feelings for Ashley, so naturally, it came as a surprise to her. Stitch should've backed off his feelings for Ashley, but a horrific fire had the opposite effect. The harrowing ordeal actually brought Ashley and Stitch closer together than ever.
Stitch admitted he loved Ashley while trapped in the fire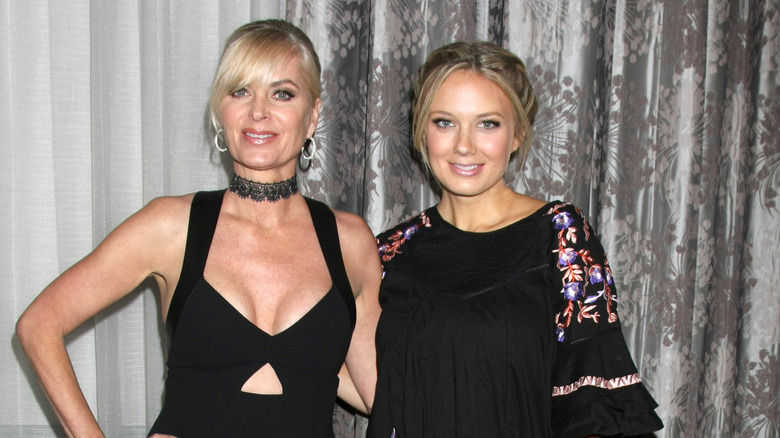 Kathy Hutchins/Shutterstock
Stitch Rayburn proposed to Abby, and he was poised to spend the rest of his life with her. Yet, somehow, circumstances put Ashley Abbott back into his orbit during a horrifying experience that could've cost both of them their lives. The tower belonging to Abby's father, Victor Newman's (Eric Braeden) business, caught fire, trapping many Genoa City residents inside and nearly killing some of the most beloved characters (via CBS).
As fate would have it, two people trapped together were Stitch and Ashley, putting them in a perilous situation, but also giving birth to the perfect storm that would force them to face their feelings. Ashley and Stitch believed death was around the corner. Stitch was severely injured due to the deteriorating building attacking him, so he had many things he needed to get off his chest before he passed away. In what he believed to be one of his final living moments, Stitch admitted to Ashley what she and many viewers knew: He did have feelings for her (via Soap Central).
Besides being engaged to her daughter, confessing his love for Ashley was problematic for an entirely different reason. Stitch didn't die. He was rescued from the fiery blaze, and while it looked like he might perish, he didn't. This created a lot of awkwardness since he now confessed to being in love with not only two women, but mother and daughter.
Abby and Stitch finally got married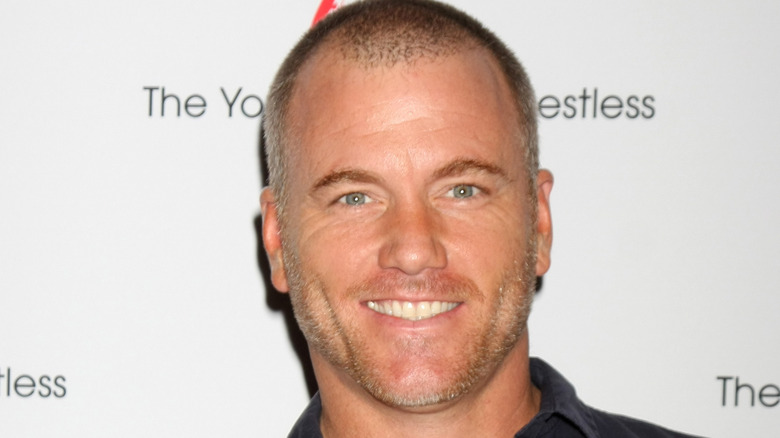 Kathy Hutchins/Shutterstock
Despite Stitch's confession to Ashley, there were wedding bells in the air. However, that seemed poised to crumble into the ashes similar to the building that almost took his life. Stitch told Ashley he meant every word he told her on his deathbed, again professing his love. Ashley had the sense to rebuff his advances, and considering he was set to walk down the aisle with her daughter, that was for the best. 
Ashley tried as hard as possible to keep Stitch's focus on marrying Abby, regardless of any declarations of love he was shouting in her direction. Thankfully, Stitch and Abby indeed made it down the aisle, exchanging vows and pledging a life to one another. Unfortunately, their wedding was the beginning of the end of their relationship. His feelings for her mother suddenly became the least of her problems. Instead, Stitch's son, Max, was the biggest obstacle preventing their happiness. 
Max's mother passed away, leaving Stitch with no choice but to have his son live with him full-time, something that changed Abby's life forever. Max's disdain for his new stepmother kicked into overdrive once he learned about her pregnancy. He was distraught after his mother's death and wanted no part of Abby bringing new life into the world in the form of his unborn baby sister (via Michael Fairman TV). Sadly, he did the unthinkable, an act that still haunts Abby's daily life. 
Max caused Abby to lose her unborn child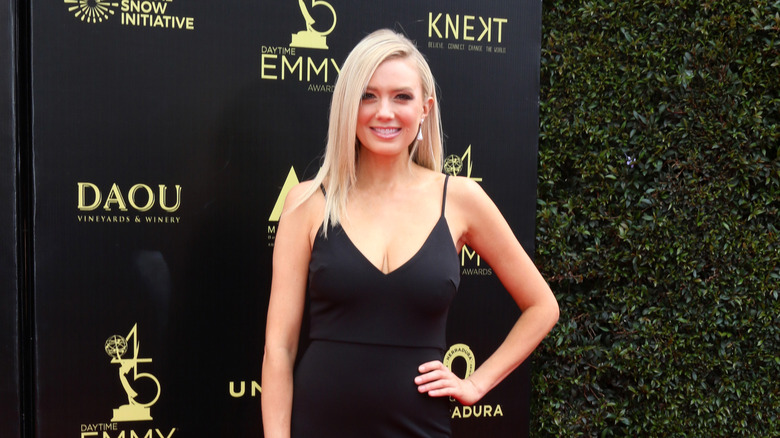 Kathy Hutchins/Shutterstock
Abby and Stitch should've been having the most joyous time of their lives with a baby on the way, but Stitch's son Max had other plans. His plot to rid Abby from their lives kicked up a notch when he caused a tragic fall that took the life of her unborn child. In an instant, their baby girl was no more, and their family was shattered by the actions of Stitch's son. 
Being the smart cookie that she is, it didn't take long for Abby to question if her stepson was directly responsible for her fall, something that was later confirmed in a dramatic confession by Max to Ashley Abbott. Everyone's future was destroyed because of Max's hatred for Abby, and their family was never the same. The couple was never able to fully reconcile, and despite Stitch briefly wanting to try for another baby, they moved in the direction of divorce instead. 
Eventually, Stitch was phased out of "The Young and the Restless" because without his relationships with Ashley and Abby, there was nothing more for the character to accomplish on the canvas. It wasn't until years later that he made his return to the show, stirring up trouble in Abby's life under the guise of being her hero. Further, Max's heinous actions played a direct impact on the interaction Abby and Stitch would have upon his Genoa City return (via Soaps).
Stitch kidnapped Abby's surrogate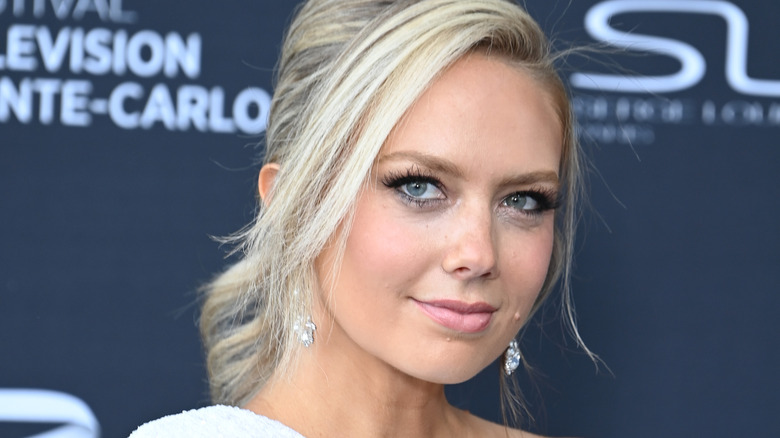 Pascal Le Segretain/Getty Images
Abby Newman had a rough go at love after her split from Stitch, but she finally found what appeared to be her soulmate in Chance Newman (Connor Floyd). However, after her earlier miscarriage, Abby was unable to carry a child to term, forcing her to seek other means to become a mother. Ultimately, she settled on her friend Mariah Copeland (Camryn Grimes) to be her surrogate, something that was going well until Stitch made his unexpected return to Genoa City (via Soaps In Depth). 
Per Soaps, Stitch's return was not only confusing because of his conflicting stories, but once Mariah disappeared toward the end of her pregnancy, it became dangerous. It didn't take long to put the pieces together and determine that Stitch played a role in Mariah going missing. Stitch painted himself as the hero by not only kidnapping Mariah but also saving her. Luckily, Abby's baby was born safely and delivered by his biological father, Devon Hamilton (Bryton James). 
Stitch's impact on the lives of both Abby and Ashley Abbott exists in the present. Ashley has never truly found love, and Abby has not only been through multiple failed relationships, but she also had to seek alternative means of becoming a parent. If Stitch never entered her life, things might've played out differently, but sadly that wasn't the case. Hopefully, one day they can make peace. However, after the kidnapping ordeal that might never happen.