Why Kim Kardashian Has Been Committed To Her Favorite Makeup Wipes For Years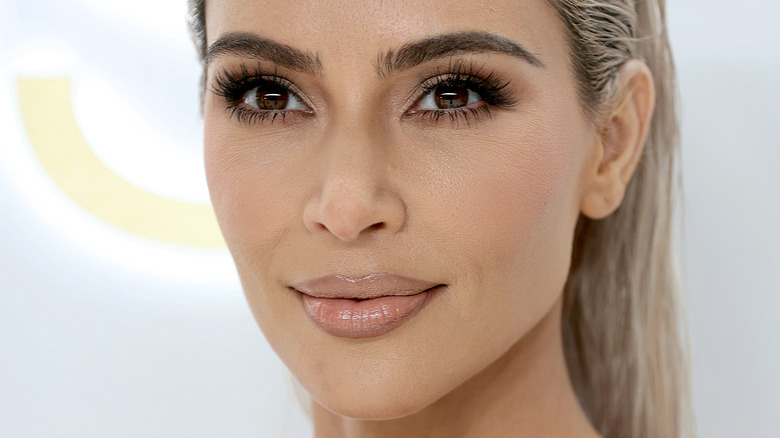 Dimitrios Kambouris/Getty Images
Kim Kardashian has been the queen of good skin and stunning transformations throughout her career. Kardashian has been in the public eye for over a decade, and fans are always keeping up with her makeup, skincare, and fashion advice. As a trendsetter with her own skincare line, SKKN by Kim, Kardashian has made her mark as a beauty icon. 
The mogul has been open about her skincare routine, which has evolved throughout the years. While her routine once totaled upwards of $4,500, the famous mom of four has changed up her routine a bit since launching her own skincare brand. "This is exactly what I use," Kardashian said on the Today show in 2022 while doing publicity for the SKKN by Kim launch. "It's a nine-step system but you only use eight products at the same time one's a day and one's a night oil," she said, adding, "I think people were really wanting me to go with just a few products with launching something but at my age, there's a lot that goes into making sure my skin is well taken care of."
All that being said, the "Kardashians" star doesn't shy away from using drugstore brands as a staple of her daily routine.
Kim Kardashian 'cant take [her] makeup off' without this product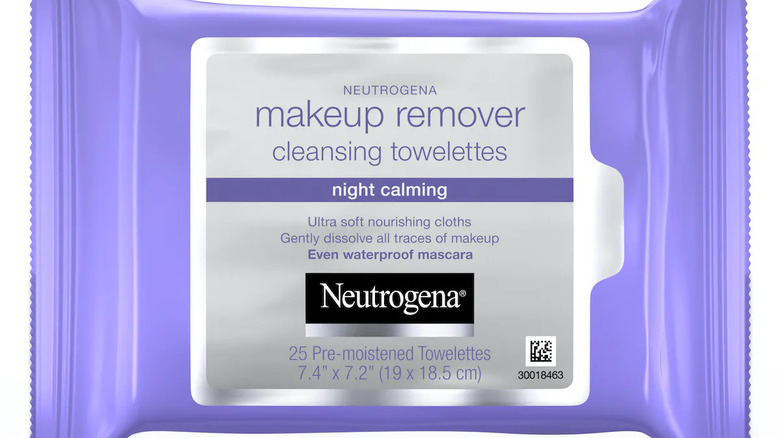 Neutrogena
In a January 2023 Instagram Story, Kim Kardashian let her followers see a bit of her tried-and-true skincare routine, and one of the items in her makeup bag was a purple package of Neutrogena Makeup Remover Face Wipes. After calling her makeup bag "embarrassing," she said that the wipes, which have been a staple in her routine for years, are gentle and remove all of her makeup including her mascara. It's not the first time she's shared her love for the low-cost product.
"I always need a makeup wipe," the reality star said in an interview with Into The Gloss. "I find that I can't really take my makeup off without [the Neutrogena wipes]." The ultra-soft, alcohol-free wipes have a five-star rating on Amazon with over 5,000 reviews, and a two-pack of the 25-wipe packages is sold for under $12 on the site. The wipes are also available at Ulta Beauty for less than $10 for one package. 
According to Neutrogena's website, the wipes are tested by dermatologists and remove not only makeup, but also dirt and oil. A calming scent is added to the product to aid in winding down and going to sleep.
Kim Kardashian has a lengthy skincare routine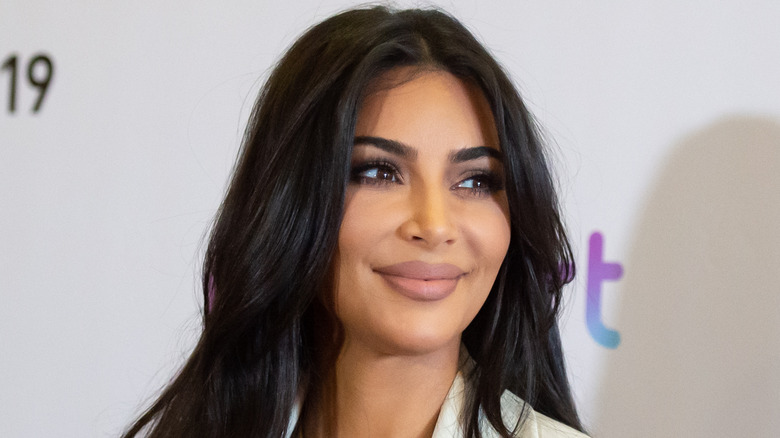 Asatur Yesayants/Shutterstock
Though she may use Neutrogena wipes daily, Kim Kardashian has also been open about her long skincare routine, sharing her must-have products on her website. Kardashian launched her own skincare line in June 2022, and it includes products for each of the nine steps of her routine. When it comes to which product she most loves in her routine, Kardashian told Refinery29 in November 2022 that she recommends the exfoliator, which sells for $55 on the SKKN by Kim website. Kardashian showcased the product in a July 2022 Instagram video.
The rest of the nine-step process includes Kardashian's cleanser ($43), toner ($45), face cream ($85), eye cream ($75), hyaluronic acid serum ($90), vitamin C8 serum ($90), oil drops ($95) and night oil ($95). When all is said and done, the products add up to nearly $700 for the full routine. The routine is marketed on the SKNN by Kim website as innovative and uncompromising, delivering "nourishment, renewal, and an indulgent at-home experience."