General Hospital's Brook Kerr Takes You Behind The Scenes At Portia And Curtis' Valentine's Day Wedding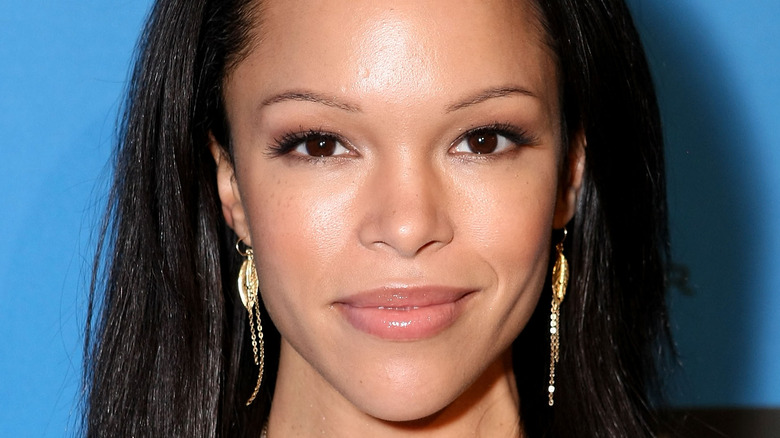 Alberto E. Rodriguez/Getty Images
Considering "General Hospital" is nearing its 60th anniversary and is on five days a week, the soap is able to deepen its character storylines. For example, the romance between Curtis Ashford (Donnell Turner) and Portia Robinson (Brook Kerr) has been a long road. Curtis and Portia had an affair in the early 2000s, though he broke up with her as soon as he learned she was married to Marcus Taggert (Real Andrews). 
Later, when Curtis arrived in Port Charles in 2015, he began working with police commissioner Jordan Ashford (Tanisha Harper) as a private investigator. The two soon fell in love and were married. But Curtis couldn't stand the lying that resulted from Jordan having to keep her police work secret, and they eventually divorced. Curtis and a now-divorced Portia then reunited and are now happily planning a Valentine's Day wedding of their own.
Although Portia has told Curtis to his face that he is not the father of her daughter Trina Robinson (Tabyana Ali) — even though the timing of their affair could mean otherwise — Jordan has suspected that isn't true. The actors in the storyline have been teasing the mystery as well. In August 2022, Andrews posted a selfie of him, Turner, and Ali on Instagram, asking, "Who is Trina's real Dad...??? Taggert or Curtis...???" Now that the impending nuptials have arrived — along with Portia's surprising new family additions – the secret about Trina's paternity may be revealed.
Portia and Curtis looked fabulous at their wedding
"General Hospital" star Brook Kerr recently posted pictures from the wedding between her character Portia Robinson and Curtis Ashford on Instagram, writing, "Portia has the weight of the world on her shoulders. How will Curtis react if she tells him the truth about Trina?"
Fans complimented the two in their stunning outfits. The photos included other characters in attendance, such as Trina Robinson, T.J. Ashford (Tajh Bellow), Marshall Ashford (Robert Gossett), and newcomers Dr. Sterling Robinson (Ricco Ross) and Ezekiel "Zeke" Robinson (Gavin Houston) — Portia's father and uncle. The viewers were overjoyed with the nuptials as one stated, "They need to let them get married. We need some much-needed happiness on this show. Curtis and Portia belong together." One viewer enjoying the storyline posted, "All beautiful pics! Portia needs to tell the truth! Family is not always blood, Taggert will always be Dad, so doesn't matter if truth comes out." Another fan complimented Kerr, saying, "Brook, you looked so pretty in one of the MOST STUNNING wedding dresses I've ever seen!! WOW!! Everyone looked great!"
Actor Donnell Turner told Soap Hub that he wants Portia and Curtis to marry to prove that a soap can have a lasting couple despite their turbulence. Our fingers are crossed that once the truth about Trina comes out, Curtis can find it in his heart to forgive Portia!