Meet The Actors Playing Portia's Surprise New Family Additions On General Hospital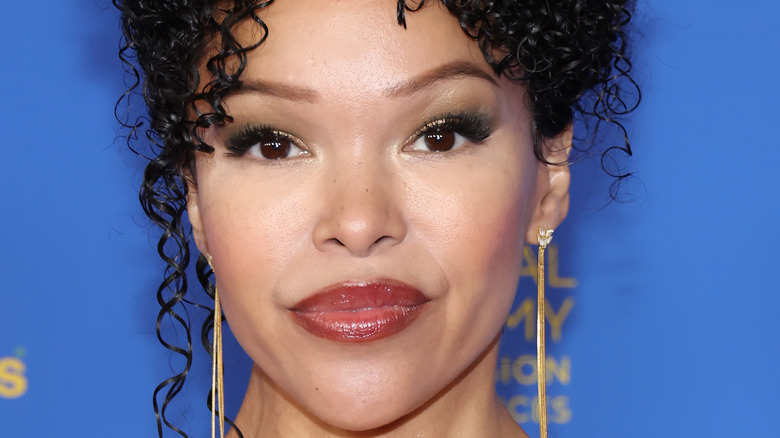 Amy Sussman/Getty Images
If there's one thing that Curtis Ashford (Donnell Turner) can't stand on "General Hospital," it's people who lie. His marriage to commissioner Jordan Ashford (Tanisha Harper) didn't last because he couldn't handle all the police secrets that she had to keep from him. When Curtis' Aunt Stella (Vernee Watson) meddled in their business and accidentally lost Curtis and Jordan's divorce papers, his upcoming wedding to Portia Robinson (Brook Kerr) was almost derailed, per Soaps Spoilers. Happily, Jordan got new papers drawn up, and their divorce was eventually finalized. However, another secret is looming and threatens to blow their impending marriage sky high. 
Jordan and Stella suspect that the father of Portia's daughter, Trina Robinson (Tabyana Ali), is not Marcus Taggert (Réal Andrews) — as everyone believed — but Curtis. Portia and Curtis had an affair many years ago, but he broke it off when he learned she was married to Taggert. Portia doesn't know for certain that Trina is Curtis' daughter, but she's afraid to tell him its possible because she knows how he reacts when someone lies to him (via Soap Opera Spy). Stella was also supposed to officiate their wedding, but her blood ran cold when she learned of the possibility of Trina's paternity, and faked being sick to get out of it.
While fans have wanted to warn Curtis about this secret before he gets married, two surprise guests showed up at their rehearsal dinner, making Portia's day.
Portia is thrilled at seeing two unexpected guests
Up until recently, Portia Robinson's family has rarely been spoken about on "General Hospital." But as Soaps reported, her father and brother showed up at her and Curtis' wedding rehearsal dinner. Her father is Dr. Sterling Robinson who is played by the award-winning Ricco Ross. He's been all over film and television including playing Private Frost in the hit sci-fi action film "Aliens" from 1986. He's also appeared on "Doctor Who," and "Days of Our Lives," and more recently is known for his work on "P-Valley."
Gavin Houston plays Portia's brother, Ezekiel "Zeke" Robinson, who claims only his mother calls him by his full name when she's angry. His first foray into soaps was playing Remy Boudreau on "Guiding Light" in 2002. He's also appeared on the streaming soap, "The Bay," along with several other soap veterans. Houston previously appeared on "GH" in 2010 as Detective Sly Thomas, according to Soap Opera News. As Soap Hub recapped, Curtis not only flew Portia's father and brother to Port Charles, but he also arranged for someone to take care of her sick mother. Although she's concerned about Aunt Stella backing out of her officiating duties, Portia was over the moon to see her family members.
We're hoping these actors stick around so we can learn more about Portia's history!