Donald Trump Looms Large Over Nikki Haley's Presidential Campaign Video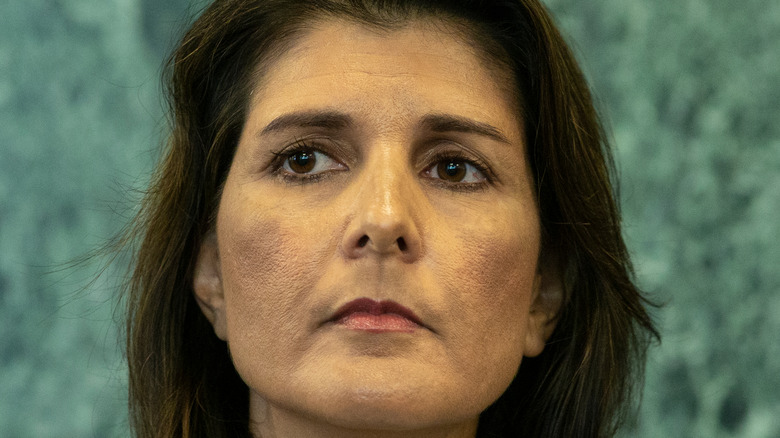 lev radin/Shutterstock
Donald Trump threw his hat into the ring for the Republican candidate for president in November 2022 with a speech from Mar-a-Lago — here's what we know about Trump's 2024 campaign so far. He was the first person of either political party to publicly announce their presidential run. President Joe Biden has yet to declare his bid for a second term in the White House, but, as reported by The Nation, some say his State of the Union speech in January was a signal that he'll be entering the race. 
For just under three months, Trump was the only Republican candidate formally running for the country's highest office. But, on Valentine's Day 2023, Nikki Haley announced that she was planning to run for president. Her career in politics includes three terms as governor of South Carolina and U.S. ambassador to the United Nations from 2017 through 2018.
Haley's campaign announcement on Twitter has been viewed millions of times, and, while she doesn't call out her former boss by name, Trump still seems to be included in the video.
Some question how Nikki Haley could say she's against bullies
Nikki Haley seems to be distancing herself, subtly, from her former boss and Republican primary challenger, Donald Trump, in her Twitter campaign video, though he wasn't specifically mentioned. She got in a subtle dig about the fact that Trump didn't win the 2016 popular vote and says it's time for a "new generation of leadership." But there's one line that seems to stand out for people. Toward the end of the nearly four-minute video, Haley references China and Russia, saying, "I don't put up with bullies." This didn't sit well for some, considering her cozy relationship with Trump during much of his time in office.
One person tweeted: "She says she doesn't put up with bullies but she puts up with Donald Trump who is a bully." Another wrote: "I'll start taking Nikki Haley seriously when she unequivocally and forcefully condemns Trump and MAGA extremism and racism. Thanks." And one questioned who her supporters would be, tweeting: "She brags about standing up to bullies, yet she worked for Trump and still won't dump him. Who exactly are Haley voters????"
In the run-up to the presidential election of 2016, Haley was vocally anti-Trump, according to The New York Times. But that changed during his time as president. Haley also previously said that she wouldn't run for president in 2024 if Trump were in the race, per Axios. However, it looks like she's changed her mind again.